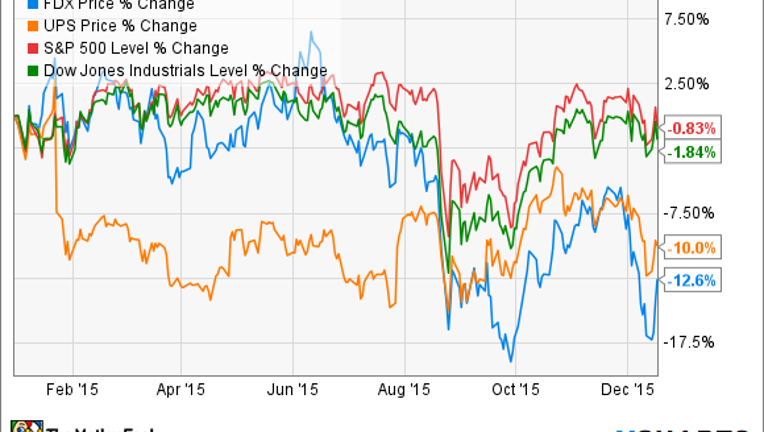 Image source: FedEx Corporation.
FedEx Corporation promises to deliver -- not just to customers but to investors as well. FedEx's 2015 stock performance was subpar, trailing both rival United Parcel Service and the S&P 500. But the news wasn't all bad, and FedEx made some smart strategic moves this year. Here's what you need to know.
1. Expanding into EuropeWhile investors often consider FedEx and UPS as direct competitors, UPS is the clear revenue front-runner. For the past three years, UPS sales have maintained a clear $10 billion lead, most recently clocking in at $58.2 billion for fiscal 2015.
All that may be about to change. In April, FedEx announced that it would buy Netherlands-based TNT Express for $4.9 billion as part of its European expansion effort. The European Commission gave the go-ahead for the buyout in October, and the U.S. Federal Trade Commission gave its own thumbs-up in November.
TNT's fiscal 2014 sales clocked in at $7.25 billion, putting FedEx one big step closer to operating at a similar scale to UPS. The acquisition is expected to be completed by mid-2016, boosting FedEx's European market share past UPS, to the No. 2 spot at 17% (Germany-based DHL will maintain its lead).
2. GENCO acquisitionIn many ways, 2015 has been a year of buildout for FedEx. This may seem strange to investors who focus on FedEx's ability to expand its top line, but margins matter in the shipping business.
GENCO's $1.4 billion price tag wasn't cheap -- it's equivalent to around 60% of FedEx's fiscal 2014 net profit. But this company is exactly what FedEx needed to manage its growing e-commerce business. GENCO is a market leader in "reverse logistics," a fancy name for what happens when you return 16 of the 17 pairs of shoes you purchased online. As FedEx hopes to expand margins alongside sales, more efficient package returns will help this company make the most of e-commerce.
Image source: FedEx Corporation.
3. Dimensional weight pricingIn 2015, both FedEx and UPS implemented dimensional weight pricing. As e-commerce continues its colossal consumption takeover, dimensional weight pricing ensures a fair shipping price is calculated for every item.
In addition to pricing packages by weight, FedEx now charges based on dimensions as well. This may be bad news for Canadian companies selling cans of fresh air to smog-ridden China,but it's good news for FedEx. It puts a reasonable onus on the shipper to manage package sizes, which in turn allows FedEx to carry more packages per truck. When those savings are passed on to customers and investors, everyone wins -- except the canned air company.
What this means for investorsFedEx stock had a tough 2015 by almost every measure. It underperformed compared to UPS, the S&P 500, and the Dow Jones Industrials.
But the three moves mentioned above represent dream decisions for long-term investors. The TNT Express purchase expands FedEx's top line and opens up a new market, the GENCO acquisition ensures it's expanding margins and squeezing the most out of its bottom line, and dimensional weight pricing represents a strategic move to better align its business structure alongside an evolving industry. But no single move is enough to make or break a stock, and investors will need to keep a close eye on FedEx and its next moves in 2016.
The article FedEx Corporation's Best Moves in 2015 originally appeared on Fool.com.
Justin Loiseau owns shares of United Parcel Service and is very excited when he receives packages. The Motley Fool recommends FedEx and United Parcel Service. Try any of our Foolish newsletter services free for 30 days. We Fools may not all hold the same opinions, but we all believe that considering a diverse range of insights makes us better investors. The Motley Fool has a disclosure policy.
Copyright 1995 - 2015 The Motley Fool, LLC. All rights reserved. The Motley Fool has a disclosure policy.