FedEx Corporation Soars and Guess? Inc. Dives as Stocks Rise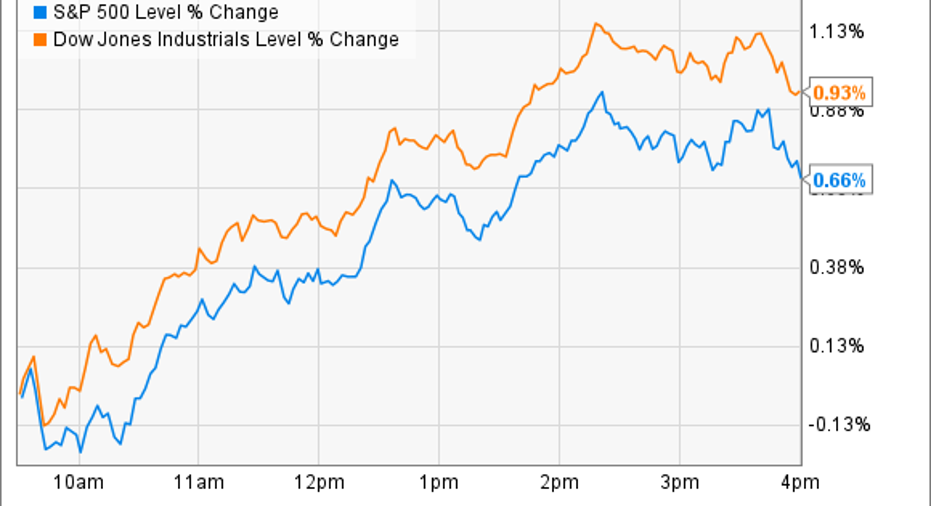 Stocks logged a strong trading session as the Dow Jones Industrial Average roared back into positive territory on the year by gaining 155 points, or 0.9%. The S&P 500 rose 13 points, or 0.7%, as well.
Oil prices spiked higher and crossed $40 per barrel for the first time this year, which helped the energy and commodity sectors lead the way higher. Meanwhile,FedEx (NYSE: FDX) and Guess? (NYSE: GES) each saw double-digit swings as investors digested their latest quarterly operating results.
FedEx announces surging profitability With its 12% spike, package delivery specialist FedEx was the top-performing stock on the S&P 500. Shares are now in solidly positive territory for 2016 after having fallen by as much as 18%.
Source: FedEx.
Today's jump was powered by the company'ssurprisingly strong quarterly resultsreleased prior to the opening bell. Sales improved by 9% to reach $12.7 billion, which beat consensus estimates for a 6% uptick. Adjusted profit of $2.51 per share also outpaced Wall Street analysts, who were targeting $2.34 per share of earnings.
Digging beyond the headline figures, there was a lot for investors to like about FedEx's peak-season shipping performance. Cost cuts helped the express segment log a 51% spike in profit as operating margin rose to 9.1% of sales from 5.9% a year ago.
Sure, that boost was offset by a weakening ground segment: Operating margin in that division slipped to 13% of sales from nearly 17% the prior year. Yet FedEx booked 30% greater ground revenue, and so it was able to preserve the level of earnings it generated last year. Overall adjusted operating margin rose significantly, climbing to 9.2% from 8.3%.
"Our strong financial performance was driven by increasing demand for our broad portfolio of FedEx business solutions which helped increase revenue and adjusted profit," CEO Fredrick Smith said in a press release. Smith and his team are so encouraged by the results of their efficiency initiatives that they raised their profit growth outlook for the year to 21%.
The gains are set to accrue to the following fiscal year as well. "Our positive financial momentum should continue into our upcoming fiscal 2017, where we expect solid growth in earnings and cash flow," chief financial Officer Alan Graf predicted.
Guess? forecasts falling profit margins After recently touching a new 52-week high, retailer Guess took a step back, falling 14% today. Its fiscal fourth-quarter results sparked the decline, even though headline figures met consensus estimates.
Source: Guess?.
Sales fell 6% worldwide, as operating margin held steady at roughly 11% last quarter. Management highlighted the slightly positive comparable-store sales growth in the U.S. market and more substantial growth in Europe. "There is still more work to be done," CEO Victor Herrero said in a press release, "but I am convinced that the initiatives we have started to implement in the last few months have contributed to these encouraging results."
Wall Street wasn't as encouraged by Guess' outlook for the coming year, though. Operating margin is forecast to swing to as low as -5% next quarter and to about 4% for the full fiscal year. By comparison, the company booked 5.5% margin last year and 5.2% in the prior year.
The declining profitability will produce lower-than-expected earnings. In fact, Guess projected $0.75 per share of profit in fiscal Q1, far below the $1.05 that Wall Street was expecting. While it's good news for the business that it appears to be returning to consistent sales growth, especially in the key European and U.S. markets, investors aren't likely to reward shares until they see evidence of healthy profitability, as well.
The article FedEx Corporation Soars and Guess? Inc. Dives as Stocks Rise originally appeared on Fool.com.
Demitrios Kalogeropoulos has no position in any stocks mentioned. The Motley Fool recommends FedEx and Guess?. Try any of our Foolish newsletter services free for 30 days. We Fools may not all hold the same opinions, but we all believe that considering a diverse range of insights makes us better investors. The Motley Fool has a disclosure policy.
Copyright 1995 - 2016 The Motley Fool, LLC. All rights reserved. The Motley Fool has a disclosure policy.