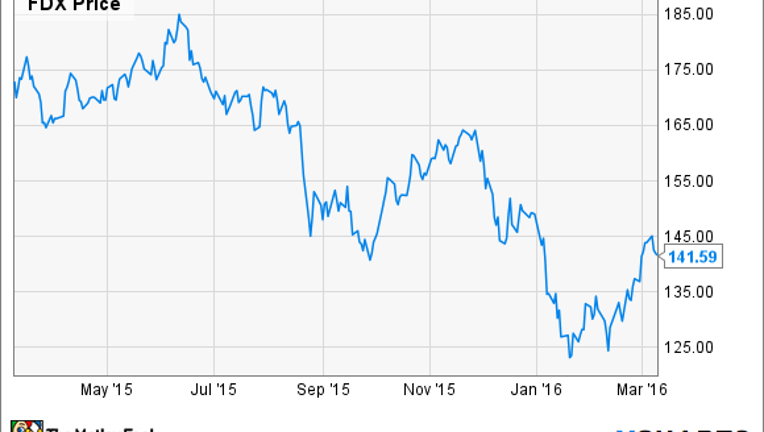 FedEx shareholders have been taken on a wild ride over the past year. FedEx stock soared to an all-time high around $185 last June before plummeting as low as $120 in January. The share price has started to recover since then.
FedEx Stock Performance. Data by YCharts.
FedEx is scheduled to report its third quarter earnings results on Wednesday. Here are three things that investors should keep an eye on.
Did earnings get a boost from falling oil prices?During FedEx's Q2 earnings call, CFO Alan Graf told investors that the company was likely to post weaker earnings growth in Q3 than in Q4 because of tougher comparisons. Last year, FedEx's Q3 profit was lifted by the collapse of oil prices during the quarter.
However, oil prices fell significantly once again during FedEx's recently ended quarter. The price of jet fuel plunged from around $1.25/gallon at the beginning of the quarter to a low of nearly $0.80/gallon. This should have provided a meaningful earnings tailwind for FedEx -- perhaps enough to allow it to beat the average analyst EPS estimate of $2.35.
US Gulf Coast Kerosene-Type Jet Fuel Spot Price. Data by YCharts.
Of course, investors should care more about the future than about a single quarterly result. Unless oil prices fall back to their mid-January low point, the benefit from lower fuel prices will be mostly offset by a reduction in fuel surcharges and won't have much of a long-term impact on profitability.
Is the freight turnaround beginning?Investors should also look for signs of a budding turnaround in FedEx's freight business. FedEx management has previously set a goal of earning double-digit margins in all three of its major business segments. The freight segment took a step backward in the first half of fiscal 2016, with its segment margin falling to 7.4% from 8.8% a year earlier.
The FedEx Freight segment has been a weak spot for the past two quarters. Image source: The Motley Fool.
Most of the problems in FedEx's freight business stemmed from misreading the demand environment. The company was overstaffed because it had expected higher shipment volumes. U.S. industrial production remains relatively weak, but FedEx has started to align capacity with demand.
These actions should bolster the freight segment's margin trajectory. Hopefully, FedEx's Q3 results will show signs that this has started to occur. While the freight business is the smallest of FedEx's three major segments, it's still important to get it back on the right track.
What about the new kid on the block?Last week, Amazon.com confirmed that it is getting into the air cargo business. It is leasing a fleet of 20 cargo planes to help get packages to customers quickly.
The rapid growth of Amazon.com -- and its Prime two-day delivery service -- has been a boon for package delivery firms like FedEx in recent years. However, Amazon seems to be tired of relying on a few key suppliers to get packages from its warehouses to customers' doors.
FedEx responded to the news by saying that it had expected the move and that Amazon.com remains a valuable customer. But the key question is how far Amazon might go in building its own in-house delivery network. FedEx is investing billions of dollars in its ground network to support e-commerce growth. If the largest e-commerce firm stops relying on third-party delivery firms, FedEx might find it has built too much capacity.
Right now, that scenario still seems like a long shot. Nevertheless, investors should pay attention to any comments that management makes during the earnings call about how FedEx expects its relationship with Amazon to evolve.
The article FedEx Corporation Earnings on Tap: What to Watch originally appeared on Fool.com.
Adam Levine-Weinberg has no position in any stocks mentioned. The Motley Fool owns shares of and recommends Amazon.com. The Motley Fool recommends FedEx. Try any of our Foolish newsletter services free for 30 days. We Fools may not all hold the same opinions, but we all believe that considering a diverse range of insights makes us better investors. The Motley Fool has a disclosure policy.
Copyright 1995 - 2016 The Motley Fool, LLC. All rights reserved. The Motley Fool has a disclosure policy.