FedEx and UPS Stocks Re-Rated: Here's What You Need to Know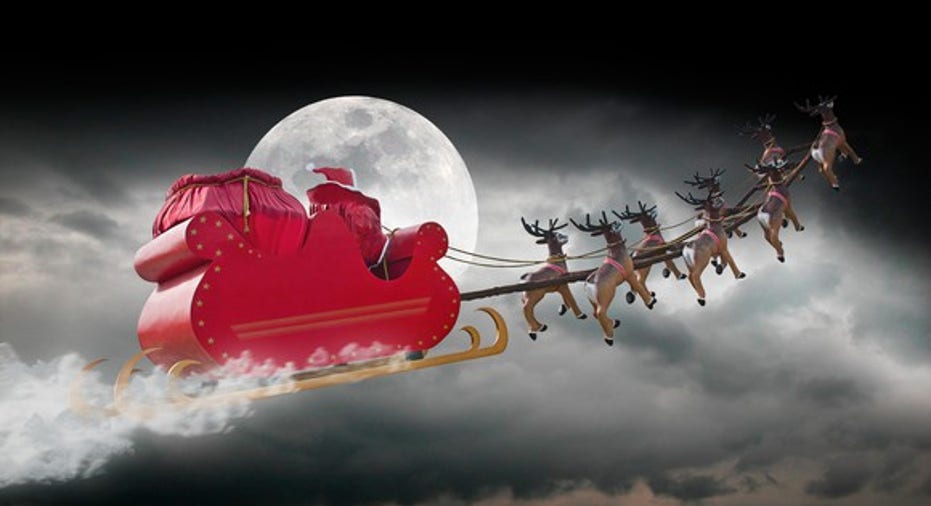 In less than two weeks, Santa is coming, his sleigh packed with goodies for good girls and good boys. And just in case the jolly old man can't carry everything himself, UPS (NYSE: UPS) and FedEx (NYSE: FDX) stand ready to help.
Which of these two package delivery giants is most likely to deliver Christmas cheer to investors? Funny you should ask. Just this morning, investment banker JPMorgan (CAPS rating: 89.79) announcedit is reinitiating coverage of both stocks, assigning an overweight rating to FedEx, but only a neutral to UPS.
Here are three things you need to know about the new ratings.
You better watch out. You better not cry. You better buy FedEx stock -- JPMorgan tells you why. Image source: Getty Images.
1. FedEx wins the race
Choosing between the two giants of package delivery, JPMorgan leans toward FedEx as the better stock. But why?
Well, one big reason is FedEx Ground. JPMorgan likes how FedEx has been improving its network, and my Foolish colleague Adam Levine-Weinberg agrees. "FedEx Ground," says Adam, "has gained market share from UPS for a stunning 16 consecutive years," and more than doubled its annual revenue to $13 billion over the past decade. This FedEx segment also offers customers faster delivery times than UPS can manage on 30% of its routes (versus UPS beating FedEx to customers' doorsteps on only 3% of their routes).
This is a big competitive advantage, but it's not the only reason JP prefers FedEx. As explained on TheFly.com this morning, JP also believes FedEx has "greater relative leverage to an industrial recovery," than does UPS, via the former's FedEx Freight business. While not as fast a grower as FedEx Ground, S&P Global Market Intelligence data show that FedEx Freight has grown its revenue 26% over the past five years -- and increased its operating profits by 72%!
2. UPS is second best
The analyst is considerably less sanguine about UPS' prospects. As JP explains, UPS' profit margins in the U.S. are coming under pressure. Though UPS grew operating profit margin in its U.S. domestic package business by 50 basis points last year (to 13.1%), improvements in U.S. margin have stalled in 2016, and grown not at all relative to 2015. Furthermore, as recently as 2012, UPS was earning a 13.8% operating profit margin in this segment -- so relative to three years ago, UPS' margin is actually down.
3. Analyzing the analyst
Is JPMorgan right in thinking FedEx is a better pick than UPS? The analyst's record suggests it might well be. According to our data here at Motley Fool CAPS, where we've been tracking the performance of JPMorgan's recommendations for more than a decade, JP has made at least three affirmative buy recommendations for FedEx stock over this period -- and beaten the market on two of them. JP has also picked UPS to outperform once (in September 2009), and gotten that pick right as well.
All of this adds up to a record of about 75% accuracy on its four recommendations -- a true market-crushing performance, and a record far superior to JP's overall record of just 48% accuracy on its recommendations. If past experience is any guide, JPMorgan could well be right when it tells investors to buy FedEx stock today -- but leave UPS on the shelf.
Final thing: Remember to check the valuation
All this being said, there is one thing about JPMorgan's recommendation of FedEx stock that gives me pause.
According to the analyst, FedEx is its "value pick" in the package delivery industry. But when I look at these two stocks, while neither one seems particularly cheap, I struggle to see the relative value of an investment in FedEx over UPS. Consider:
Priced at 21.4 times earnings today, UPS stock costs 28% less per dollar of profit than does FedEx at 29.6 times earnings. Moreover, S&P Global data show that UPS generated $3.8 billion in positive free cash flow over the past 12 months --76% of reported net income. During the same period, FedEx generated only $604 million in real cash profit -- just 33% of reported net income.
Mind you, neither of these free cash flow numbers is particularly attractive. In both cases, they indicate that UPS and FedEx are far less profitable on a cash basis than they appear when valued according to GAAP's more lenient standards. But the relative valuation here seems clear: UPS may be overpriced -- but it's far less overpriced than is FedEx.
Could I be wrong about this, and JPMorgan right? Absolutely. In fact, given the analyst's strong record of outperformance in picking package delivery stocks, I'd even go so far as to say it's likely that JPMorgan is right, and I am wrong. But still, the valuation argument troubles me. Before rushing out to buy FedEx stock on JPMorgan's say-so, I'd strongly caution you to take a look at the valuation yourself -- and see if you agree.
(And while you're at it, if you're so inclined, drop by Motley Fool CAPS as well, and tell us whether you think the winner here will be FedEx, UPS, both -- or neither.)
10 stocks we like better than United Parcel Service When investing geniuses David and Tom Gardner have a stock tip, it can pay to listen. After all, the newsletter they have run for over a decade, Motley Fool Stock Advisor, has tripled the market.*
David and Tom just revealed what they believe are the 10 best stocks for investors to buy right now... and United Parcel Service wasn't one of them! That's right -- they think these 10 stocks are even better buys.
Click here to learn about these picks!
*Stock Advisor returns as of Nov. 7, 2016
Fool contributorRich Smithdoes not own shares of, nor is he short, any company named above. You can find him onMotley Fool CAPS, publicly pontificating under the handleTMFDitty, where he currently ranks No. 345 out of more than 75,000 rated members.
The Motley Fool owns shares of and recommends FedEx, and also recommends United Parcel Service. Try any of our Foolish newsletter services free for 30 days. We Fools may not all hold the same opinions, but we all believe that considering a diverse range of insights makes us better investors. The Motley Fool has a disclosure policy.