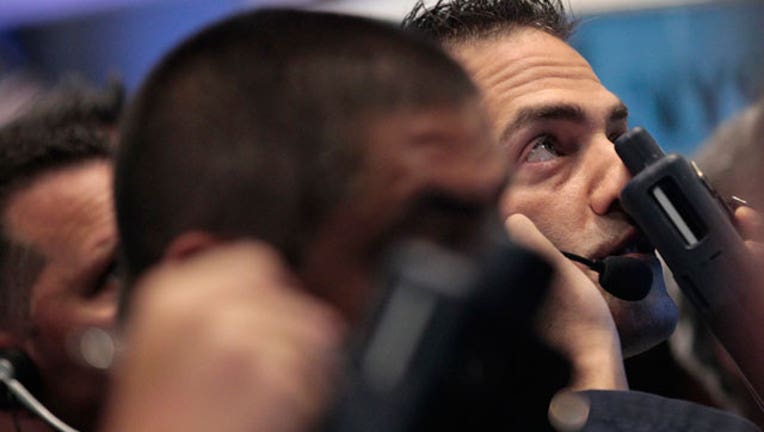 FOX Business: Capitalism Lives Here
The markets took a hit on Friday as concerns about the Fed resurfaced and a technical situation called 'quadruple witching' sparked additional volatility.
Today's Markets
The Dow Jones Industrial Average fell 185 points, or 1.2%,  to 15451, the S&P 500 skidded 12.4 points, or 0.72%, to 1710 and the Nasdsaq Composite declined 14.7 points, or 0.39%, to 3775.
For the week, the Dow edged up 0.49%, the S&P 500 climbed 1.3% and the Nasdaq advanced 1.4%.
The Federal Reserve roiled markets on Wednesday by holding off on scaling back its massive bond-buying program. Stocks surged, Treasury yields dipped, gold rallied. That enthusiasm is finally waning. Indeed, St. Louis Federal Reserve Chairman James Bullard said the central bank may start tapering in October -- sending the markets deep into the red.
The economic calendar was bare on the day. However, an event referred to as "quadruple witching," where several varieties of derivatives contracts expire sparked higher-than-usual volumes and volatility, traders said.
On the corporate front, Apple (NASDAQ:AAPL) launched its newest suite of iPhones across the world on the day. It's the first time the struggling tech giant has simultaneously released phones in the U.S. and China -- the world's two biggest economies. Brian White, an analyst at Cantor Fitzgerald, reckons Apple could sell between 6 and 6.5 million iPhones this weekend.
BlackBerry (NASDAQ:BBRY), meanwhile, said it would slash 4,500 jobs and record a loss of nearly $1 billion in the fiscal second quarter as the smartphone maker struggles to find its way.
Goodyear Tire (NYSE:GT) declared a quarterly dividend of five cents a share and reaffirmed its full-year outlook.
In commodities, U.S. crude oil prices fell $1.72, or 1.6%, to $104.67 a barrel. Wholesale New York Harbor gasoline slid 0.48% to $2.684 a gallon. Gold slid $36.80, or 2.7%, to $1,333 a troy once.
Foreign Markets
The Euro Stoxx 50 rose 0.03% to 2937, the English FTSE 100 fell 0.06% to 6621 and the German DAX advanced 0.09% to 8702.
In Asia, the Japanese Nikkei 225 dipped 0.16% to 14742 and the Chinese Hang Seng soared 1.7% to 23503.