Fed likely to pare its bond portfolio even with outlook hazy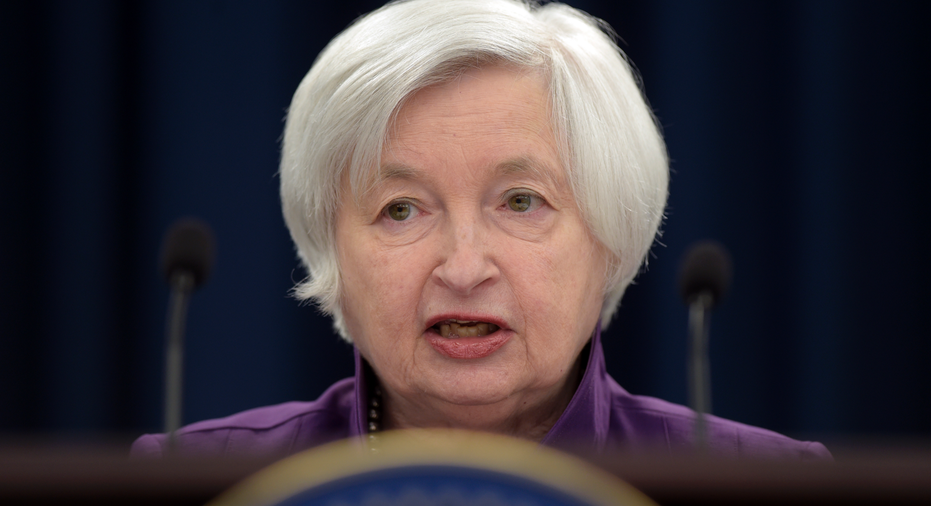 WASHINGTON — When the Federal Reserve meets this week, it's sure to take account of the economic consequences of two devastating hurricanes.
It will also be awaiting an announcement, possibly within weeks, about its own leadership: whether President Donald Trump will ask Janet Yellen to remain Fed chair beyond February, when her term ends.
Amid the uncertainty, the Fed is considered all but sure to announce after its meeting ends Wednesday that it will begin paring its enormous bond portfolio — a process that's likely to cause consumer and business loan rates to rise gradually over time.
It is, in a way, a kind of mini rate hike.
The Fed's balance sheet has reached $4.5 trillion — roughly five times its size before the financial crisis erupted in 2008. Its size reflects bond purchases the Fed made after the crisis struck to try to ease long-term borrowing rates, encourage spending and energize an anemic economy. Now, with a far healthier economy, the Fed wants to begin shrinking its portfolio. Doing so, even gradually, will likely make some long-term loans, like mortgages, costlier.
Still, the Fed has telegraphed its move for months, and investors are thought to be well-prepared for it.
"The start to reducing the Fed's balance sheet is an action the markets are ready for," said Diane Swonk, chief economist at DS Economics. "The Fed has laid out a roadmap, and there is really a sense of relief to finally get it started."
In June, the Fed spelled out its plan for shrinking the balance sheet: It would let a small portion of bonds mature each month without being replaced. It would start with reductions of $10 billion a month — $6 billion in Treasurys and $4 billion in mortgage bonds — and raise the amount quarterly until it reached $50 billion a year later.
To avoid spooking investors, the process would be so gradual that the Fed's balance sheet would remain above $3 trillion until late 2019. Some economists say they think the figure could end up around $2.5 trillion, still far above the $900 billion the Fed held in its portfolio in pre-crisis days.
Still, some economists say they worry that while the Fed's early reductions to its portfolio might not cause a stir, the cumulative sales could eventually unsettle markets.
"I think from time to time, we could get a significant amount of instability just because the bond sales are going to go on for so many years," said David Jones, author of a number of books on the Fed.
The issue of when and how the Fed will manipulate its main policy lever — its target for short-term rates — in coming months is less clear. After leaving its benchmark rate at a record low for seven years after the 2008 crisis, the Fed has modestly raised the rate four times since December 2015 to a still-low range of 1 percent to 1.25 percent.
The Fed has felt confident to raise rates because it appears to have met one of its key mandates: Maximizing employment. The unemployment rate is just 4.4 percent, near a 16-year low. The Fed, though, has yet to achieve its other objective of stabilizing prices at a 2 percent annual rate. Inflation has remained persistently below that level. As a result, financial markets are unsure whether the Fed will raise rates again before year's end.
The CME Group's tracker of investor sentiment puts the likelihood of a rate hike by December at 57 percent.
Some economists say they think that by then, inflation will finally have begun to increase and weakness caused by the hurricane disruptions will have started to fade and that the Fed will conclude that the economy can withstand a further slight tightening of credit.
"The economic data will be soft on a temporary basis, but the fundamentals are solid," said Mark Zandi, chief economist at Moody's Analytics, who foresees a third rate hike in December and three more next year.
But other analysts say that on top of chronically low inflation, the economic slowdown caused by Hurricanes Harvey and Irma could be more severe than initially forecast and cause the Fed to remain on hold for longer.
"I think the two hurricanes are going to give the Fed pause about raising rates again until they have a better idea of the economic impact," said Sung Won Sohn, an economics professor at California State University, Channel Islands.
In addition to forecasting future rate hikes, analysts are trying to divine whether President Donald Trump will re-nominate Yellen to a second four-year term. Last week, Trump said of Yellen, "I like her, and I respect her" but added, "I haven't made a decision yet."
The only other potential choice for Fed chair Trump has mentioned is Gary Cohn, a former Goldman Sachs executive who leads the president's National Economic Council. But Cohn appears to have fallen out of favor after he was critical of the president's response to the violence in Charlottesville, Virginia.
With several seats on the Fed's board open or soon to be open, Trump has made just one nomination, that of Randal Quarles to be vice chairman for supervision. One vacancy about to open is the seat of Vice Chairman Stanley Fischer, who is stepping down next month.
If Trump chooses not to offer Yellen a second term — or if she declines, if asked — he would be able to name five of the Fed's seven board members in his first year in office. Those selections would afford him an unusual opportunity to impose his personal stamp on the world's most powerful central bank.
Some analysts say they think Trump may opt to retain Yellen, in part to allay concern in the financial markets about too much upheaval at the Fed.
"There is just a lot of uncertainty," Swonk said.