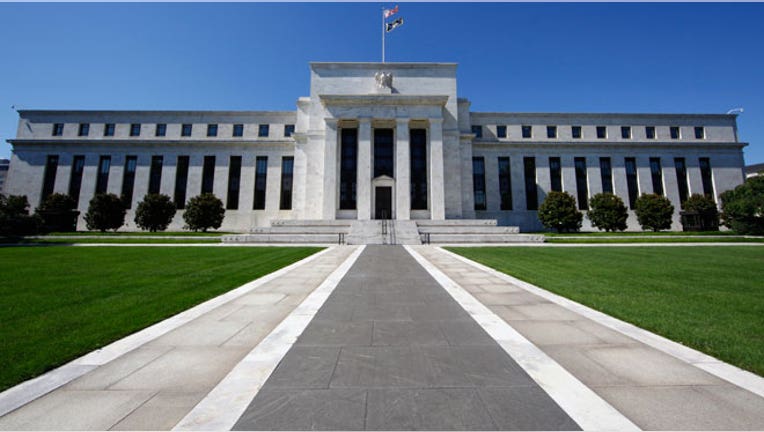 Federal Reserve Chairman Ben Bernanke said Wednesday the looming fiscal battles in Washington, D.C., played a role in the central bank's surprising decision to maintain its easy-money policies for a while longer.
In a move that startled securities markets, the policy-setting Federal Open Markets Committee announced it would maintain its monthly bond purchase program at $85 billion a month and keep interest rates at near zero.
Stock markets cheered the Fed's status quo with the Dow Jones Industrial average and the S&P 500 index closing at all-time highs.
The holding pattern announced by the Fed surprised investors because a reduction to the central bank's monthly purchases of mortgage backed securities and government bonds, known as quantitative easing, was widely expected.
In global markets the dollar fell to a seven-month low against the euro and prices for U.S. government bonds jumped higher. The price of gold, a traditional inflation hedge, also spiked.
"The issue is we've hit the point of diminishing returns on this," said Lance Roberts, chief economist at research firm StreetTalk Advisors. "The Fed understands they can't keep this going forever. They have to realize they're possibly inflating another asset bubble and that they can't own the entire treasury market."
But rather than scaling back its bond purchases, or tapering, the Fed pointed to stubbornly high unemployment, rising mortgage rates and "restraining fiscal policy" as reasons for keeping its stimulus programs in place.
"Some indicators of labor market conditions have shown further improvement in recent months, but the unemployment rate remains elevated. Household spending and business fixed investment advanced, and the housing sector has been strengthening, but mortgage rates have risen further and fiscal policy is restraining economic growth," the Fed said in a statement.
Consequently, "the Committee decided to await more evidence that progress will be sustained before adjusting the pace of its purchases," the Fed said.
During a press conference that followed the release of the statement, Bernanke said in response to a question that the threat of a government shutdown in the fall or a potential default by the U.S. on its debts if Congress fails to reach an agreement on government spending and the U.S. debt limit contributed to the Fed's decision to stand pat.
Also during the press conference Bernanke declined to answer questions about his future. He is widely assumed to be stepping down as chair in January, a shift that has set off a political firestorm over who will replace him.
Lawrence Summers, a former Treasury secretary and close economic advisor to President Barack Obama, took himself out of the running on Sunday under pressure from Democrats who planned to oppose his nomination. Current Fed Vice-Chair Janet Yellen is now the front-runner for the top spot if Bernanke leaves.
Stock markets, which have surged under the Fed's stimulus programs, reversed course immediately on the 2 p.m. FOMC announcement, roaring from negative into positive territory.
A set of projections provided along with the statement said most members of the Fed's policy-setting board expect to begin raising short-term interest rates in 2015. The group also sees the unemployment rate falling to 6.5% toward the end of 2014 or the beginning of 2015.
Fed policy makers have vowed not to raise the key fed funds rate until the unemployment rate hits a threshold of at least 6.5%.
In updated quarterly projections, the Fed cut its forecast for 2013 economic growth to a 2% to 2.3 % range from a June estimate of 2.3% to 2.6% and the downgrade for 2014 was more severe.
Bernanke told reporters there is no set timetable for tapering.
"There is no fixed calendar schedule. I really have to emphasize that," he said. "If the data confirm our basic outlook, if we gain more confidence in that outlook ... then we could move later this year."
Quantitative easing was introduced in late 2008 as global markets reeled from the financial crisis that paralyzed credit markets and threatened the world's economy.
Through three rounds of QE, which has tripled the Fed's balance sheet to more than $3.6 trillion, and holding interest rates at near zero for nearly five years the Fed has sought to energize the economy by creating an environment conducive to lending.
The results have been mixed, at best.
While the housing market has shown signs of a recovery, the unemployment rate has remained stubbornly high. And even when it falls, as it did to 7.3% in August, the decline has resulted primarily from people leaving the workforce rather than massive jobs creation.
Stock and bond markets have risen and fallen for months on endless speculation over when and how the Fed will start moving toward 'normalization,' or a U.S. monetary policy that doesn't include near-zero interest rates and quantitative easing.