Fed Hawks Swoop In to Make Case Against More Easing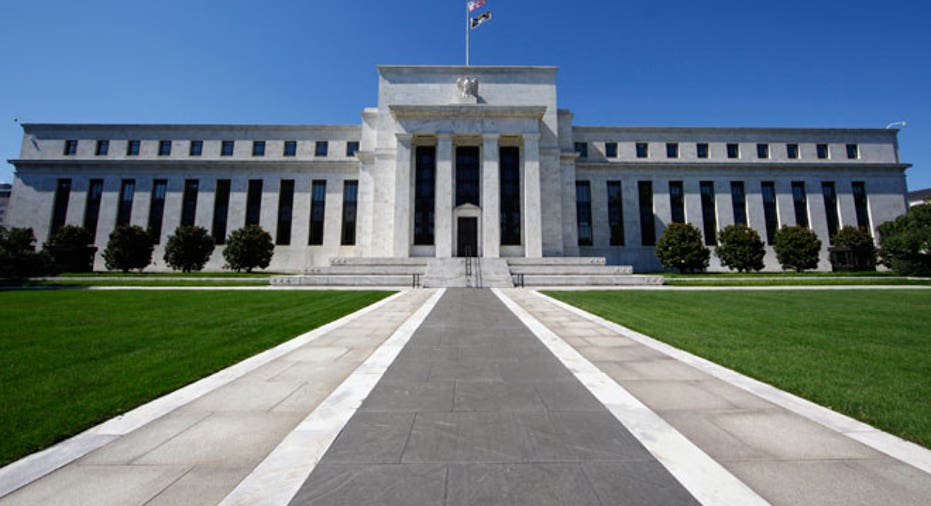 Top officials at two of the Federal Reserve's most hawkish regional banks weighed in against further monetary policy easing, and a third on Thursday suggested the Fed may not need to wait until late 2014 before raising interest rates.
The remarks, from Philadelphia Fed President Charles Plosser, Kansas City Fed President Esther George and Minneapolis Fed President Narayana Kocherlakota, underscore the divide that Fed Chairman Ben Bernanke faces if, as financial markets expect he will, he pushes for a new round of stimulus as soon as next month.
But neither do they suggest that Bernanke will necessarily face a barrage of dissents: none of the three have a vote this year on the Fed's policy-setting committee.
The Fed under Bernanke has kept rates near zero since December 2008 and has said it expects economic conditions will stay weak enough to keep them there until at least late 2014.
The central bank has also bought $2.3 trillion in Treasuries and housing-backed bonds to stimulate the economy, and most economists expect any new stimulus to take the form of further bond buys.
Plosser, one of the Fed's keenest hawks, said he was "very dubious" about whether additional bond purchases would have a positive impact.
"There are diminishing returns to these actions," he was quoted as telling The Wall Street Journal. "The evidence is not strong that somehow more (bond purchases) are going to help the unemployment rate move faster to where we'd like it to be. I don't see that there is much benefit."
Minneapolis Fed President Narayana Kocherlakota, speaking in the booming oil town of Williston, N.D., forecast economic growth of 2.5 percent to 3 percent this year and next -- faster than what most of his colleagues and private-sector economists expect.
He also suggested the Fed may need to raise rates sooner than late 2014.
"I would not have chosen to put that date as far out as the committee did," he said.
DOVES VS HAWKS
U.S. unemployment remains pinned above 8 percent, and many private forecasters expect economic growth will hover around 2 percent for the rest of 2012 and into next year, a pace that would bring down the jobless rate only very slowly.
The U.S. economy also remains vulnerable to potential shocks from the sovereign debt crisis in Europe and the possibility that U.S. lawmakers may fail to avert tax hikes and spending cuts slated to kick in automatically in January.
Responding to those conditions, the Fed's dovish wing, including Boston Fed President Eric Rosengren and Chicago Fed President Charles Evans have called for the U.S. central bank to unleash a new round of stimulus to combat high unemployment, which registered 8.3 percent in July.
John Williams, the head of the San Francisco Fed and considered a policy centrist, last week said he too favored another round of bond-buying.
With so many people out of jobs, these policymakers argue, there is little upward pressure on prices, giving the Fed room to flood markets with easy money to boost employment without fear of sparking inflation.
But Kocherlakota sounded less sanguine about the inflation threat. "That 8.3 percent isn't translating to as much downward pressure on prices as we would normally think," he said.
Both Plosser and Kocherlakota have staked out similar positions before.
George's views, as Kansas City Fed's new chief, are less well known. Her remarks Wednesday evening and widely disseminated on Thursday suggest she is following in the footsteps of her predecessor, Thomas Hoenig, who consistently spoke out against easing in his final years at the central bank.
George, who will rotate into a voting spot on the policy-setting committee in 2013, likewise sounded skeptical in remarks on Wednesday night that additional action would yield positive returns.
"Is there anyone not borrowing today or purchasing a house because interest rates aren't low enough?" George said at a Fairfax Industrial Association event in Kansas City, Kansas, according to a report in the Kansas City Star newspaper.
"The more important question for my colleagues and me is whether the Federal Reserve should do any of that," George said. "That, of course, is where our views begin to diverge."
(Reporting by Todd Melby in Williston and Alister Bull in Washington; Writing by Ann Saphir; Editing by Sandra Maler)