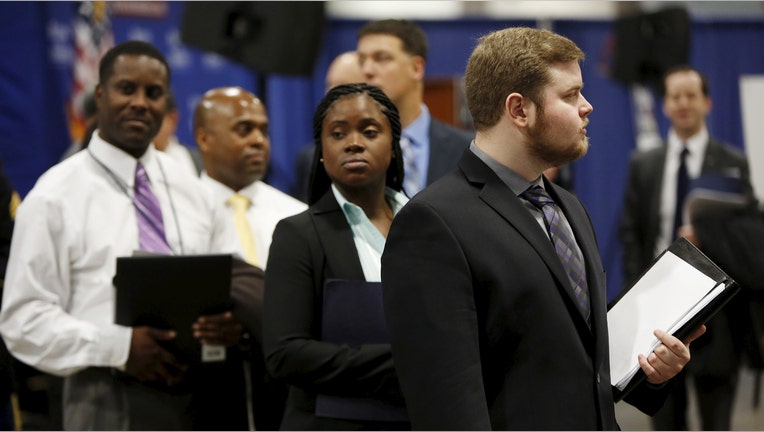 The February jobs report due out Friday from the Labor Department could go a long way towards quashing concerns that the U.S. economy is in imminent danger of falling back into a recession.
"Numbers due out this week should provide further confirmation of steady growth, with payroll job gains for February of close to 200,000, a further edging down in the unemployment rate -- although perhaps staying at 4.9%, rounded to one decimal -- and an edging up in wage growth," said David Kelly, chief global strategist at J.P. Morgan Funds (NYSE:JPM).
A consensus of analysts is predicting that the economy added 190,000 new jobs last month and that the unemployment rate will hold steady at 4.9%, its lowest level in eight years. Those numbers would represent a lift from the 151,000 jobs created in January, when headline labor numbers came in below expectations.
Despite the relatively weak job creation in January, wages showed signs growth, rising 2.5% year over year. Wage growth is arguably the single most important economic indicator influencing the timing of future rate hikes by the Federal Reserve.
Analysts are expecting wages to continue to show signs of growth in February.
Labor market data released Wednesday suggested healthy if not robust gains last month. U.S. private employers added 214,000 jobs in February, higher that economists' expectations, according to a report by payrolls processor ADP.
While overall job conditions in the private sector showed strength last month, there were reasons for concern, according to ADP. Manufacturers shed 9,000 jobs, which was the second biggest decline in five years, while the financial sector added 8,000 workers which were the fewest hires since August 2015. However, the services and construction sectors both showed strong gains.
Consistently strong monthly jobs reports has countered arguments that the U.S. is veering back into recession. The recession talk was prompted by weak 2015 second half corporate profits that confirmed suspicions that overseas economic growth was slowing.
A combination of the above sent U.S. markets into a tailspin early in 2016. Markets have recovered much of the ground lost in January but volatility remains.
Some very vocal economists have viewed the earnings troubles and market volatility as a sign that a recession is just around the corner and that Fed policy makers are behind the curve on that sentiment.
But Kelly suggested otherwise: "there is simply no evidence that the U.S. economy is in recession and little evidence that it is going to enter one over the next few quarters," he said.
And Fed policy makers have made a point of sticking to their guns, namely that economic growth remains on track and that rates will continue to move higher in the coming months as the economic data warrants such moves.
San Francisco Federal Reserve President John Williams told Reuters on Wednesday there has been no substantial change in his outlook on the U.S. economy or his opinion on the number of times the Fed should raise interest rates this year and next.
"I am not going to opine whether we should have one fewer (rate hike) or the same as before," Williams said when asked about his view on the appropriate number of rate hikes this year.
"It is really just the tactics, how many rate increases this year versus next year. It's not a fundamentally different view of the economy," he told reporters after a speech in San Ramon, California. "I am not saying it would be exactly the same thing but the difference would be pretty modest."
The Fed raised U.S. interest rates in December for the first time in almost a decade, and signaled that it would probably raise rates four more times this year, a gradual pace by historical standards. That outlook has been questioned in the wake of U.S. market volatility.