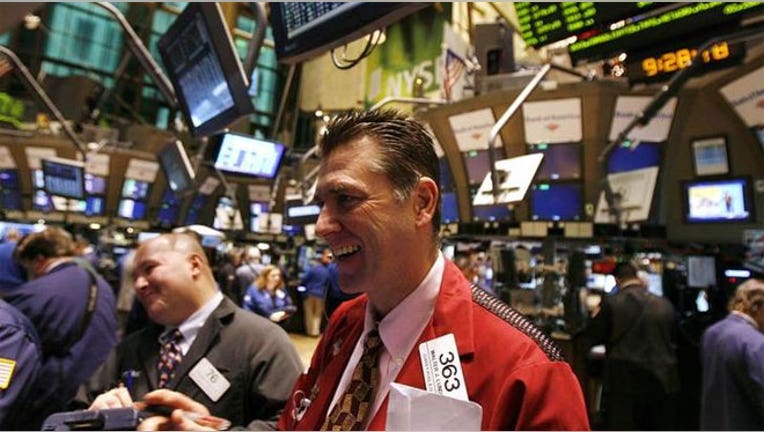 Despite fears of a pre-fiscal cliff profit collapse, the nearly completed fourth-quarter earnings season reveals corporate America continues to chug along at a remarkably resilient pace even as the U.S. economy remains sluggish.
Driven by double-digit growth from financials and consumer discretionary companies, S&P 500 profits are now seen jumping 6.95% year-over-year, more than doubling bleak forecasts from early January.
While a concerning number of companies are issuing negative guidance, investors have largely been encouraged by this earnings season, especially amid rare evidence of top-line growth.
"It is proof that companies have figured out how to make money in this environment," said Scott Wren, senior equity strategist at Wells Fargo Advisors (NYSE:WFC).
From old mainstays like ExxonMobil (NYSE:XOM) to key bellwethers such as Deere (NYSE:DE), companies are topping Wall Street's beaten-down expectations at an impressive clip, driving stocks near record highs.
According to Thomson Reuters, 69.3% of the 85% of S&P 500 companies that have reported fourth-quarter results have surpassed estimates, compared with the nine-year average of 62%.
'Records on Top of Records'
The propensity to beat the Street was highest this earnings season in the technology (81%) and consumer staples (78%) sectors, where the likes of Facebook (NASDAQ:FB), Hewlett-Packard (NYSE:HPQ) and Procter & Gamble (NYSE:PG) easily exceeded forecasts.
Just 11% of technology companies missed estimates, putting this closely-watched sector on track for growth of nearly 2% despite fears of a rare contraction as recently as January.
Overall, S&P 500 companies are projected to finish the fourth quarter with 6.95% year-over-year growth in profits to $26.16, a new all-time record, according to S&P Capital IQ.
"We're looking at records on top of records," said Christine Short, senior manager of corporate earnings at Capital IQ. "Overall, I would say earnings growth for corporate America was pretty strong."
It helps that CEOs of major companies talked down earnings estimates at the end of 2012 as the fiscal cliff loomed and gross domestic product growth went negative.  Consensus calls for S&P 500 earnings growth tumbled to 3.4% on January 2 from 9.63% on October 1.
"Maybe it's worth more to watch what they do rather than what they say. Obviously their businesses didn't do as bad as the analysts were led to believe," said Mark Luschini, chief investment strategist at Janney Capital.
Rare Revenue Beats
Looking under the hood, S&P 500 revenue is now seen up 3.8% year-over-year for the fourth quarter, trouncing calls for just 1.9% growth at the start of 2013 and relatively optimistic forecasts of 3.3% back in early July.
This growth further solidifies the consensus thinking that revenues hit a trough during the middle of 2012.
"Obviously if you can't continue to grow the top line, profit growth at that point is just misleading," said Short.
Revenue beats were hard to come by during the third quarter, when just 38% of the S&P 500 topped views, the lowest level on record going back 12 years, Capital IQ said.
But those numbers have flip-flopped this quarter as 64.5% of companies have revealed revenue beats, compared with the average of just 50% over the prior four quarters, Reuters said.
Last week alone high-profile names like General Motors (NYSE:GM) and Cisco (NASDAQ:CSCO) presented investors with fourth-quarter sales figures that exceeded views.
Tepid overall revenue growth has been offset by strong expansion in the financial sector. This group is projected to log a 20.7% leap in year-over-year revenue thanks big banks like Goldman Sachs (NYSE:GS), which revealed a 53% surge on the top line.
Looking Ahead…
One potential area of distress for investors looking back at earnings season: guidance.
Fearing the budget battles ahead, the slow economy and other issues, a number of companies have issued profit outlooks that trailed expectations, including drug giant Pfizer (NYSE:PFE) and toy maker Hasbro (NYSE:HAS).
According to Capital IQ, 68 of the 96 companies that have issued estimates for the first quarter have given below-consensus guidance, producing a negative-to-positive ratio of 2.8. By comparison, the 10-year average is 2.0.
"Corporations are still playing things pretty closely to the vest. We're hardly seeing any kind of tsunami of enthusiasm," said Luschini.
Still, while many investors may have entered earnings season with a certain amount of trepidation, the results ended up helping push the major indexes on the cusp of all-time records.
Since aluminum maker Alcoa (NYSE:AA) unofficially kicked off earnings season on January 8 with a mixed verdict, the S&P 500 has rallied as much as 5% -- and the recent pullback has little to do with earnings.
"It's not like you're seeing some monster earnings growth but it's still helped push the market ahead," said Wren.