Faster delivery of nearly everything is the next big thing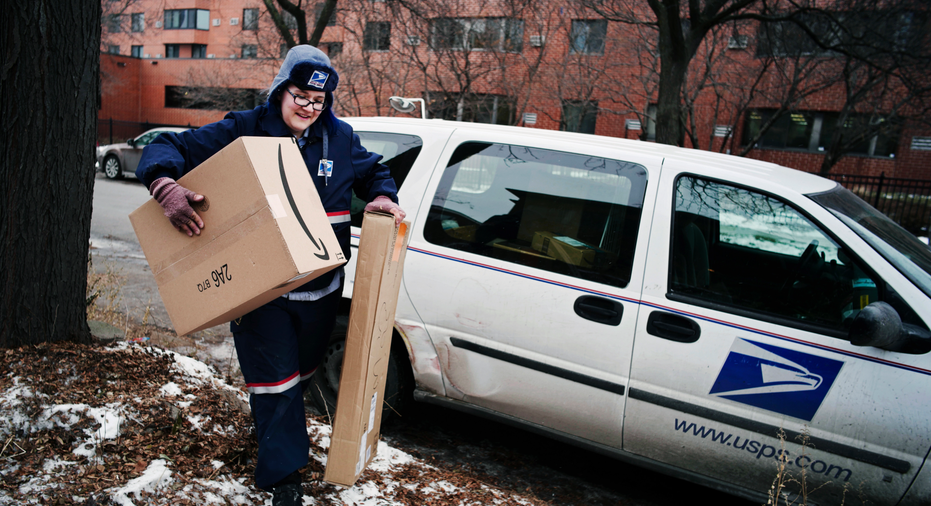 Waiting is so yesterday.
Shoppers increasingly want their orders to arrive at their doorsteps as soon as they click a button, whether it's a hot meal, groceries or a sofa. In response, retailers are betting big on delivery services to drop off packages faster.
In the latest development, online leader Amazon, which played a crucial role in raising shoppers' expectations for near-instant gratification in recent years, announced plans Thursday to assemble its own fleet of delivery vans that would be operated by independent contractors.
Other companies are also thinking of radical new initiatives to get their products into customers' hands more easily, helping to transform shopping as we know it.
Here's a look at the shifting environment for deliveries:
WHAT ARE RETAILERS DOING TO DELIVER PRODUCTS FASTER TO SHOPPERS' HOMES?
Many have been expanding services that let online shoppers pick up their orders at the store. But the latest strategy? Delivering products to customers' homes on the same day.
Walmart plans to expand same-day grocery delivery to more than 40 percent of U.S. households, or 100 metro areas by year's end. It will continue to use ride-hailing services but is also testing the use of store employees to drop off merchandise at homes at the end of their work shifts.
With its $550 million acquisition of logistics startup Shipt, Target plans to roll out same-day delivery nationwide this year.
Walmart is testing smart-lock technology that allows delivery people to enter a shopper's home and restock the refrigerator. And some Amazon Prime members can have packages dropped inside their homes or car.
Meanwhile, startups like Deliv are working with retailers such as Best Buy and Macy's to deliver products to homes on the same day.
WHAT KIND OF A CHALLENGE DOES THIS POSE TO THE LIKES OF FEDEX and UPS?
Amazon uses the big parcel delivery services, along with smaller firms and the post office. But it has also started its own air fleet of 40 planes, rolled out a convoy of trucks and built its own distribution centers.
UPS and FedEx leaders have long scoffed at the idea that Amazon could turn from a customer to a competitor, and most analysts have agreed — and still do so.
Losing more of Amazon's business would hurt the delivery giants but not crush them. Analysts estimate UPS gets up to 6 percent of its revenue from Amazon deliveries, and FedEx about 3 percent.
UPS, for example, uses about 117,000 trucks and 500 planes and employs 2,700 pilots to deliver 20 million packages a day on average worldwide.
WHAT ARE THE RISKS FOR AMAZON?
Right now, when parcels are delivered late or not at all, or when they are left out in the rain or otherwise damaged, Amazon can blame the delivery companies. If the company switches to its own delivery vans, customers will have no one to blame but Amazon.
WILL THIS HURT THE POST OFFICE?
It's unclear if Amazon will cut back on its postal deliveries in favor of its own and how quickly that could happen. But it's no secret that the U.S. Postal Service is struggling financially because of high pension and health care costs and a slump in revenue from first-class letters and other mail, and that one bright spot has been packages.
The post office's revenue from shipping and package services, which includes boxes from Amazon and other e-commerce companies, rose 12 percent to $19.5 billion in fiscal year 2017 from the year before.
ARE THERE ENOUGH DELIVERY DRIVERS OUT THERE TO MEET THE DEMAND?
Courier and delivery jobs in the U.S. have jumped by one-third in the past two decades, to 737,300 in May. In the broader category of transportation and warehousing, which also includes trucking and other industries as well as delivery workers, more jobs were posted than were filled in April. That suggest companies can't find the workers they need.
BUT WON'T ROBOTS TAKE OVER FOR HUMANS IN DELIVERING PRODUCTS TO HOMES?
Not yet, at least. Only a few retailers and restaurants are testing driverless cars for deliveries, among them Domino's Pizza and Pizza Hut.
Kroger says it plans to start a self-driving delivery service by the end of the year, becoming the first U.S. grocer to make deliveries without a human riding along in case something goes wrong.
___
AP Economics Writer Chris Rugaber in Washington contributed to this report.