Fast-Food Deals: Good for Consumers; Bad for Business?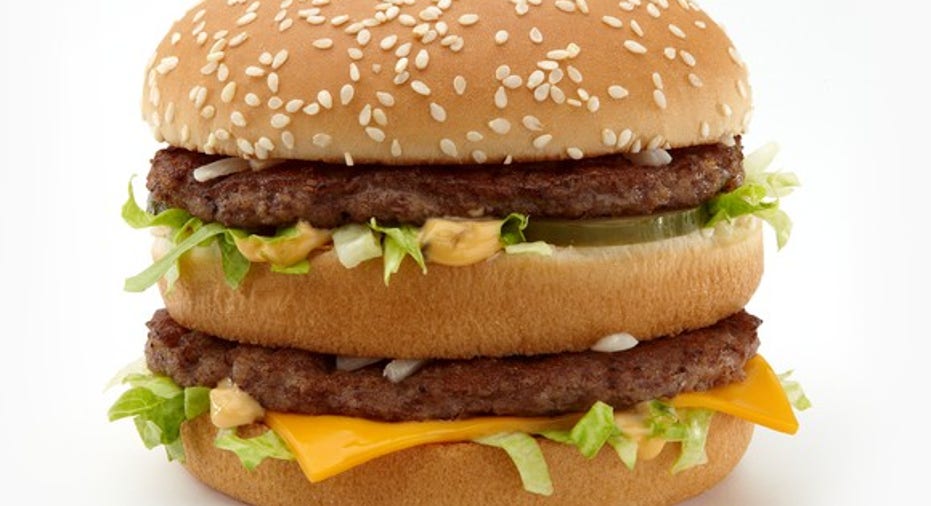 The Big Mac is a choice on McDonald's McPick 2 menu. Image source: McDonald's. .
After years when the leading trend in fast food involved increasing quality to compete with fast-casual restaurants, the industry has fallen back on old habits.
Now it seems like all the major burger chains, McDonald's , Wendy's , Restaurant Brands International's Burger King,and even Sonic have returned to discounting as a key marketing strategy. In this case, all four players have used cheap meal combos as the strategy of choice rather than dollar menus or individual, low-cost items.
It's a risky proposition that can drive low-margin traffic into restaurants. In addition, heavy discounting can force prices lower for the entire industry, creating a pricing war that helps consumers, but hurts franchisees as well as the parent companies.
However, when done right, discounting can actually lead to people spending more. The fast-food chains must walk a careful tightrope where their deals either bring in new customers or drive existing ones to buy items beyond the specials, preferably both.
What are the restaurants doing?
Each of the chains above has some version of a multi-item combo as a current promotion (as of June 20, 2016).
McDonald's: The chain has been heavily advertising its "McPick 2" promotion where consumers can choose two items from a list that includes the Big Mac, Filet O-Fish, and the 10-piece Chicken McNuggets. Unlike all of the other chains on this list, the Golden Arches deal does not include fries and a drink.
Wendy's: The chain known for its square burgers is offering a 4 for $4 promotion featuring either a Junior Bacon Cheeseburger or a Crispy Chicken BLT along with a four-piece chicken nuggets, fries, and a drink.
Burger King: In a slightly different take on a meal deal, Burger King offers two Whoppers, two small fries, and two sodas for $10.
Sonic: The latest fast-food player to jump into the meal-deal fray, Sonic offers its $5 "Boom Box," which includes a 6-inch hot dog, a Jr. Deluxe Cheeseburger, medium Tots or fries, and a medium drink.
Why is this a problem?
While fast-casual chains including Chipotle and Panera Bread have been able to charge higher prices while rarely offering discounts by offering higher-quality food, fast-food restaurants have trouble doing that. McDonald's, for example, has struggled with various incarnations of a better-quality burger simply because that's not what the chain is known for. To a lesser degree Burger King has suffered the same fate while Wendy's has always been in the odd position of being considered a good burger for fast food (but not compared to higher-end fare).
The staff at Fast Food Menu Prices explained in a recent article why discounting creates problems for the industry.
"Hesitantly, fast food chains believe that the reason why many customers flock to their food joints is because the industry and the public love $1 items and affordable promotions," reported the website. "Unfortunately, food chains do not exactly worship the idea of formulating these kinds of tactics just to boost customer rates. The are concerned as to how these promotions can eventually hurt their revenues as customers continue to patronize cheap and affordable menu items."
Essentially going cheap can lead to busier restaurants that make less money and a customer base that chases the best deal. McDonald's learned that the hard way during the Dollar Menu days and franchisees protested an early version of the McPick 2 which offered two items for $2. That offer was quickly scrapped in favor of the current, pricier deal.
It's a slippery slope
Discounting can be a valuable tool in bringing in customers and if done well it can actually lead to people spending more. The problem here is that by offering a complete meal these chains eliminate a need for people to add items to their order. If you're already getting a sandwich, fries, and a drink (and maybe more) most people simply don't need anything else.
That's fine if a chain gets consumers in the door and they keep coming back after the promotion ends. The problem is that with fast-causal restaurants offering higher-quality food, fast-food eateries run the risk of people only coming when the best deals are offered.
McDonald's has shown in the past that discounts can drive traffic while hurting business but they can be an addictive marketing tactic even when the end result is bad. All four of these chains are walking a dangerous road and consumers should take advantage while shareholders should be wary.
The article Fast-Food Deals: Good for Consumers; Bad for Business? originally appeared on Fool.com.
Daniel Kline has no position in any stocks mentioned. The Motley Fool owns shares of and recommends Chipotle Mexican Grill and Panera Bread. Try any of our Foolish newsletter services free for 30 days. We Fools may not all hold the same opinions, but we all believe that considering a diverse range of insights makes us better investors. The Motley Fool has a disclosure policy.
Copyright 1995 - 2016 The Motley Fool, LLC. All rights reserved. The Motley Fool has a disclosure policy.