Fashion show without catwalks promotes modest wear in Dubai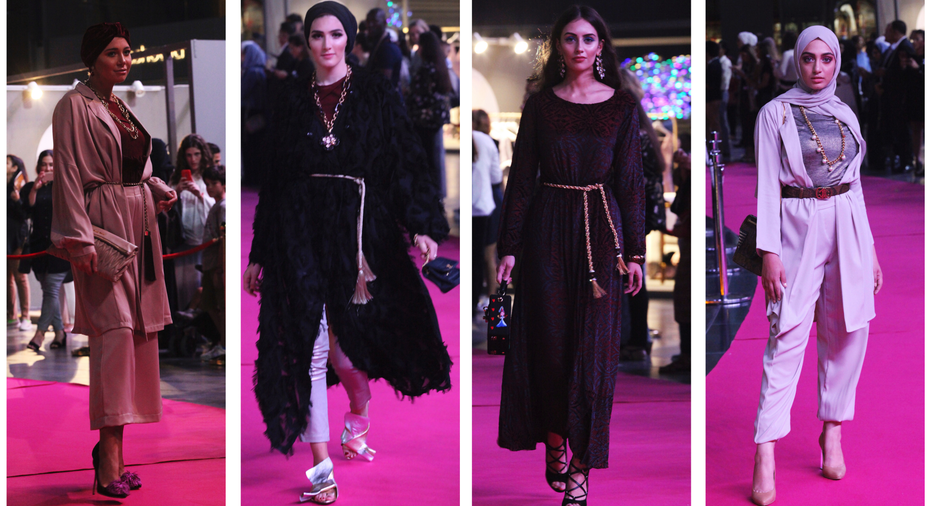 A weeklong fashion event in Dubai is being held without catwalks, models or skin-baring designs.
Instead, around 30 designers of fashionable modest wear— some Muslim and others not— from nearly two dozen countries showcased their long-sleeved and floor-length pieces on large screens. Buyers could see and touch the collections up close in one of Dubai's newest shopping districts, a shimmering maze of walkways and fountains. At the start of the event, a handful of designs were paraded around the plaza.
"We did away with the catwalk. We thought that was one of the most antiquated things," Alia Khan, chairwoman of the Islamic Fashion and Design Council (IFDC), said, explaining the decision to nix the most common elements of fashion shows around the world.
Khan spoke Wednesday, the opening night of the event dubbed "A Modest Revolution." It showcases the latest creations by designers hoping to capitalize on a growing desire by Muslim shoppers to wear modest clothing that is also fashionable.
Italian designer Isabella Caposanno's long-sleeved evening-wear dresses can take months to make by hand, and some cost upward of 30,000 euros ($37,000). Her clients include Arab royalty.
Under-Rapt offers modest sportswear, with longer, looser tops. Its leggings include flaps that fall just below the hips to give extra cover to the rear and front.
Another line, called Blue Meets Blue, employs refugees who have resettled in the Chicago area to make dressy and formal wear.
"We're trying to change the stereotypes of refugees in the U.S., as well. We want people to know that they're very hardworking, they're very excited to be in their new country and they want an opportunity to show that," said Shahd Alasaly, designer and founder of the American-made brand.
Alasaly says her customers aren't just Muslims, but also Orthodox Jewish women who want to wear something that's "classy, timeless and elegant."
How women choose to dress modestly varies around the world. Often, Muslim women who cover their hair with a hijab, or headscarf, in public do so in ways that reflect the local culture and their interpretation of Islamic guidelines.
But even women who dress modestly and cover their hair can find themselves at odds with conservatives who say the hijab should not be eye-catching and should conceal a woman's beauty from strangers.
"Modest fashion comes in so many different ways and I think people tend to pigeon-hole it and stereotype it," Khan said. "Designers are coming from all walks of life. All have their own interpretation."
Malaysia has been a trailblazer in the so-called halal industry, an estimated $2.6 trillion global Muslim lifestyle market that includes everything from halal food products that adhere to Islamic principles on how to slaughter animals, to halal tourism, where hotels cater to Muslim visitors by offering prayer rugs, halal food options and even gender-segregated beaches and pools.
On the opening night of the event, Vivy Yusof, a designer and businesswoman from Malaysia, wore a cream-colored headscarf by her brand, "dUCk," paired with a Petite Malle Louis Vuitton bag and a bejeweled black blazer and black slacks made by South Asian designers.
"I think it's really funny that now modest fashion is booming so much, because that's how we've been dressing for ages," she said. "Layering, covering, long sleeves, long pants, you know, wearing the hijab or not, that's how we've been dressing as Muslim women."
The 30-year-old and her husband co-founded Fashion Valet, an e-commerce website in Malaysia that features more than 400 South Asian designers, many of them selling modest wear collections. She selected six South Asian designers to showcase their pieces at her stall.
Yusof declined to disclose specifics on the company's annual revenue, but said that since launching the site eight years ago, business has grown by 100 percent annually.
Mainstream designers and retailers are also trying to tap into the niche market for modest clothing.
Just last month, U.S. retailer Macy's launched a modest clothing line targeting Muslim fashionistas. The new line, available online for now, includes ruffled high-neck tunics, flowy jumpsuits and bell-sleeve ankle-length cardigans.
Nike has debuted a hijab designed for female Muslim athletes. U.S. fashion house DKNY in 2014 launched a modest wear collection for Ramadan, the holy month when Muslims fast from sun-up to sundown. High-end label Dolce & Gabbana has also released a collection of headscarves and coordinated abayas, the loose robes worn by women in Arab Gulf countries.
The IFDC says Muslims are expected to spend as much as $322 billion on fashion this year. That figure is projected to grow as the Muslim population expands to 2.2 billion by 2030.
For the first time this year, more than half of all apparel and footwear sales will originate outside Europe and North America, according to consulting firm McKinsey & Co.'s "The State of Fashion" report.
The main areas of growth will be in emerging markets in Asia where fashion sales are expected to grow by 6.5 to 7.5 percent this year. In the Middle East, fashion sales are expected to grow by 6 percent, compared to 2 to 3 percent growth in Europe and 1 to 2 percent in North America.
Syrian sisters Nazek and Rama Jandali searched the fashion stalls for unique and modest pieces to wear this Ramadan, set to begin mid-May. Nazek was dressed in an off-the-shoulder cream embroidered top. Her younger sister Rama wore a colorful Fendi top and Chanel shoes. Neither covered their hair.
"I really like this event because it supports all these new designers and it's something you don't see in the market, or you don't see it in shopping malls. It's something new — not many people (have) worn it," said Rama of the collections on display.
Nazek agreed.
"It's not like the usual exhibitions or usual fashion shows. I found it really interesting that it inspires the conservative woman who would like to really be trendy in a very modest way," she said.
___
Follow Aya Batrawy on Twitter at https://twitter.com/ayaelb