Famed Plaza Hotel is on the block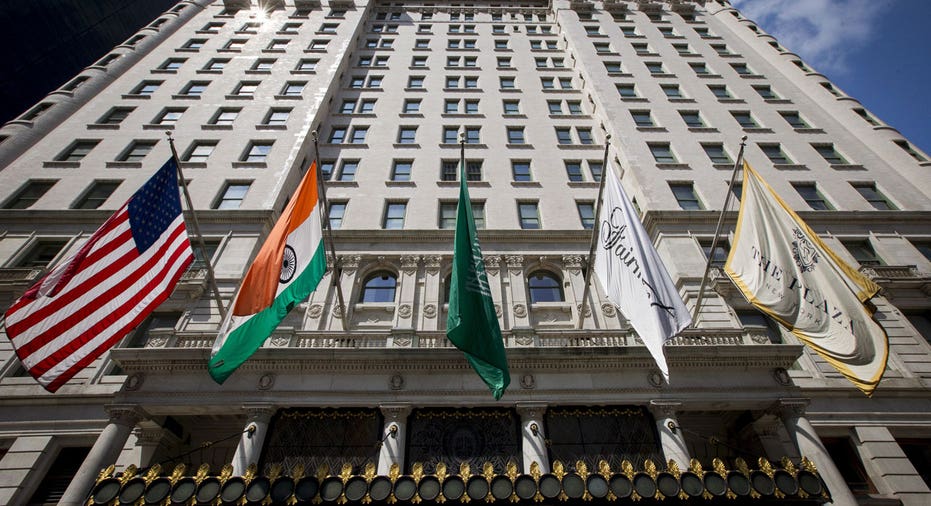 The Indian owners of the Plaza Hotel have hired a broker to sell the New York City landmark, a sign that a world-wide scramble among investors, celebrities and governments to acquire the property could be nearing an end.
Sahara Group, a Lucknow, India-based conglomerate and the hotel's majority owner, has enlisted JLL Hotels and Hospitality Group, a unit of real-estate firm JLL, to find a buyer, according to a person familiar with the matter.
While it is unclear how much a buyer would pay for a trophy property like the Plaza, hotel investors and brokers suggest it could be one of the most expensive hotel sales on a per-room basis, a popular industry metric. By that method of valuation it could bring in more than $500 million.
A Sahara spokesman didn't comment on the hiring of a broker but said a "sale is under process and it has not yet concluded."
Dozens of real estate moguls, foreign government funds and other hotel investors around the globe in recent years have looked into buying the Plaza after Sahara indicated it would listen to offers, according to people familiar with the matter.
A Qatari sovereign-wealth fund, a Shanghai municipal investment fund and Pras Michel, the Grammy-winning co-founder of the hip-hop group Fugees, are among those that have expressed interest, say people who have been close to the process.
Sahara founder and Chairman Subrata Roy, who spent two years in a New Delhi jail on contempt charges, even negotiated with potential buyers from the jail's guesthouse, according to people familiar with the situation.
None of those talks led to a sale, and several of the Plaza's suitors walked away frustrated, some questioning whether Sahara was a serious seller, according to hotel brokers and investors involved with the discussions.
But recruiting a broker to run a formal sales process signals that Sahara is getting more serious about unloading its crown jewel, said Sean Hennessey, chief executive officer of the hotel consultants Lodging Advisors, whose firm isn't involved in the sale process.
"This suggests a commitment to consummate a transaction," he said, adding that a professional broker handling the process "might draw people back that looked once and walked away."
The Plaza has a pedigree few hotels can match. It has been featured in novels like "The Great Gatsby" and numerous films, including Alfred Hitchcock's "North by Northwest." Marilyn Monroe and the Beatles stayed there. John F. Kennedy's sister Patricia Kennedy held the reception after her wedding to Peter Lawford in the Plaza's ballroom.
Previous owners of the 110-year old property include hotelier Conrad Hilton and Donald Trump, who once compared it to the Mona Lisa.
How much the iconic structure might fetch is up for debate. It has an envious location at the southeast corner of Central Park, and charges some of the highest room rates in the country. A one-night stay next Saturday starts at $616 a night, while "legacy suites" cost $2,125 or more a night, according to the Plaza's website.
But many of its best rooms with sweeping views of Central Park have been sold as condos, and the opening in recent years of new Manhattan luxury hotels like the Park Hyatt and Baccarat have heated up competition for affluent travelers.
In 2015, Hilton Worldwide Holdings Inc. sold the Waldorf Astoria New York for $1.95 billion to China's Anbang Insurance Group Co., the highest price ever paid for a U.S. hotel, according to data tracker STR Inc.
New York hotel sales have slumped since then: The average Manhattan hotel sales price in the first half of 2017 was about $515,000, down 26% from the recent peak in the first half 2015, according to data company Real Capital Analytics.
But some think a prestige property like the Plaza is less confined by market trends. Mr. Hennessey figured the hotel would likely receive bids that could value the property at close to $2 million a room, a price that would include the hotel's Todd English food hall, other restaurants, retail shops and public spaces.
The only U.S. hotel sales to exceed $2 million a room were the Baccarat, the Midtown Manhattan hotel that sold in 2015 for $230 million, and the Plaza itself in 2012, according to STR.
By that valuation, the Plaza could be worth about $560 million.
But, Mr. Hennessey added, "I'd assume there would be competitive bidding that could drive the price higher."
Real-estate firm El Ad Group in 2004 paid $675 million for the Plaza, but what Sahara is selling today isn't the same property. The Israel-based developer combined many of the property's initial 800 rooms and suites into luxury condos. The hotel now has 282 guest rooms and 152 privately-owned residences, some of which have sold for tens of millions of dollars.
In 2012, Sahara acquired a controlling stake in the hotel in a deal that valued the property around $575 million. Saudi Prince al-Waleed bin Talal owns a minority interest.
India's Supreme Court in 2014 confined Mr. Roy to jail for failing to pay regulators what the government said is as much as $4 billion of what they claim is illegal debt issued to small investors.
India's capital-markets regulator in 2010 accused two Sahara entities of raising about $4 billion by selling an illegal private placement of bonds. India's Supreme Court in 2014 confined Mr. Roy to jail for failing to refund investors.
Mr. Roy and Sahara have denied the allegations and say that they have paid most of the debt owed investors.
Sahara had considered offers on the Plaza and other hotel properties as a way to raise cash, say people familiar with the company's thinking. Since May 2016, Mr. Roy has been out on parole.
--Debiprasad Nayak contributed to this article.
Write to Craig Karmin at craig.karmin@wsj.com