Falling Gold Prices, Monetary Policy Fears Take the Shine Off Gold-Mining Stocks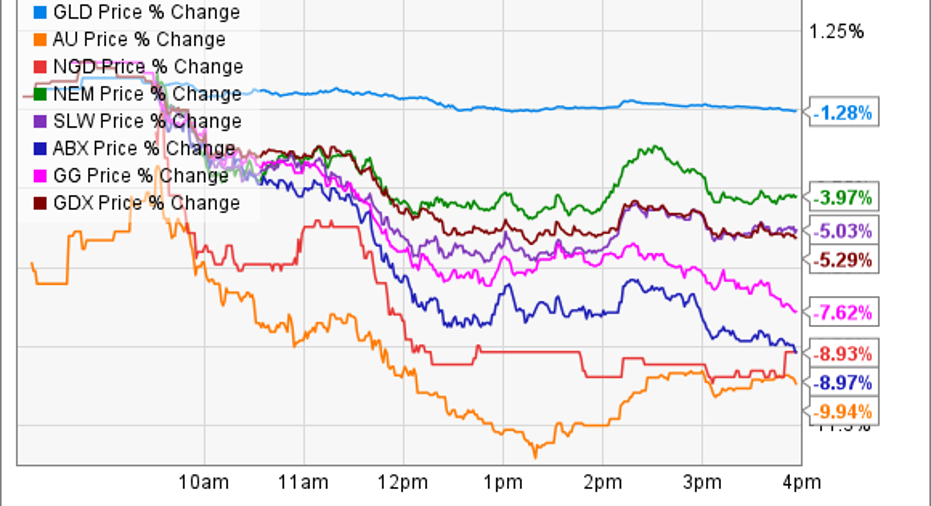 What:Gold-mining stocks took a big hit on Dec. 14:
A nearly 10% drop in shares ofAngloGold Ashanti Limited (ADR) made it the biggest loser on the day, followed closely by an almost 9% decline in shares ofBarrick Gold Corporation (USA) andNew Gold (USA) and a 7.6% loss forGoldcorp (USA) shares.
Silver Wheaton Corp. (USA), which is involved in much more than just gold, saw its shares off 5%, while shares ofNewmont Mining Corp fell just under 4% on the day.
Market Vectors Gold Miners ETF, a gold-miner index fund made up of 36 separate mining stocks, was down 5.3% on the day.
So what:Today's industry sell-off was driven by fears that gold prices could continue to fall, with the U.S. Federal Reserve expected to announce an increase in interest rates later this week. There are fears that a steady rise in interest rates, as well as a general shift in the Fed's overall monetary policy as the U.S. economy strengthens, would continue the steady decline in gold prices, which started in late 2011 and really set in during late 2012. Gold has lost nearly half its value since its 2011 peak. After today's 1.1% decline, shares ofSPDR Gold Trust ETF, a gold fund, fell to its lowest levels since 2010.
Gold isn't the only precious metal losing value. Silver prices hit their lowest levels since 2009 in trading on Dec. 14.
Now what:While the sharp decline in gold miners is a bit premature, it's a reminder that gold prices are the key driving force behind revenues and profits for the industry. If gold prices do continue to slip even further, it will weigh on all but the best gold miners.
And while economic uncertainty was a big lift for gold prices during and immediately after the Great Recession, relative economic strength could continue to weigh on gold prices. The Fed has so far held off on rising interest rates, stating that it would do so only if the U.S. economy was strong enough to absorb higher rates.
The fear is that that day is upon us, the market for gold is likely to shrink, and there's just not enough industrial and consumer demand to soak up all of the supply investors were buying. Today's move down was driven by speculation, but if that speculation turns into reality and demand shrinks even further, the gold-mining industry will see more days like today ahead.
The article Falling Gold Prices, Monetary Policy Fears Take the Shine Off Gold-Mining Stocks originally appeared on Fool.com.
Jason Hall has no position in any stocks mentioned. The Motley Fool owns shares of Silver Wheaton. (USA). Try any of our Foolish newsletter services free for 30 days. We Fools may not all hold the same opinions, but we all believe that considering a diverse range of insights makes us better investors. The Motley Fool has a disclosure policy.
Copyright 1995 - 2015 The Motley Fool, LLC. All rights reserved. The Motley Fool has a disclosure policy.