Falcons 'Ran Out of Gas' in Painful Super Bowl Loss, Says Coach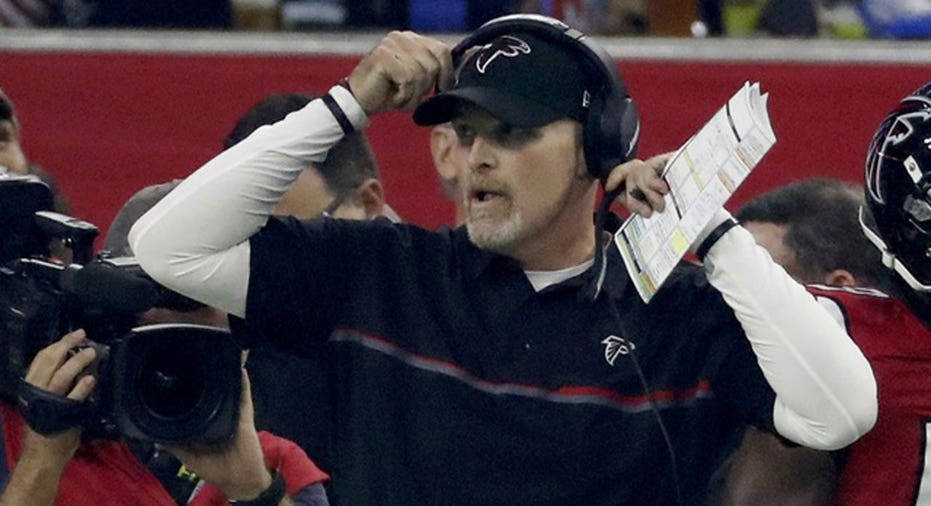 The Atlanta Falcons came agonizingly close to winning their first Super Bowl title on Sunday, and head coach Dan Quinn admitted the 34-28 overtime loss to the New England Patriots was hard to take.
"No doubt that was a tough one for us," said Quinn. "That's a hard one in the locker room."
The Falcons looked headed for a romp, turning the Patriots over twice in the first half on the way to a 21-3 lead at intermission.
A third-quarter touchdown made it 28-3 for Atlanta, but the Patriots refused to give up and scored a remarkable 31 unanswered points for the greatest comeback ever in a Super Bowl or any postseason game.
The defeat came in the first sudden-death overtime Super Bowl decision.
Quinn felt the Falcons were worn out by the end by the pressure the Patriots applied.
"I think for sure we ran out of gas some," Quinn said.
"They executed terrifically. That was one of the things that we don't talk about with them a lot, is the way they can execute.
"When they got hot, it was hard for us to deal with."
That said, Quinn was proud of the way his team battled together in their quest for their first NFL title in the 51st season for the Falcons.
"I am proud of the fight that these guys have. The brotherhood that this group has built, it's as strong as I've seen," he said.
Quinn, in his second season as the Falcons head coach after winning a Super Bowl as defensive coordinator for the Seattle Seahawks, lamented the team's inability to get a stop when they needed one during the Patriot's late rally.
"We knew it was going to come down to the end for sure, and just at the end for them to have the scores back-to-back, that was the difference for sure."
(Editing by Andrew Both)