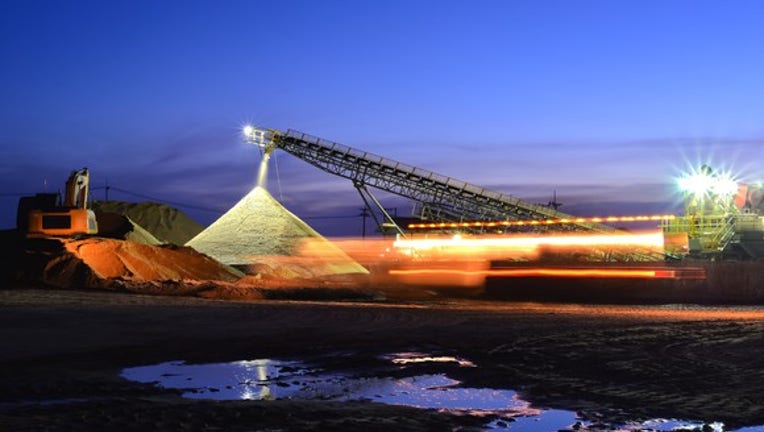 The frack-sand market is back, baby. With oil prices hovering in the range of $50 a barrel and producers rushing into places such as the Permian Basin, sand demand has been growing at a breakneck pace. You might not be able to tell this trend is taking place if you looked at Fairmount Santrol Holdings' (NYSE: FMSA) most recent results, though. While the company did show some modest growth from sand sales, it wasn't keeping pace with the rest of the industry.
This slower-than-average growth rate may not be too much of an issue today, but some longer-term trends are going on here that suggest Fairmount Santrol is falling behind its competitors. Let's look at Fairmount's most recent quarterly results and what investors should be concerned about in the future.
Image source: Getty Images.
By the numbers
Data source: Fairmount Santrol earnings release.*EBITDA= earnings before interest, taxes, depreciation, and amortization.
If you were to look at Fairmount's results in a vacuum, you'd say the company did reasonably well in the quarter. Volumes of sand delivered increased by 10% sequentially to 2.6 million tons, revenue was up 23% thanks to higher volumes and better prices, and operating profits are rising.
When you compare Fairmount's results with those of other frack-sand producers, though, these results look less impressive. Fairmount's production growth was the slowest of its peer group, which suggests that it may be losing market share. On the other hand, this may just be the product of timing. In an investor presentation before these results, management said it would restart operations at two of its idle facilities in the first quarter that will add 650,000 tons per quarter of production.
As was the case with other frack-sand suppliers this quarter, Fairmount got hit with some higher costs associated with ramping up production capacity. Over the next quarter or two, these costs should go away, and we'll get a better idea of how Fairmount can run its facilities without extraordinary costs.
Fairmount's balance sheet didn't change that much compared with this time last year. It did manage to generate $26 million in cash from operations and add some cash to the coffers, but its debt levels more or less remained the same. It ended the quarter with $210.7 million in cash and short-term investments and a total debt load of $845 million.
What management had to say
Commenting on the first quarter's results, CEO Jenniffer Deckardexplained that the company's revenue growth lagged that of its peers, as it was a little slower to bring those idle facilities back on line:
What a Fool believes
Fairmount's 10% increase in volumes sold looked terribly modest compared to its peer's recent earnings announcements. It looks to be a matter of timing, as its two idle mines will be up and running this coming quarter.
Perhaps the bigger concern for Fairmount is where it will get its next wave of growth. All of its larger peers have made aggressive moves such as buying new mines of prospective mine properties, expanding capacity at their existing facilities, or venturing into the logistics business to improve per-ton margins. Fairmount has been quiet by comparison, and it could lose market share as a result.
10 stocks we like better than Fairmount Santrol HoldingsWhen investing geniuses David and Tom Gardner have a stock tip, it can pay to listen. After all, the newsletter they have run for over a decade, Motley Fool Stock Advisor, has tripled the market.*
David and Tom just revealed what they believe are the 10 best stocks for investors to buy right now... and Fairmount Santrol Holdings wasn't one of them! That's right -- they think these 10 stocks are even better buys.
Click here to learn about these picks!
*Stock Advisor returns as of May 1, 2017
Tyler Crowe has no position in any stocks mentioned. The Motley Fool has no position in any of the stocks mentioned. The Motley Fool has a disclosure policy.