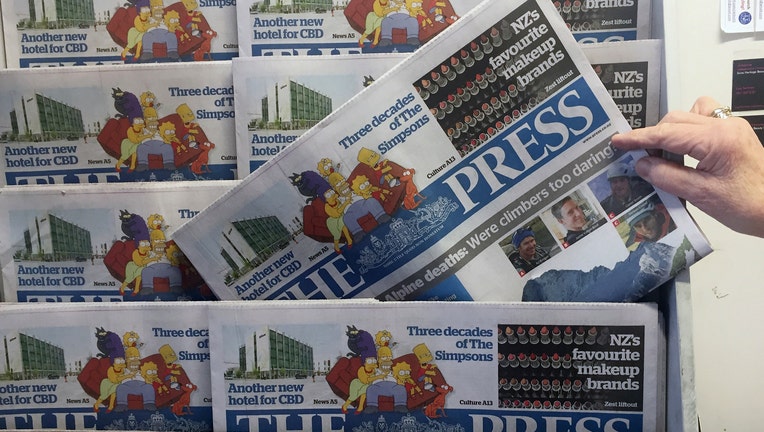 Struggling Australian publishing giant Fairfax Media said Wednesday it would axe around a quarter of its newsroom staff in Australia, prompting journalists at two of the company's major newspapers to strike.
Fairfax's announcement that it would slash 125 editorial jobs at its Australian newspapers came just hours after the company's New Zealand operation lost out on a proposed merger with another New Zealand publisher. The companies had hoped the merger would save money and stave off job cuts.
Fairfax, which has seen a decline in its advertising revenue and circulation numbers, is attempting to cut costs by 30 million Australian dollars ($22 million). The company had axed 120 jobs from its Australian newsrooms a year ago in an earlier cost-cutting measure.
In response to the latest cuts, workers at The Sydney Morning Herald and Melbourne paper The Age, voted to go on a one-week strike.
Sean Nicholls, a journalist at the Herald, blasted the job cuts as short-sighted and a threat to media diversity. If the Herald and Age shut down, Nicholls said, Sydney and Melbourne would be left with just one daily newspaper each, both run by Rupert Murdoch's News Corp.
"This threatens the very existence of the newspapers, let alone the future quality of our newspapers," Nicholls told reporters. "We acknowledge that the media in Australia, like everywhere else in the world, is in a very difficult position. But just cutting jobs again and again and again is not the way to do it."
Fairfax Media, which owns Fairfax New Zealand, had hoped to ward off even deeper job losses by merging its New Zealand operation with NZME, which publishes New Zealand's largest daily newspaper. But on Wednesday, New Zealand's Commerce Commission rejected the proposal, saying the benefits of saving money and extending the life of some newspapers did not outweigh the harm it would cause to democracy. The commission said the combined company would have controlled nearly 90 percent of the daily newspaper market and a majority of traffic to online New Zealand news.
"This merger would concentrate media ownership and influence to an unprecedented extent for a well-established modern liberal democracy," Commission Chairman Mark Berry said in a statement. He said the merger would have reduced the quality of news and the diversity of voices. He said competition between news outlets resulted in better content.
Both Fairfax and NZME said they were disappointed by the commission's decision. Fairfax said it would need to cut costs and consolidate some of its publications, while NZME said it was considering its options.
NZME shares were down 11 percent after the announcement.
E tu, the union representing journalists, said it welcomed the commission's decision. Senior Industrial Officer Paul Tolich said the union agrees with the commission that media monopolies are unacceptable. He said the union favors imposing a special tax on companies like Google and Facebook, which take a majority of the online advertising revenue without producing any news content.
___
Perry reported from Wellington, New Zealand.