Factory Orders Fall, but Unfilled Orders Increase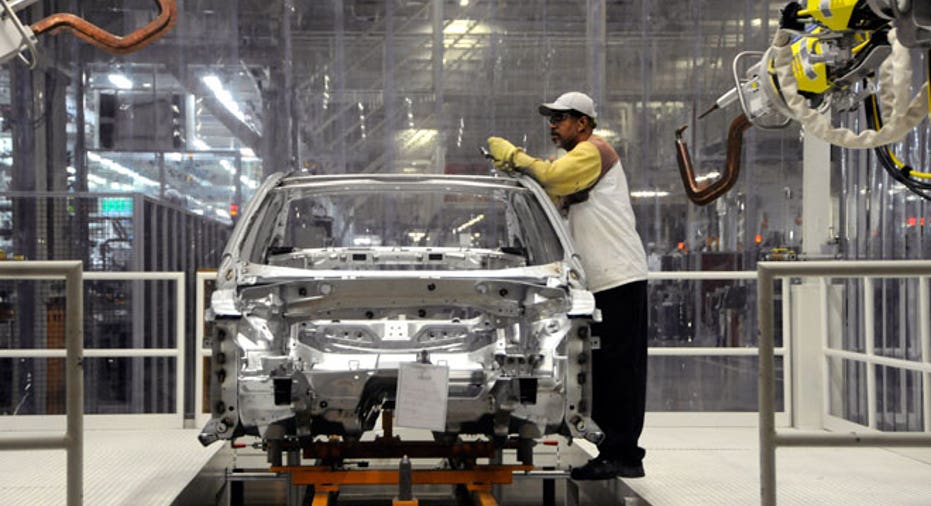 New orders for U.S. factory goods fell in May on weak demand for transportation and defense capital goods, but growing order backlogs and lean inventories suggested the worst of the manufacturing downturn was probably over.
The Commerce Department said on Tuesday new orders for manufactured goods declined 1.0 percent after two straight months of increases.
April's orders were revised slightly down to show a 1.8 percent increase instead of the previously reported 1.9 percent jump. Economists polled by Reuters had forecast factory orders falling 0.9 percent in May.
The department also said orders for non-defense capital goods excluding aircraft fell 0.4 percent in May instead of the 0.7 percent drop reported last month. These so-called core capital goods are seen as a measure of business confidence and spending plans on equipment.
Core capital goods shipments, which are used to calculate business equipment spending in the gross domestic product report, dropped 0.5 percent in May as reported last month.
Manufacturing, which accounts for about 12 percent of the economy, has been squeezed by a strong dollar and weak global demand, which have undercut exports of factory goods, as well as efforts by businesses to reduce an inventory bloat.
The sector has also been hurt by spending cuts by energy firms as they adjust to reduced profits from cheaper oil.
But there are signs the sector could be close to turning the corner. A survey last Friday showed a gauge of national activity surged in June, with factories reporting strong increases in new orders, including exports, order backlogs and inventories.
In May, orders for transportation equipment fell 5.7 percent, despite a 0.8 percent increase in demand for motor vehicles and parts. Defense capital goods orders tumbled 28.1 percent.
Orders for machinery, which have been hurt by weak demand in the energy and agricultural sectors, gained 0.3 percent. But orders for electrical equipment, appliances and components slipped 0.6 percent. Orders for computers and electronic products were unchanged.
Inventories of factory goods dipped 0.1 percent, suggesting factories were making progress in reducing the inventory bloat.
That could support future production at factories. Inventories have declined in 12 of the last 13 months.
The inventories-to-shipments ratio was at 1.36 in May, unchanged from April. Unfilled orders at factories increased 0.2 percent after rising 0.6 percent in April. They have increased in four of the last five months.
((Reporting By Lucia Mutikani; Editing by Andrea Ricci))