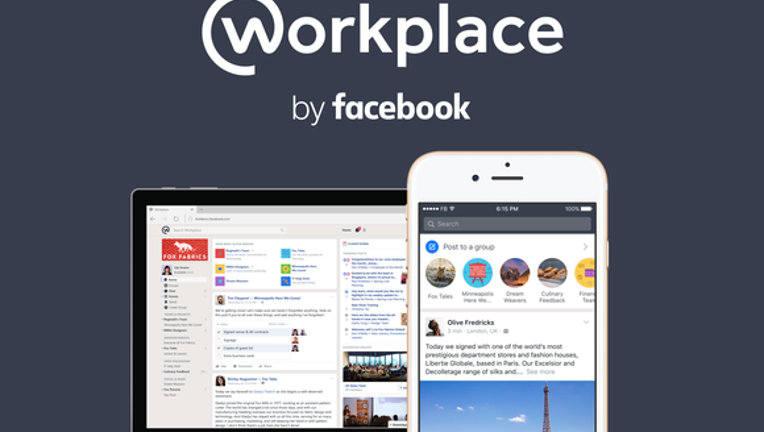 Facebook (NASDAQ: FB) has started to roll out Workplace, its enterprise collaboration and communications tool that hopes to challenge Slack and represents the social network's most ambitious plan yet to address the enterprise. That makes sense since the market for enterprise productivity software is massive, and it may help Facebook diversify its revenue streams beyond just advertising.
The company really wants prospective customers to try it out, so it has just unveiled a new version of Workplace that's entirely free to use. Facebook product manager Simon Cross told CNET that a free version has always been part of the plan, which both allows companies to test it out without committing while also helping Facebook address emerging markets; Workplace is already taking off in India.
Image source: Facebook.
Workplace pricing is aggressive
There is a new Workplace Standard tier that is free and "coming soon." Meanwhile, Workplace Premium offers a free trial through September before monthly billing kicks in. Both tiers include communications features like live video streaming and voice/video calls. Also included for both Standard and Premium are productivity tools like unlimited file, photo, and video storage; groups for teams and projects; and security.
The features that are reserved for Premium customers expectedly cater to the enterprise. Things like administrative controls and monitoring, as well as single sign-on and third-party integrations. This is similar to Slack's own pricing structure, which also includes a very basic free version that allows users to test out the product before opening their wallets. However, there's a big difference between the paid versions of Slack and Workplace, and Facebook is aggressively undercutting its smaller start-up rival by starting at $3 per user per month (for the first 1,000 active users), which is less than half of the $6.67 per user per month that Slack Standard costs (if you make an annual commitment).
Facebook requires no long-term commitments, and offers discounts as Workplace scales to larger organizations; the fee drops to $2 per user per month for next 9,000 active users after the first 1,000, and then costs just $1 per user per month once you get above 10,000 active users. Facebook also won't charge you for inactive users. In addition to already undercutting on price, that level of flexibility further differentiates Workplace.
Show me the money (savings)
Slack is about to see competition heat up in a big way. Beyond Facebook, Microsoft (NASDAQ: MSFT) just launched Microsoft Teams for general availability last month, bundling its chat software with several tiers of Office 365; Microsoft also offers a free trial for Teams. Bundling is a different strategy than discrete pricing, but it looks promising for Microsoft given its expansive enterprise productivity offerings. In contrast, Workplace is Facebook's first enterprise offering, so it has relatively less to bring to the table.
Microsoft Teams uses an almost identical interface as Slack, so it would feel instantly familiar to any companies and users making the switch. Workplace resembles Facebook's core social network platform, which could even be seen as a risk since it's extremely important for users to distinguish between their personal accounts and their work accounts.
Slack has an intensely loyal following and user base, but the reality of the enterprise is that avid users aren't the ones actually making the purchasing decisions. That call usually falls on a high-level IT executive, and the best way to appeal to them is through aggressive pricing.
10 stocks we like better than FacebookWhen investing geniuses David and Tom Gardner have a stock tip, it can pay to listen. After all, the newsletter they have run for over a decade, Motley Fool Stock Advisor, has tripled the market.*
David and Tom just revealed what they believe are the 10 best stocks for investors to buy right now... and Facebook wasn't one of them! That's right -- they think these 10 stocks are even better buys.
Click here to learn about these picks!
*Stock Advisor returns as of April 3, 2017
Teresa Kersten is an employee of LinkedIn and is a member of The Motley Fool's board of directors. LinkedIn is owned by Microsoft. Evan Niu, CFA owns shares of Facebook. Evan Niu, CFA has the following options: long January 2018 $120 calls on Facebook. The Motley Fool owns shares of and recommends Facebook. The Motley Fool has a disclosure policy.