Facebook Upgraded: Doomsday for Snap?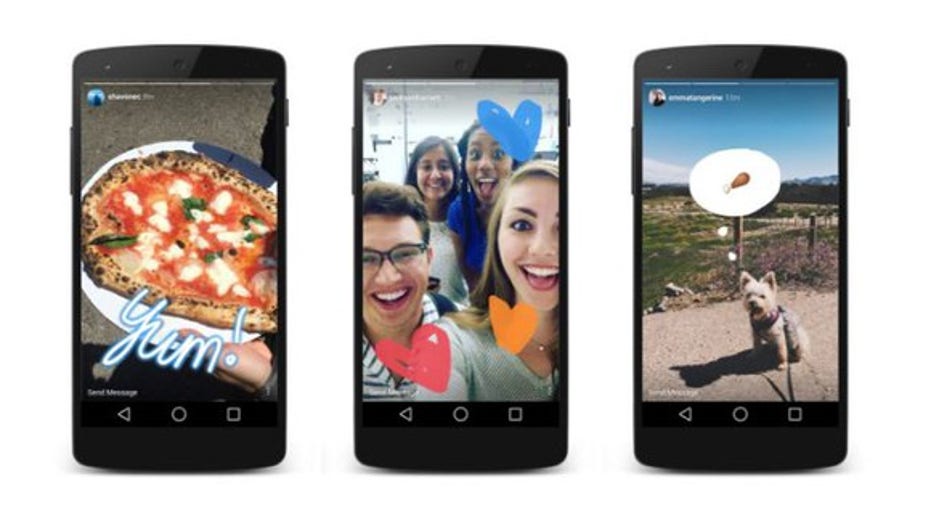 Every day, Wall Street analysts upgrade some stocks, downgrade others, and "initiate coverage" on a few more. But do these analysts even know what they're talking about? Today, we're taking one high-profile Wall Street pick and putting it under the microscope...
It's been just 24 hours since Snap Inc. (NYSE: SNAP) stock won its first upgrade, sending the Snapchat operator's stock up 2%. Unfortunately, much like a Snap on Snapchat, that momentum could be about to disappear.
That's because just this morning, institutional trader BTIG announced it is upgrading Facebook (NASDAQ: FB) stock -- and arguing that one of the things that has made Snapchat so popular could also be the thing that makes Facebook stock a winner.
Here are three things you need to know about that.
Instagram Stories could be one of the best reasons to buy Facebook stock. Image source: Instagram.
1. The basics
As reported on StreetInsider.com, New York City-based BTIG announced it is upgrading Facebook stock to buy and assigning it a $175 price target. Relative to today's share price of $141 and change, that implies Facebook stock has 24% upside over the next 12 months.
2. Film at 11
There are two big developments that BTIG likes about Facebook. First, the analyst has noticed a shift in how Facebook presents video to its users. Specifically, says the analyst, "The focus on live content has disappeared and Facebook has begun to showcase better (and more targeted) video content using its algorithm."
Instead of just tossing out to users just whatever someone they follow may be broadcasting at any given moment, Facebook is taking the same algorithm it employs to find popular text and image postings and applying it to video. Thus Facebook picks the best video content generated "from the past several days," and presents it to its users today -- providing more relevant and interesting content, and thus making the site more useful.BTIG calls this "a tremendous improvement from what we have been seeing in recent months."
3. Now you see it, now you don't
BTIG says Facebook is also stealing Snapchat's vanishing-post thunder with Instagram Stories. Snapchat Stories launched in 2013, while Instagram Stories launched only last year. Already, though, it has amassed more than 150 million daily users (equivalent to Snapchat's entire user base).
BTIG likes Instagram Stories because they have "removed the pressure from having to post great pictures to Instagram that generate significant likes. With Instagram Stories, users can post anything knowing it will disappear in 24 hours and even more importantly, nobody will know how many likes a piece of content has received." This encourages users to worry less about popularity and post more often, resulting in "far more organic content uploaded to Instagram." Additionally, "Instagram Stories has just begun to rollout monetization through ad units that run between stories," meaning we could soon see a direct result of this change on Facebook's bottom line.
And as Facebook begins earning money from the idea that Snapchat pioneered (while Snapchat continues losing money), the case for buying Facebook, and selling Snap stock, will only strengthen.
What it means to investors
TheFly.com quotes BTIG arguing that the potential for added revenue (and profits) for Facebook from advertising through Instagram Stories is "simply too strong to ignore." Given this, BTIG says it made a big mistake by not putting "a BUY on Facebook" sooner this year -- and it's moving to rectify this mistake immediately.
To which I say, "Better late than never." Consider: With a 40 P/E ratio and 28% projected annualized long-term growth, Facebook stock looks expensive today, but not unreasonably so. In fact, you can make a pretty strong argument that Facebook's superior free cash flow of $11.6 billion (14% ahead of reported net income), combined with its strong balance sheet (boasting $29.5 billion in cash and not a lick of debt) make Facebook stock a lot cheaper than it looks on the surface.
Adjusted for debt, Facebook's enterprise value is only $375 billion. Divide free cash flow into that figure and you come up with an enterprise value-to-free-cash-flow ratio of 32.2 on Facebook stock -- very close to the projected 28% growth rate. Plus, if BTIG is right, and Facebook's growth will outperform expectations thanks to the improvement in video offerings and Instagram Stories, the gap between valuation and growth rate could shrink even further.
Long story short: Facebook isn't an obvious buy just yet, but it's close enough that I think BTIG is more likely right than wrong to be upgrading Facebook stock today.
10 stocks we like better than FacebookWhen investing geniuses David and Tom Gardner have a stock tip, it can pay to listen. After all, the newsletter they have run for over a decade, Motley Fool Stock Advisor, has tripled the market.*
David and Tom just revealed what they believe are the 10 best stocks for investors to buy right now... and Facebook wasn't one of them! That's right -- they think these 10 stocks are even better buys.
Click here to learn about these picks!
*Stock Advisor returns as of February 6, 2017
Rich Smith has no position in any stocks mentioned. The Motley Fool owns shares of and recommends Facebook. The Motley Fool has a disclosure policy.