Facebook Now Has 4 Snapchat Clones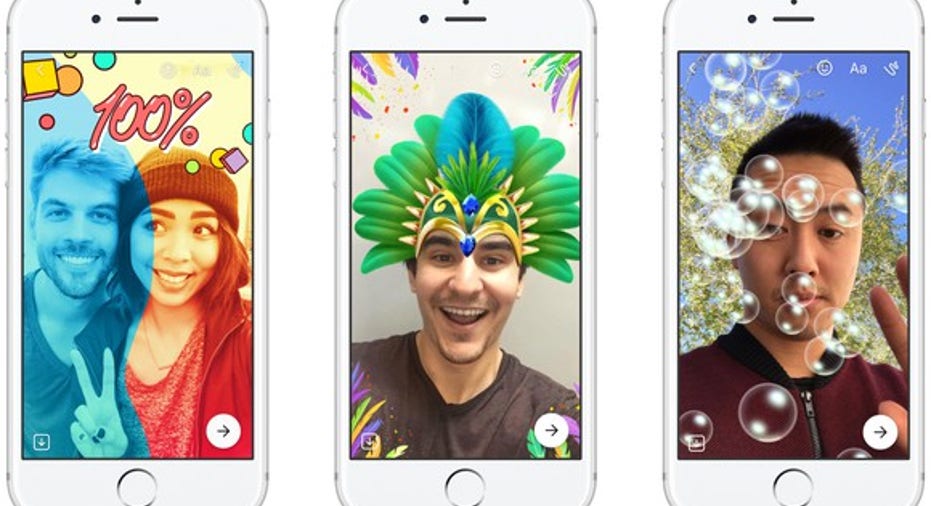 Facebook (NASDAQ: FB) has four extremely popular apps. Its flagship Facebook app is quickly closing in on 2 billion active users, Messenger and WhatsApp have over 1 billion each, and Instagram has managed to attract 600 million users. With the release of Messenger's latest feature, Messenger Day, all four now mimic the main functionality of Snap's (NYSE: SNAP) app, Snapchat.
Messenger Day puts a slight twist on the slideshow format with filters and art that appears designed to ignite more conversations on Messenger. Still, it's as blatant of a Snapchat Stories clone as Instagram Stories, WhatsApp Status, and Facebook Stories.
Facebook's stable of apps gives it multiple lines of defense against Snap, and it's clearly not afraid to use all of its resources to keep its users engaged. Snap, meanwhile, is still a relatively small app compared to any of Facebook's, which makes it extremely susceptible to Facebook's efforts to co-opt its most popular functionalities.
Image source: Facebook.
The case that Facebook's efforts are impacting Snap
Facebook introduced Instagram Stories in August of last year, and it quickly grew to 150 million daily active users by January. That's nearly as many as the 161 million people who used Snapchat every day in December, according to Snap's S-1 filing.
Since Instagram's Stories' release, Snap has added less than 13 million DAUs. For comparison, it added 38 million in the six months prior to its release. Growth in areas outside of North America and Europe slowed nearly to a stand-still while it had been accelerating.
Snap says it's merely a victim of its own success. New product features it released in late 2015 and early 2016 pulled forward much of its user growth. "We believe that the flat growth in the early part of the [fourth] quarter was primarily related to accelerated growth in user engagement earlier in the year," it wrote in its S-1 filing.It's a mighty big coincidence, though, that it's slowdown coincides with the release of Instagram Stories.
Owning distribution
Instagram's rapid success shows the value of Facebook as a distribution platform. Snap contends that distribution isn't a competitive advantage for any app maker. While that might be true for small app makers that rely on app stores for distribution, Facebook effectively owns the distribution since its apps are nearly ubiquitous.
Facebook users spend 50 minutes per day across Facebook, Instagram, and Messenger. That doesn't even include WhatsApp. If Facebook puts a new feature in any one of those apps, it's likely to see millions of adopters. If it puts the new feature in all of them, it can expect millions more. And if it's really a success (tens or hundreds of millions), the new feature should continue to increase the engagement rate of its users.
And Facebook isn't afraid to try new things or copy things straight from its competitors. It's done so for years, and some of its most popular and profitable products came straight from other social media apps. It went straight to work trying to copy Snapchat after it rebuffed its $3 billion offer in 2013. And now it looks like it's found a feature that resonates with its audience.
Facebook's willingness to throw everything it has at Snapchat is extremely concerning for Snap, whose main strategy to beat the competition is to out-innovate them. If Facebook can simply copy any innovation Snapchat creates, it won't be able to attract many new users.
A note about monetizing Messenger
Messenger Day (and WhatsApp Status, to a degree) represents an opportunity for Facebook to start monetizing Messenger. It's already planning to insert ads in between Instagram Stories, and Messenger Day offers yet another opportunity for Facebook to monetize its user base.
Messenger has been unable to crack the code on monetization, and it recently started testing banner ads within Messenger's home screen -- an uninspired effort, to say the least. Analysts have been asking about Facebook's plans to monetize the app for a while now, and with Facebook running out of room to place ads on its flagship app, it needs to find a solution in order to continue growing revenue at the pace it has been.
Whether Messenger Day is the answer to Facebook's problem remains to be seen. But if it becomes as popular as Snapchat (about 15% of Messenger's user base), it could generate around $1 billion. That's what analysts are predicting for Snap this year.
10 stocks we like better than FacebookWhen investing geniuses David and Tom Gardner have a stock tip, it can pay to listen. After all, the newsletter they have run for over a decade, Motley Fool Stock Advisor, has tripled the market.*
David and Tom just revealed what they believe are the 10 best stocks for investors to buy right now...and Facebook wasn't one of them! That's right -- they think these 10 stocks are even better buys.
Click here to learn about these picks!
*Stock Advisor returns as of February 6, 2017.
Adam Levy has no position in any stocks mentioned. The Motley Fool owns shares of and recommends Facebook. The Motley Fool has a disclosure policy.