Facebook Inc's Surround 360 Could Shatter GoPro Inc's VR Dreams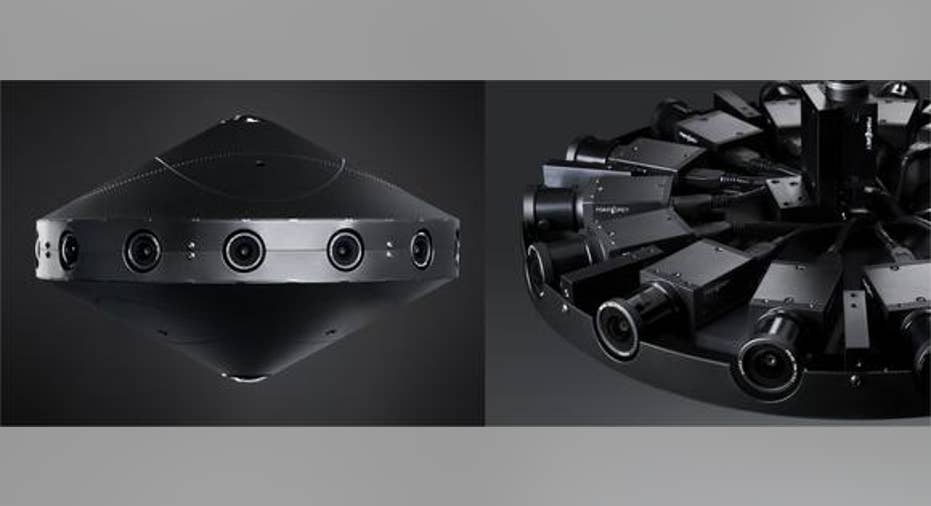 Facebook recently unveiled Surround 360, a reference design for a high-end 360-degree video camera. The 17-camera rig lets users capture video in 360-degrees and use web-based software to automatically render the videos. 14 wide-angle cameras are bolted around the circular rig, and a fish-eye camera on the top and two others on the bottom help capture a full spherical view. The cameras use a global shutter instead of a rolling one, which means that the footage doesn't display any artifacts from individual shutters closing.
Facebook's Surround 360. Image source: Facebook.
Facebook claims that the design solves various technical problems current rigs have, and will upload the designs this summer to encourage hobbyists and companies to create their own cameras. The invitation is clearlyaimed at generating more interactive 360-degree videos, which Facebook added to its News Feed last year. It could also deliver VR videos to the Oculus Rift headset or send live 360-degree videos to the News Feed.
That sounds like an ambitious plan, but with a price tag of $30,000, the Surround 360 still isn't priced for mainstream consumers. It costs more than GoPro's $15,000 Odyssey, but it still costs less than Nokia's $60,000 Ozo. But the key difference here is that Facebook is sharing its design with everyone, while GoPro, Nokia, and other rivals aren't. This major difference could trigger a major shift in the high-end spherical camera market, and it could hit GoPro the hardest.
Reviewing GoPro's VR plansGoPro's 360-degree solutions, the 16-camera Odyssey and the six-camera Omni, are powered by its own Hero 4 Black cameras. The hardware in the rig synchronizes the feeds to enable them to be stitched together with software. The Odyssey relies on YouTube's Jump platform, and the Omni works with Kolor, the spherical video app which GoPro acquired lastApril.
GoPro's Omni rig. Image source: GoPro.
The key problem with GoPro's strategy is that it's just using rigs to sell more action cameras, instead of developing new stand-alone cameras for capturing 360-degree content. Over the past year, plenty of rival companies have revealed cheaper stand-alone spherical cameras, such as Ricoh's Theta S, which costs $350, and JK Imaging's Kodak PixPro SP360-4K, which costs $500. These cheaper cameras can't produce video on par with the Odyssey, but they have a better chance of winning over mainstream consumers with their lower price tags.
For now, GoPro is using rigs to tread water until its Karma drone and Hero 5 devices arrive later this year. It teaseda "more casual" spherical camera at CES in January, but it's unclear when that device will actually arrive. Analysts believe that GoPro's sales will fall15% this year, compared to 16% growth last year, due to sluggish demand for action cameras and tough headwinds in the drone market. It's also highly unlikely that GoPro's pricey rigs will convince many mainstream consumers to buy six or 16 cameras at once.
Why Facebook's move mattersFacebook's decision to open source Surround 360 isn't really aimed at GoPro's core business. Instead, it targets GoPro's Jump partnership with Alphabet's Google, which delivers 360-degree videos to YouTube. GoPro and Google co-designed the Odyssey, and the rig was optimized for capturing video, stitching it together, and sending it to YouTube.
Only three other 360-degree camerasare currently compatible with YouTube -- the Ricoh Theta, Kodak PixPro SP360, and the IC Real Tech Allie. Facebook's 360 videos work with those three cameras and an additional one, 360fly. By open sourcing the Surround 360's design and tethering it to its own web-based software, Facebook ensures that hobbyists and companies which create those rigs will send their videos to Facebook first. This means that Facebook could start hosting more 360-degree videos than YouTube, strengthening its plans to overtake YouTube as the streaming video leader.
Ricoh's Theta S. Image source: Ricoh.
Meanwhile, competition between Surround 360 makers will likely cause companies to reduce production costs with cheaper parts or fewer cameras. If that happens, GoPro could lose the high-end VR camera market to these new players, and lose the low-end one to cheaper rivals like Ricoh.
Broken promises aheadDuring last quarter's conference call (as transcribed byThomson Reuters), GoPro President Tony Bates called virtual reality a "key initiative," and that it had "several products in development that will position GoPro as a leader in VR."
Unfortunately, GoPro's VR promise sounds a lot like its previous pledge to grow as a "media company." Just as its media strategy was established on the flawed premise that its YouTube channel could evolve into a media powerhouse, its VR strategy is based on the notion that it's the only player in spherical video. But with Facebook now encouraging everyone to create their own high-end 360-degree cameras, GoPro will need to rethink its VR ambitions and show investors that it can create a VR capture device which blows away the competition.
The article Facebook Inc's Surround 360 Could Shatter GoPro Inc's VR Dreams originally appeared on Fool.com.
Suzanne Frey, an executive at Alphabet, is a member of The Motley Fool's board of directors. Leo Sun has no position in any stocks mentioned. The Motley Fool owns shares of and recommends Alphabet (A shares), Alphabet (C shares), Facebook, and GoPro. Try any of our Foolish newsletter services free for 30 days. We Fools may not all hold the same opinions, but we all believe that considering a diverse range of insights makes us better investors. The Motley Fool has a disclosure policy.
Copyright 1995 - 2016 The Motley Fool, LLC. All rights reserved. The Motley Fool has a disclosure policy.