Facebook Inc's Best New Feature in 2015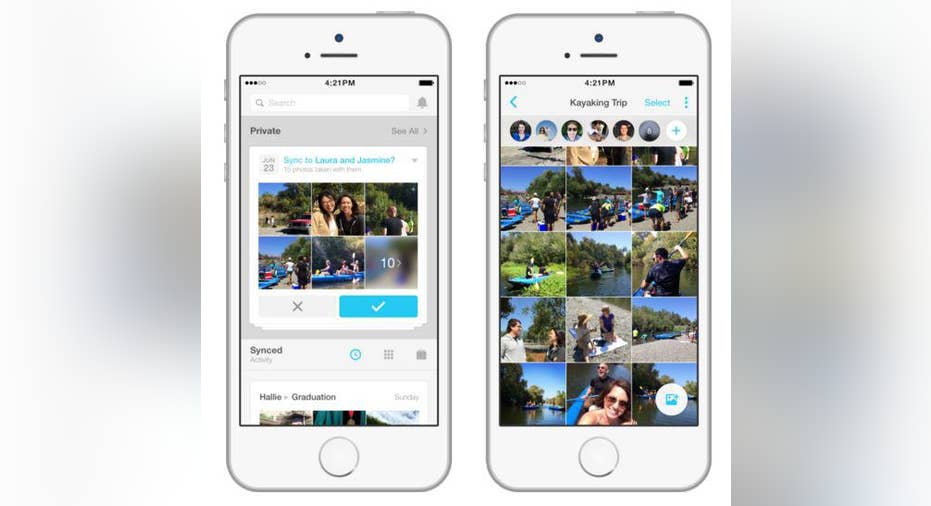 Facebook made a number of significant improvements to its products in 2015, introducing a wide variety of new features that gave users more and better ways to interact with their friends and family. But some were better than others, and in 2015, one stood above the rest.
Facebook Moments in action. Source: Facebook
A new way to share photosIn June, Facebook introduced a new app, Moments. Although it technically exists as a stand-alone product, Moments is a mere extension of Facebook's core social network -- a new feature offered as a separate app. At least for now, it requires users to sign in with an existing Facebook account, and limits Moments connections to their friends on the social network.
When Facebook unveiled Moments, it sought to solve a widespread problem. "It's hard to get the photos your friends have taken of you, and everyone always insists on taking that same group shot with multiple phones to ensure they get a copy," Facebook wrote.
With Moments, Facebook automatically imports mobile photos, scans them, groups them, and then -- using facialrecognitiontechnology -- recommends sending them to the relevant friends that appear within them. "Now, you and your friends have all the photos you took together," Facebook wrote.Of course, Facebook users are always free to upload their photos to their Facebook accounts, tagging friends that appear within them instead. But Moments offers a major advantage over this long-standing method -- photos are shared and synced privately.
Moments also offers the ability to create customized slideshows, complete with background music. These videos can be shared to Facebook or sent to other contacts.
The next Messenger?Facebook's management hasn't emphasized Moments in its recent calls with analysts, but it seems likely to emerge as the company's next big app. Since its debut, it's been climbing the app store charts, and is currently among the top 50 most popular free apps in the iTunes App Store. Facebook has used its News Feed to advertise the app to its users, and in January it will push many more of them to download Moments.
In 2012, Facebook introduced mobile photo syncing, which allowed users to automatically upload photos they've taken with their phone to Facebook's servers. With a 2GB limit, it wasn't much in the way of cloud storage, but it made it easier and faster to post recently taken photos. In December, Facebook announced that it would be discontinuing the feature, at least within the confines of the Facebook app itself. Those who wanted to continue using it could, but would need to download the Moments app.
This move roughly mimics Facebook's unbundling strategy with Messenger. Last year, Facebook forced users who wanted to continue using its Messenger service to download a separate, more focused, stand-alone app. Although it initially met with a fair amount of criticism, Messenger shot to the top of the app charts and has stayed there. Meanwhile, Facebook has worked to improve its messaging service, adding in features that wouldn't have made much sense within the confines the larger Facebook app.
Moments could evolve in a similar fashion, eventually becoming Facebook's dedicated photos app. Some users may gripe about having to download yet another Facebook app, but by separating photos from its standard app, Facebook has the opportunity to further simplify its interface while simultaneously introducing new, photo-specific features.
The article Facebook Inc's Best New Feature in 2015 originally appeared on Fool.com.
Sam Mattera has no position in any stocks mentioned. The Motley Fool owns shares of and recommends Facebook. Try any of our Foolish newsletter services free for 30 days. We Fools may not all hold the same opinions, but we all believe that considering a diverse range of insights makes us better investors. The Motley Fool has a disclosure policy.
Copyright 1995 - 2016 The Motley Fool, LLC. All rights reserved. The Motley Fool has a disclosure policy.