Facebook, Inc.'s Monster Quarter in 10 Metrics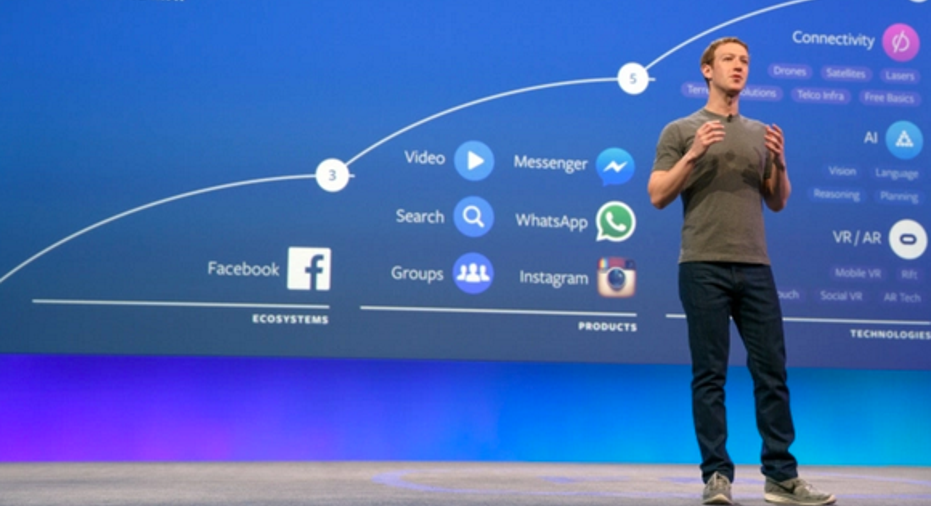 If Facebook holds its after-hours gain, the stock will open tomorrow at an all-time of about $119, representing a gain of about 9% compared with where it was trading on Wednesday. The stock's significant gain follows yet another crushing quarter in which the social network beat analysts' estimates and outperformed expectations pretty much on every front. Here's the huge quarter summed up in 10 metrics.
Facebook CEO Mark Zuckerberg. Image source: Facebook.
52%: Analysts undoubtedly had big expectations for Facebook going into its first quarter. The consensus analyst estimate for its year-over-year revenue growth was 48% -- a figure that would represent only a modest and natural deceleration from its 52% year-over-year revenue growth in Q4. But Facebook instead managed to maintain its Q4 revenue growth of 52% for another quarter.
57%: Facebook's better-than-expected revenue growth was driven by a 57% year-over-year increase in ad revenue, which accounts for about 97% of Facebook's total revenue. Ad revenue growth benefited from marketers' growing budgets for video ads on the platform.
189%: This is the percentage Facebook's EPS increased by, year over year, in Q1. And this isn't a reference to a non-GAAP measure excluding items like share-based compensation or amortization of intangible assets. This is Facebook's GAAP measure of its EPS.
$1.5 billion: Facebook's Q1 GAAP profit of $1.51 billion was up hugely from its $512 million in the year-ago quarter.
$2.2 billion: For what it's worth, Facebook's non-GAAP profit was $2.2 billion, up from $1.2 billion in the year-ago quarter.
1.65 billion: Facebook's monthly active users in Q1 hit 1.65 billion, up 15% from the year-ago quarter, and 4% sequentially. Notably, this actually marks an acceleration in the company's sequential growth rate in monthly active users; Facebook's Q4 monthly active users were up 3% sequentially.
1.09 billion: Facebook's daily active users during Q1 reached 1.09 billion, up 16% compared to the year-ago quarter. Similar to its monthly active user growth trends, sequential growth accelerated; daily active users were up 5% sequentially in Q1, compared to 3% growth in Q4.
66%: Facebook's engagement rate, which is defined by daily active users as a percentage of monthly active users, surprisingly improved. For four quarters in a row, the rate stalled at 65%. But it increased to 66% in Q1.
50 minutes: This is how much time people around the globe spend every day using Facebook, Instagram, and Messenger, management said during Facebook's first-quarter earnings call. And this doesn't include the social network's messaging app WhatsApp, which boasts 1 billion monthly active users.
200,000: This is the number of businesses advertising on Facebook's Instagram every month. Now boasting 400 million monthly active users, there's no question about whether or not Instagram will turn into a meaningful business for Facebook. It already is.
Facebook's growth, engagement, and dominance of user attention highlighted in these 10 metrics shows how well the company is performing. Notably, some of these metrics -- such as Facebook's 52% and 189% year-over-year growth in revenue and EPS -- can't be sustained. But it's impossible to ignore how the social network continues to absolutely crush expectations.
As it turns out, Facebook's fast-growing user base, along with CEO Mark Zuckerberg and his team's ability to execute, is a more valuable asset than investors thought when the company went public at $38 a share in 2012.
The article Facebook, Inc.'s Monster Quarter in 10 Metrics originally appeared on Fool.com.
Daniel Sparks has no position in any stocks mentioned. The Motley Fool owns shares of and recommends Facebook. Try any of our Foolish newsletter services free for 30 days. We Fools may not all hold the same opinions, but we all believe that considering a diverse range of insights makes us better investors. The Motley Fool has a disclosure policy.
Copyright 1995 - 2016 The Motley Fool, LLC. All rights reserved. The Motley Fool has a disclosure policy.