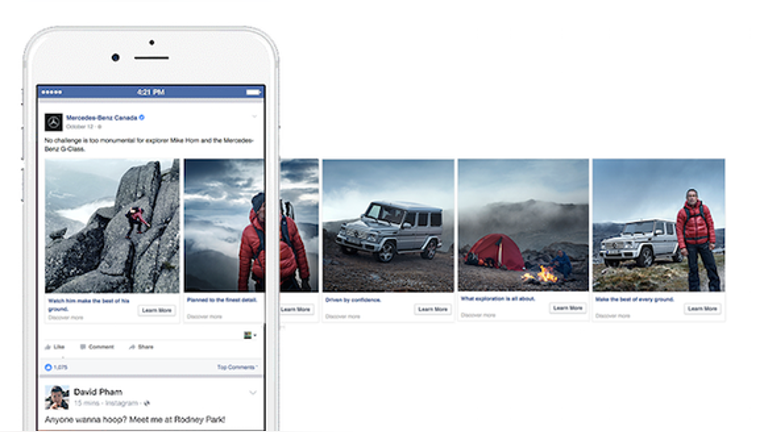 Facebook's (NASDAQ: FB) business has been on a tear recently. In 2016, the social network's revenue and net income both soared. But the company's surging growth story isn't over. In the first quarter, Facebook's revenue and net income jumped 49% and 76%, respectively.
Here's a close look at Facebook's first-quarter results.
Image source: Facebook.
Q1 results: The raw numbers
Data source: Facebook first-quarter earnings release. Table by author.
Revenue growth was driven primarily by a 58% year-over-year jump in Facebook's mobile ad revenue, which now accounts for 85% of Facebook's total advertising revenue. In addition, strong advertiser demand in Facebook's "rest of world" and Asia Pacific segments was a key driver during the quarter. Advertising revenue in these markets increased 66% and 60%, respectively.
Facebook continued to benefit from operating leverage during the quarter. Since expenses between the first quarter of 2017 and the first quarter of 2016 increased at a slower rate than revenue, Facebook's operating margin expanded from 37% in the year-ago quarter to 41% in Q1. The 400-basis-point increase, combined with a 49% jump in revenue, helped Facebook's net income soar 76% during this period.
First-quarter highlights
Free cash flow rose to $3.8 billion during the quarter.
Facebook ended the quarter with an impressive $32.3 billion in cash and investments.
Facebook's monthly active users neared 2 billion, hitting 1.94 billion and up 17% year over year. Facebook attributed the community growth to product improvements, the Internet.org initiative, and third-party promotional data plans in emerging and developing markets.
Daily active users increased to 1.28 billion, up 18% year over year.
Instagram Stories, a Snapchat-like format for photos and videos that highlight a user's day, now has an impressive 200 million daily active users, well ahead of the 158 million daily active users Snap said it had on Snapchat at the end of 2016. And this figure notably only captures Instagram's daily active users specifically for its Stories format.
While Facebook isn't breaking out Intsagram's revenue since ads for the photo- and video-sharing app are sold through the same ad interfaces marketers use for ads on Facebook, CFO David Wehner said the company is "seeing really good contribution and growth there."
Over the past year, watch time of Facebook Live broadcasts has increased by more than 400%.
Facebook ad. Image source: Facebook.
Outlook
Importantly, during its earnings call, Facebook reminded investors again that it expects its revenue growth rates to come down meaningfully in the second half of the year. Wehner provided some detail:
More broadly, CEO Mark Zuckerberg said Facebook is transitioning its emphasis from the last decade's focus of connecting friends and families to building communities. "There's a lot to do here," Zuckerberg said. "Building global community is bigger than any one organization, but we can help by developing social infrastructure for community -- for supporting us, for keeping us safe, for informing us, for civic engagement, and for including everyone."
One way Facebook wants to gain momentum on this vision is to increase the number of Facebook members that are a part of "meaningful" groups that play a key role in their support structure. "My hope is to help more than a billion people join meaningful groups to strengthen our social fabric over the next few years," Zuckerberg said. Today, Facebook has more than 100 million people in meaningful groups on Facebook.
10 stocks we like better than FacebookWhen investing geniuses David and Tom Gardner have a stock tip, it can pay to listen. After all, the newsletter they have run for over a decade, Motley Fool Stock Advisor, has tripled the market.*
David and Tom just revealed what they believe are the 10 best stocks for investors to buy right now... and Facebook wasn't one of them! That's right -- they think these 10 stocks are even better buys.
Click here to learn about these picks!
*Stock Advisor returns as of May 1, 2017
Daniel Sparks owns shares of Facebook. The Motley Fool owns shares of and recommends Facebook. The Motley Fool has a disclosure policy.