Facebook, Inc. Continues to Bet Big on Messaging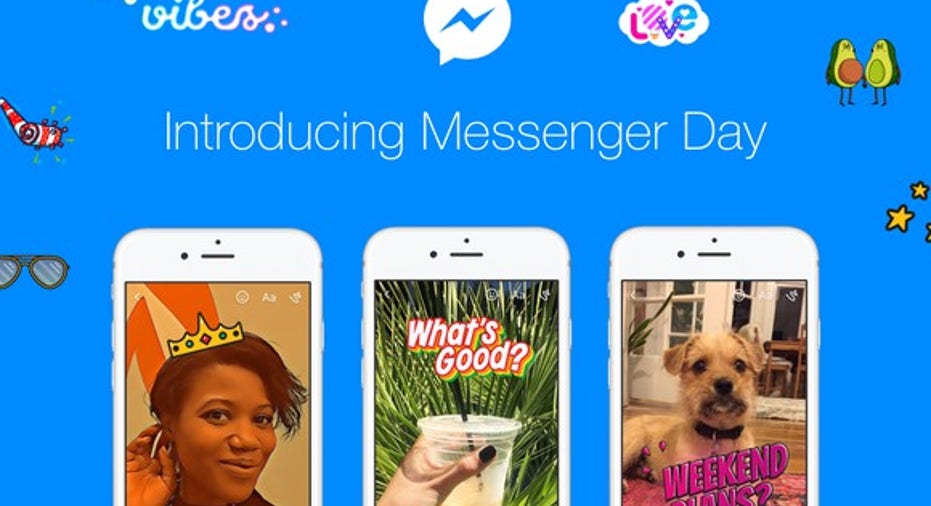 While the focus on Facebook's (NASDAQ: FB) new features this month has recently turned toward the social network's latest move to copy Snapchat by bringing Snapchat's stories format to the Facebook app, there's another theme in Facebook's recent new features for its apps that investors shouldn't overlook: Facebook is betting more than ever on messaging.
New updates for Messenger
Since last Thursday, Facebook announced three new key features for the company's Messenger product, which Facebook says now has over 1 billion monthly active users.
Last Thursday, Facebook introduced Message Reactions and Mentions for Messenger.
Image source: Facebook.
Message Reactions enables users to react to a message in Messenger with an emotion by pressing and holding any message and then selecting a reaction. Reactions include love, smile, wow, sad, angry, thumbs up, and thumbs down emojis. The feature notably takes cues from Apple's Tapback feature launched last year for iOS iMessage.
Mentions for Messenger creates a way to directly alert someone in a group chat on Messenger when they've been mentioned in a message. Like on other social platforms, including the core Facebook app, users can do this by typing the "@" symbol before someone's name.
Earlier this week, Facebook also announced a new way for users to quickly share their locations in Messenger.
Betting big on messaging
These new features for Facebook Messenger add to the social network's fast pace of innovation on the platform, and they continue to highlight how integral Facebook believes messaging is becoming. Other recent major updates for Facebook's messaging apps include Snapchat stories formats made specifically for both Messenger and WhatsApp, as well as group video chat for Messenger.
It's not surprising that Facebook is betting as aggressively on messaging. The company has seen significant progress in user engagement on its messaging platforms recently. Beyond Messenger and WhatsApp each boasting 1 billion and 1.2 billion monthly active users, respectively, Facebook's high levels of user engagement on its messaging apps is evident by a few other metrics. For instance, 400 million people now use voice and video chat on Messenger every month. Further, the volume of messages per day across WhatsApp and Messenger are essentially off the charts; global SMS messaging peaked at about 20 billion messages per day and WhatsApp and Messenger alone now boast 60 billion messages or more per day, Facebook CEO Mark Zuckerberg said in the company's most recent earnings call.
The stories format on Messenger is called Messenger Day. Image source: Facebook.
It's also worth noting that Facebook's investments in messaging can carry over to multiple platforms. For instance, Facebook has reportedly been testing Messenger-like comments below posts in the Facebook app, signaling Facebook's interests in bringing things it has learned from Messenger to its core platform. Similarly, Facebook didn't bring Snapchat's signature stories format, which curates a user's photos and videos from a day into a single story that disappears after 24 hours, to the core Facebook app until it introduced it on Messenger first. Finally, Facebook has also been adding many of its new features for Messenger to its Work Chat for its collaboration platform for professionals called Workplace. Indeed, Facebook did exactly this with its recent additions of Reactions and Mentions for Messenger.
Facebook's rapid pace of new features for its messaging apps and its experimentation with messaging-centric features even on the core Facebook app signals the high importance management is giving to messaging. And, fortunately, rapid growth in user engagement on these products suggests Facebook's big messaging bet is well founded.
10 stocks we like better than FacebookWhen investing geniuses David and Tom Gardner have a stock tip, it can pay to listen. After all, the newsletter they have run for over a decade, Motley Fool Stock Advisor, has tripled the market.*
David and Tom just revealed what they believe are the 10 best stocks for investors to buy right now... and Facebook wasn't one of them! That's right -- they think these 10 stocks are even better buys.
Click here to learn about these picks!
*Stock Advisor returns as of February 6, 2017
Daniel Sparks owns shares of Apple and Facebook. The Motley Fool owns shares of and recommends Apple and Facebook. The Motley Fool has the following options: long January 2018 $90 calls on Apple and short January 2018 $95 calls on Apple. The Motley Fool has a disclosure policy.