Facebook Gets Aggressive With New Live Video Enhancements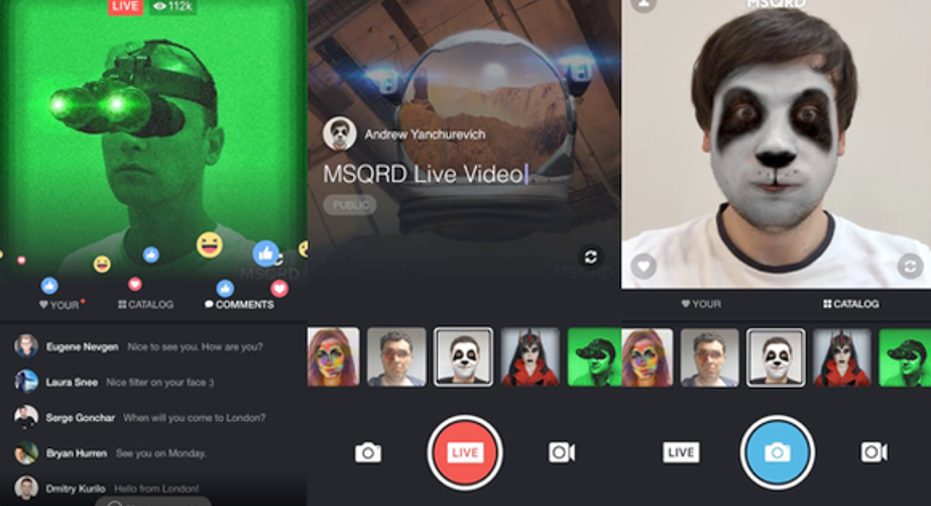 Image source: Facebook.
The live video market is fairly new, but the race to the top is already on.Last week at VidCon, an online video conference held in Los Angeles, Alphabetowned YouTube announced that it will be offering its live-streaming service on mobile devices. Meanwhile,Facebook announced three new product updates to its live-streaming platform.
Facebook Live launched last August to a limited number of content providers and celebrities.Seven months later, Live was made available to all Facebook users. The evolution of video to live-streaming appears to be a natural course of action for Facebook. Earlier this year, Mark Zuckerberg announced that 100 million hours of video are watched daily on Facebook. This likely pales in comparison to YouTube, which states that "hundreds of millions of hours" are spent on its sites. However, the social media giant is hoping to become a leader when it comes to live video.
It won't be easy. Facebook Live is one of many live-streaming services on the web. Meerkat and Periscope, the latter of which is owned by Twitter, are two of the original live-streaming video apps. YouTube has been offering live streaming since 2011. The team at YouTube announced at VidCon that it is expanding its live-streaming service to mobile devices.
Facebook is seeking to differentiate itself from the competition and increase user engagement by announcing three new product innovations. Soon, Facebook Live users will be able to create two-person remote broadcasts, pre-schedule live streams with virtual waiting rooms, and broadcast using MSQRD face masks. Let's take a closer look at each of these new features.
Two-person remote broadcasts
By the end of this summer, Facebook will allow two users to simultaneously go live during a streaming broadcast.
This feature should be attractive to news outlets and content creators who now have the ability to perform a live interview. Users can also invite a friend to drop in to their live stream. At first, the two-person remote broadcast feature will only be available to verified Pages but will later expand to the masses.
Waiting rooms and scheduled broadcasts
A common complaint with live broadcasts is that viewers tend to move on when live broadcasters wait for an audience to gather. For example, a magician streaming a live video may decide to wait for 1,000 viewers before beginning her magic trick. By the time the viewer count gets to 1,000, hundreds of other potential viewers may have already moved on. To combat this problem,Facebook introduced waiting rooms and pre-scheduled broadcasts.
With waiting rooms, rather than listen to a host tell awkward jokes while waiting to start a broadcast, users will be sent to a virtual lobby where they can chat with other fans. With the waiting room feature, broadcasters will hope to draw larger audiences while users will be more engaged with like-minded people.
Pre-scheduled broadcasts will help add structure to Facebook Live videos. Content providers will now be able to schedule a live event at a certain time, allowing users to plan for a live video they are interested in. Once again, this feature should help draw larger audiences to the group.
Face masks
Facebook took a page out of Snapchat's book by incorporating fun masks, filters, and effects during a live broadcast. The mask feature isn't much of a surprise given Facebook's acquisition of video filter app MSQRD in March.
Image source: Facebook.
By introducing the above features and making live-streaming available to all users rather than just publishers, Facebook should be able to increase user engagement. Increased engagement leads to users spending more time on Facebook. Advertisers follow eyeballs and given that advertising revenue accounts for 97% of Facebook's total sales, the focus on live video and user engagement will be intense.
However, the competition is not standing pat. As mentioned earlier, YouTube is expanding its live service to mobile devices and Twitter has made live its mission. But with over a billion daily active users and easy accessibility to live video streaming directly from its home page, Facebook may have the ultimate advantage in capturing live audiences.
The article Facebook Gets Aggressive With New Live Video Enhancements originally appeared on Fool.com.
Palbir Nijjar owns shares of Facebook. The Motley Fool owns shares of and recommends Facebook and Twitter. Try any of our Foolish newsletter services free for 30 days. We Fools may not all hold the same opinions, but we all believe that considering a diverse range of insights makes us better investors. The Motley Fool has a disclosure policy.
Copyright 1995 - 2016 The Motley Fool, LLC. All rights reserved. The Motley Fool has a disclosure policy.