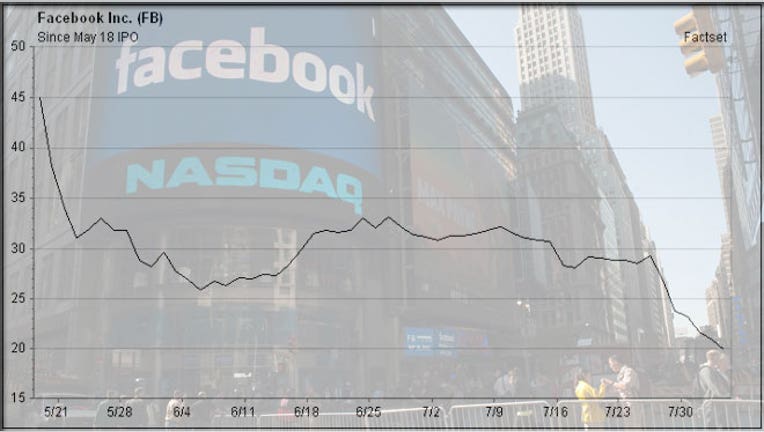 Shares of Facebook Inc (NASDAQ:FB) dipped below $20 for the first time on Thursday, pummeled by growing doubts about its growth prospects, a string of recent executive departures, and the August 16 expiration of a lockup period on insiders' share sales.
The stock hit a low of $19.91 in heavy early afternoon trading. It has now lost almost half its value since debuting at $38 in May in the largest IPO ever to emerge from Silicon Valley.
Facebook's first tier of restrictions go away on August 16, when about 271 million shares will be available for trading, with another 243 million shares set to become available for trading between mid-October and mid-November.
But the day most investors are bracing for is November 14, when more than 1.2 billion shares will suddenly be available for trading.
The imminent lock-up expiration also means that Wall Street analysts who participated in the Facebook IPO will once again go quiet, for a 30-day period, potentially creating more uncertainty in a stock that has experienced one of the rockiest market debuts in memory.
The first American company to debut with a market valuation of more than $100 billion, Facebook has fallen out of favor on Wall Street as investors fret about its slowing revenue growth.
In the second quarter, Facebook reported revenue growth of 32 percent, compared to the more than 100 percent growth it delivered at the same time last year.
(Reporting By Alexei Oreskovic; Editing by Maureen Bavdek and Tim Dobbyn)