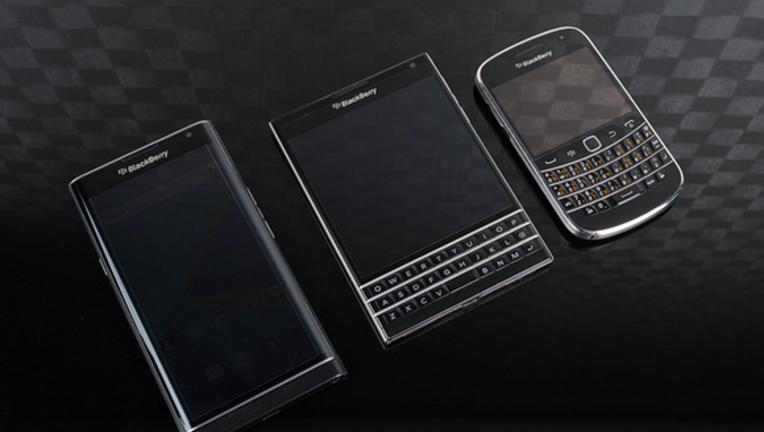 Next year, only the BlackBerry Priv (left), will have Facebook's app. Image Source: Flickr userWEi WEi
It's safe to say BlackBerry 10 has been a fiasco. The latest version of BlackBerry's operating system has been maligned from the start, with former CEO Thorsten Heins delaying the operating-system launch more than a year. The situation worsened for BlackBerry when sales of its BlackBerry 10 device -- the Z10 -- underperformed, forcing the company to cut 4,500 jobs and report a near-$1 billion inventory writedown.
Heins would eventually join those 4,500 employees. After a failed buyout from Fairfax Financial, former Sybase CEO and turnaround expert John Chen took the reins. Chen has worked to reorient the company to more of a software and mobile-security firm, but has continued to offer and support BlackBerry 10. A move from Facebook may force Chen to make the decision to refocus on the operating system or admit the company is moving past its zombie ecosystem.
Facebook abandons BlackBerryFollowing an earlier announcement it would remove WhatsApp from the ecosystem, Facebook announced it would "discontinue support of the essential APIs for BlackBerry." Simply put, Facebook will no longer be available on BlackBerry 10 by the end of 2016. In the company's WhatsApp announcement, it mentioned the fact that Apple's iOS, Alphabet's Android, and Microsoft's Windows Phone controls 99.5% operating system market share as a reason for the withdrawal of support.
It's important to understand how important Facebook is to a mobile ecosystem. comScore estimates Facebook's eponymous app is installed on 78% of U.S. smartphones -- making it the app with the largest reach. Finishing second is Facebook's Messenger app that has 64% reach. Not having these apps puts BlackBerry at a considerable disadvantage to Apple's iOS and Alphabet's Android.
Will this start a developer exodus?In response, BlackBerry published a blog thanking current developers and reiterating its commitment to BlackBerry 10. However, their actions seem contrary to a strong commitment to their ecosystem. Last year, BlackBerry announced the Priv, its first Android-powered smartphone. Earlier this year at the Consumer Electronics Show, CEO John Chen announced plans to release at least one new phone this year, which will be powered by Android, not by BlackBerry 10. Judging by actions, BlackBerry's path forward appears to be with Android's OS -- not BlackBerry 10.
On a companywide level, Chen appears to be transitioning away from devices entirely. Chen's BlackBerry has outsourced the design and distribution of BlackBerry phones to Chinese manufacturer Foxconn and has recently acquired multiple security-focused software companies Good Technology and AtHoc. Chen's experience is in software and he appears to be following the same playbook he used to turn around Sybase.
If Facebook starts a developer exodus, it would most likely force BlackBerry to migrate to Android-powered phones on an accelerated schedule. Perhaps the best thing for BlackBerry to do is to transition all its phones to Android and announce it will support BlackBerry 10 for an intermediate period. In the end, it's doubtful the company has a profitable path forward for BlackBerry 10. Therefore, managing the ecosystem's fallout, protecting the device's brand, and limiting losses may be the wisest move for the company.
The article Facebook Deals a Huge Blow to BlackBerry 10 originally appeared on Fool.com.
Suzanne Frey, an executive at Alphabet, is a member of The Motley Fool's board of directors. Jamal Carnette owns shares of Apple and BlackBerry. The Motley Fool owns shares of and recommends Alphabet (A shares), Alphabet (C shares), Apple, and Facebook. The Motley Fool owns shares of Microsoft. Try any of our Foolish newsletter services free for 30 days. We Fools may not all hold the same opinions, but we all believe that considering a diverse range of insights makes us better investors. The Motley Fool has a disclosure policy.
Copyright 1995 - 2016 The Motley Fool, LLC. All rights reserved. The Motley Fool has a disclosure policy.