FAA site shows flight delays of 15 minutes or less after widespread technical issue resolved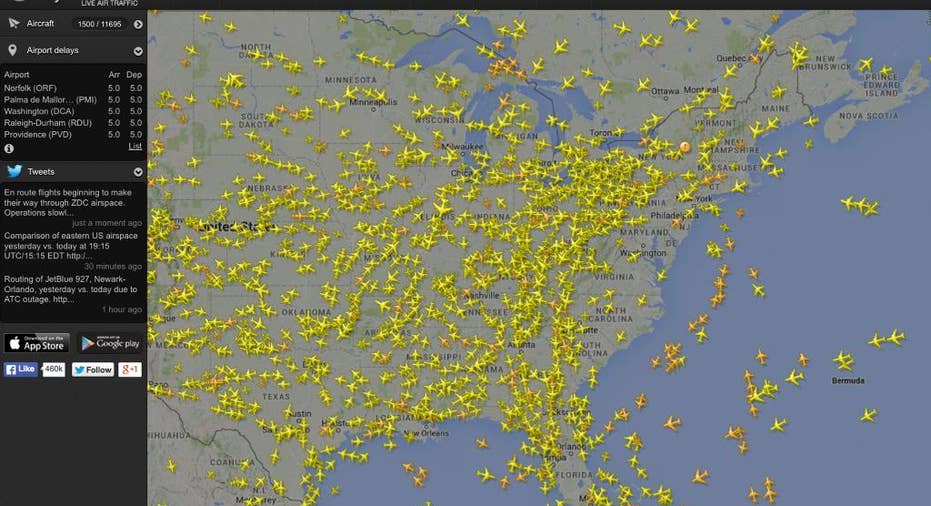 Air traffic was snarled and passengers' tempers frayed on Saturday as many flights to and from airports throughout a large swath of the Northeast stretching from New York down to the Carolinas were delayed or cancelled.
As of about 9:30 p.m. general arrival and departure delays were 15 minutes or less, according to the Federal Aviation Administration's Flight Delay Information site. The information on the site reports general airport conditions and is not flight-specific.
The FAA blamed the problem on "technical issues" at an air traffic control center in Leesburg, Va. Around 4 p.m., the agency said the problem had been resolved, and that officials were working to lift any remaining orders to hold planes on the ground.
Delays began building about 9:45 a.m., according to FlightRadar24, a flight monitoring website. Flights bound for airports in the Washington area were some of the most affected, including Washington's Reagan National Airport and Dulles International, as well as Baltimore-Washington International Thurgood Marshall Airport and Charlotte-Douglas International Airport in North Carolina.
By midafternoon, 50 percent of inbound flights and 42 percent of outbound flights had been cancelled at Reagan National, and delays were averaging about three hours, according to FlightRadar24. In Baltimore, 58 percent of inbound flights and 36 of outbound flights had been cancelled, and delays were averaging over an hour.
Flights departing from Newark Liberty International Airport in New Jersey and John F. Kennedy and LaGuardia airports in New York that normally flight over the Washington region as they head southward were also affected, although the FAA had said it was trying to route the flights around the affected area.
FAA officials had no immediate estimate of how many flights were affected, but FlightRadar24 spokesman Ian Petchenik said it was certainly in the hundreds.
The agency said in a statement that the snarl was the result of an "automation problem" at the Leesburg center. The center handles high-altitude air traffic for the affected region. The problem wasn't believed to be caused by any accident or hacking.
Information posted online by the FAA indicated there was a problem with the En Route Automation Modernization computer system, also known as ERAM, at the Leesburg center.
The FAA finished installing the troubled computer system in the last of 20 high-altitude traffic control centers earlier this year. The completion was years behind schedule.
"The FAA is continuing its root cause analysis to determine what caused the problem and is working closely with the airlines to minimize impacts to travelers," the agency said in a statement.
Miller Roberts, 40, of Dallas was trying to fly from Baltimore to Kansas City to set up a robotics display at the Missouri State Fair but was caught in a flight delay for more than four hours.
Roberts said he boarded a Southwest Airlines flight that was supposed to take off at 10 a.m., but he was still sitting on the plane, waiting after 2 p.m. But he said his fellow passengers were taking the delay in stride.
"I think everyone realizes this is out of our control," he said.
Roberts said he only heard one groan after the pilot's last announcement saying it would be another hour before they had an update on their flight status. The plane returned to the gate after the problems became clear, and passengers were allowed to get on and off for food or restroom breaks.
Kate Smith, of Bethesda, Maryland, was sitting on a JetBlue plane at Boston's Logan International Airport, trying to get home to her two cats after a vacation in Boston and Maine. Her flight was supposed to leave at 12:45 p.m., but the delays persisted by 2:30 p.m.
The pilot first announced the plane would be able to take off and fly at a lower altitude. But later, the pilot said there were too many flights at the lower altitudes and they would have to wait.
Smith said JetBlue was keeping passengers comfortable by providing snacks and drinks.
___
Follow Joan Lowy at http://www.twitter.com/AP_Joan_Lowy