Eylea's Growth Propels Regeneron Pharmaceuticals Inc Shares Higher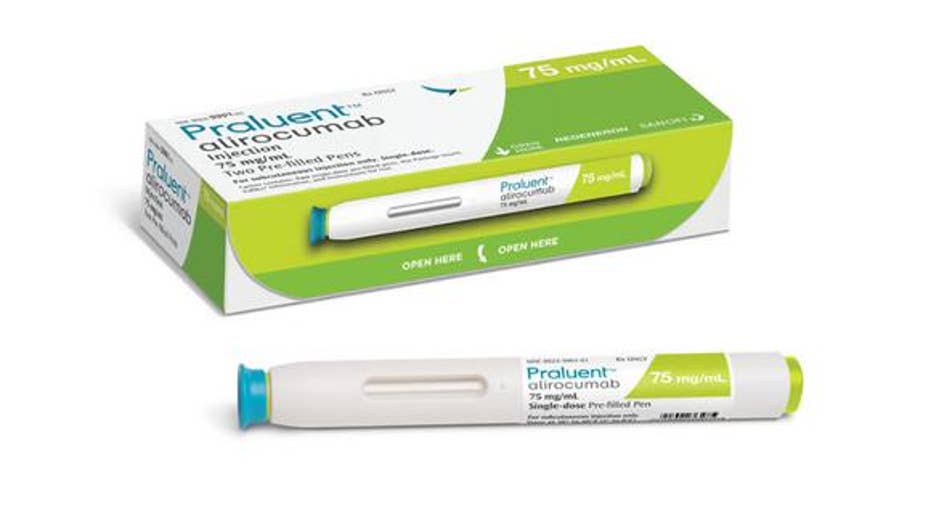 PHOTO CREDIT: REGNERON PHARMACEUTICAL
Regeneron Pharmaceuticals released its first-quarter 2016 earnings on May 5th before trading started up for for the day. In response, the company's stock was up almost 5% for the day.
So what happened at Regeneron this quarter that put investors in a good mood?
Regeneron Pharmaceuticals' Q1 -- The raw numbers
| | | | |
| --- | --- | --- | --- |
| Metric | Q1 2016 | Q1 2015 | Change % |
| Eylea U.S. sales | $781 million | $541 million | 44% |
| Total revenue | $1,201 million | $870 million | 38% |
| Non-GAAP net income | $293 million | $336 million | -13% |
| Non-GAAP EPS | $2.57 | $2.88 | -11% |
TABLE SOURCE: REGENERON.
Total revenue of $1.20 billion was up a strong 38% over the same quarter last year, and it compared favorably to the $1.18 billion that analysts were projecting. However, the company's expenses ballooned during the period, which caused non-GAAP earnings per share to decline by 11% to $2.57. Thankfully, Wall Street expected the decline to be worse, so the actual results came in two cents higher than estimates.
With the headline numbers looking good, let's see how well the company performed in the areas that I suggested that investors should pay attention to prior to the release.
Eylea gets it done yet againRegeneron's blockbuster eye disease drug Eylea continues to grow at a blistering rate: Sales in the U.S. rose 44% over the year ago period. That's consistent with last quarter's result and is also far ahead of the 20% growth guidance that management had previously predicted for the full year.
Eylea also continues to grow swiftly in international markets. Its partner Bayer saw total Eylea sales outside of the U.S. jump 43% to $419 million. Regeneron's share of these international sales came in at $146 million for the quarter, which was up 64% year-over-year.
The future continues to look bright for Eylea. A phase 3 study kicked off during the quarter testing Eylea's ability to teat non-proliferative diabetic retinopathy in patients without diabetic macular edema. If all goes well with that trial the company plans to file for yet another label expansion claim, expanding the drug's addressable market.
PHOTO CREDIT: REGENEON
Praluent lays an eggPraluent, on the other hand, continues to struggle out of the gate. Sanofi -- Regeneron's marketing partner for the cholesterol-busting drug -- reported that net sales of Praluent in the first quarter were only $13 million. While that does represent fast growth from the $7 million in sales that the drug rang up last quarter, the total is still more or less a rounding error.
Leonard Schleifer, Regeneron's CEO, gave shareholders more insight about the product's launch on the company's investors call:
On the plus side, Regeneron and Sanofi have been successful with their efforts to expand the drug's reimbursement, as they now believe that 74% of commercially insured lives and 91% of Medicare-insured lives can access coverage. Still, most insurers continue to require a lengthy approval process before they will cover a patient.
PHOTO CREDIT: REGENERON
Management believes that those roadblocks will slowly disappear, especially if the company's massive long-term cardiovascular outcomes study proves that Praluent reduces a patient's risk of having a heart-attack or stroke. Management confirmed that the 18,000 patient study is still under way, and they expect interim data to be available later this year.
As for the overseas launch, management stated that Praluent is available in a number of countries, but reimbursement negotiations are still under way. Management noted that some countries are waiting for the cardiovascular outcomes study to be completed before they are willing to make a reimbursement decision.
The company didn't have anything to say about its lawsuit withAmgen, so investors remain in wait-and-see mode on that issue.
Pipeline updatesAs expected, management continued to talk up the potential of their most advanced pipeline drugs -- sarilumab and dupilumab-- but the company didn't share any real data that investors didn't already know. Regeneron reaffirmed that sarilumab, the company's potential treatment for rheumatoid arthritis, is in the FDA's hands, and they expect a decision by October 30, 2016.
As for dupilumab, which being studied in moderate-to-severe atopic dermatitis, the company remains on schedule to have the drug in regulators' hands by the third quarter. As a reminder, the FDA has already bestowed the 'breakthrough therapy' designation on the drug, so it should receive an expedited review.
Dupilumab is also being studied as a treatment for asthma, nasal polyps, and eosinophilic esophagitis.
PHOTO CREDIT: REGENERON
If everything goes according to plan, then both of these drugs could be on the market in less than two years.
Looking aheadGiven the fast start to the year, management raised their U.S. Eylea sales guidance growth rate from 20% to a range of 20% to 25%. They also confirmed that they expect costs to remain elevated throughout the year as they advance their pipeline and continue to invest heavily in the Praluent launch.
All in all, it was a solid quarter for Regeneron, and investors have a number of catalyst to look forward to over the next year. For that reason, I continue to believe that Regeneron is a compelling choice for any investor who is looking to add to a fast growing biotech to their portfolio.
The article Eylea's Growth Propels Regeneron Pharmaceuticals Inc Shares Higher originally appeared on Fool.com.
Brian Feroldihas no position in any stocks mentioned.Like this article? Follow him onTwitter where he goes by the handle@Longtermmind-setor connect with him onLinkedInto see more articles like this.The Motley Fool owns shares of Regeneron Pharmaceuticals. Try any of our Foolish newsletter services free for 30 days. We Fools may not all hold the same opinions, but we all believe that considering a diverse range of insights makes us better investors. The Motley Fool has a disclosure policy.
Copyright 1995 - 2016 The Motley Fool, LLC. All rights reserved. The Motley Fool has a disclosure policy.