Express Scripts Holding Company Boosts Profit Outlook Even as Anthem Lawsuit Looms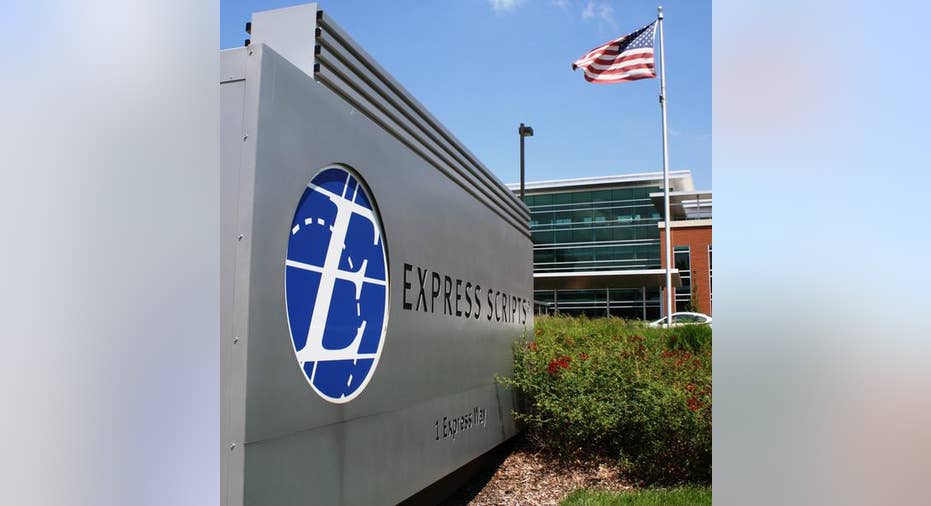 Image source: Express Scripts.
Express Scripts Holding Company reported first-quarter results on April 25. Despite being locked in a heated contract dispute with its biggest customer, the pharmacy benefits manager raised its 2016 earnings forecast for the second time this year.
The raw numbers
| | Q1 2016 | Q1 2015 | Growth (YOY) |
| --- | --- | --- | --- |
| Revenue | $24.8 billion | $24.9 billion | (0.4%) |
| Net income | $526.1 million | $444.1 million | 19% |
| GAAP earnings per share | $0.81 | $0.60 | 35% |
Data source: Express Scripts Q1 2016 earnings press release.
What happened with Express Scripts this quarter?
Adjusted prescriptions claims rose 5% year over year to 323.5 million.
EBITDA (earnings before interest, taxes, depreciation, and amortization) per adjusted claim, however, fell 8% $4.51, mostly due to the transitioning of business lost due to acquisitions by competitors, as well as lower initial margins associated with the recent renewal of Express Script's second largest customer.
Net income -- adjusted to exclude integration costs and other non-recurring items -- declined 2% to$791.4 million. Yet adjusted earnings per share, which were helped by stock buybacks, increased 11% to$1.22.
Anthem updateRegarding its ongoing contract dispute with health issuer Anthem , Chairman and CEO George Paz expressed regret that the situation has not yet been resolved during Express Scripts' earnings conference call.
Paz stated that Express Scripts would like to remain partners with Anthem.
Yet Paz continues to take issue with Anthem's demands.
Paz also warned that the dispute with Anthem could remain unresolved for longer than many investors currently expect.
As Express Scripts' largest customer, Anthem accounts for about 14% of the pharmacy benefits manager's revenue. In addition, many investors are growing concerned that the situation with Anthem could impact Express Scripts' contract negotiations with its other customers. Seemingly to quell these fears, Express Scripts said that it expects its retention rate for the 2016 selling season to be in the range of 95%-98%, excluding some business that's already slated to roll off 2017.
"Commitment to Express Scripts' mission and our strong financial legacy positions us to serve clients and patients and deliver another strong retention year," said President Tim Wentworth.
Leadership changes Following an executive transition plan announced in September, Paz will retire as CEO on May 4, although he will be staying on as non-executive chairman. Tim Wentworth will replace him as CEO.
"It has been a privilege to lead Express Scripts, and I am proud of what we have accomplished together for our clients, patients, employees, and shareholders," said Paz. "Our Board of Directors unanimously selected Tim Wentworth as our new CEO based on his deep understanding of our industry, commitment to patient care and passion for our employees and our mission. I am confident Tim and his leadership team will continue to keep Express Scripts positioned to deliver long-term growth and shareholder value."Looking forwardManagement expects second-quarter adjusted earnings per share to be between $1.55 and $1.59, signifying growth of 8% to 10% from the year-ago quarter.
Express Scripts also boosted its full-year adjusted EPS forecast to a range of $6.31 to $6.43, up from a revised range of$6.10 to $6.28 issued in February and initial guidance of $6.08 to $6.28 provided back in December. This new outlook represents an increase of 14% to 16% compared to 2015.
"The need for what Express Scripts does -- improving patient outcomes while controlling client healthcare costs -- has never been greater than it is today, and our solutions, expertise, and unique business model of client alignment are all in demand," said Wentworth. "Express Scripts uniquely brings together specialized care, data insights, innovative solutions, and bold actions to comprehensively solve the most significant challenges payers face."
The article Express Scripts Holding Company Boosts Profit Outlook Even as Anthem Lawsuit Looms originally appeared on Fool.com.
Joe Tenebruso has no position in any stocks mentioned. The Motley Fool owns shares of and recommends Express Scripts. The Motley Fool recommends Anthem. Try any of our Foolish newsletter services free for 30 days. We Fools may not all hold the same opinions, but we all believe that considering a diverse range of insights makes us better investors. The Motley Fool has a disclosure policy.
Copyright 1995 - 2016 The Motley Fool, LLC. All rights reserved. The Motley Fool has a disclosure policy.