Expectations for Perfection Haunt Agios Pharmaceuticals Inc. in November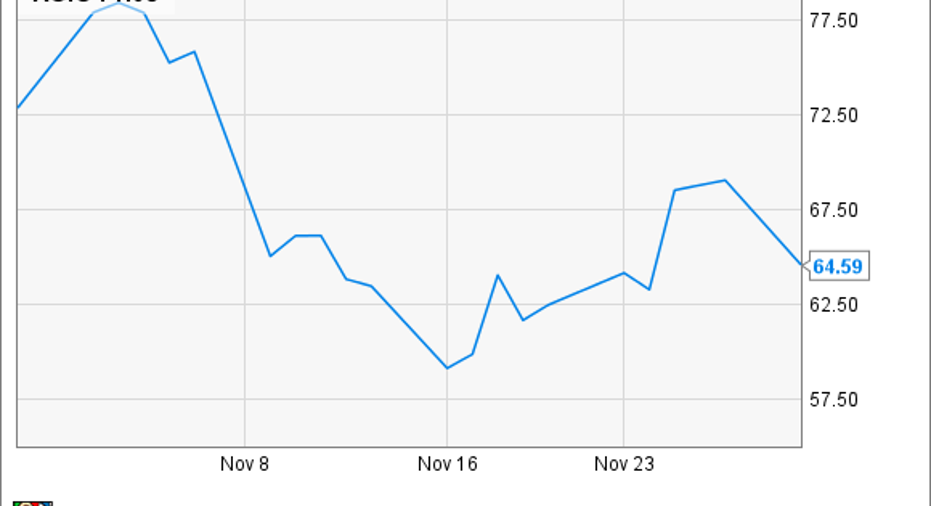 Shares of Agios Pharmaceuticals , a clinical-stage biopharmaceutical company predominantly focused on the development of IDH inhibitors for the treatment of cancer, tumbled 11% in November, based on data from S&P Capital IQ, as investors' high hopes weren't met during a clinical data release.
On Sunday, Nov. 8, Agios announced data at the AACR-NCI-EORTC International Conference on Molecular Targets and Cancer Therapeutics for its phase 1 dose-escalation study involving AG-120, a drug designed to target IDH1 mutant-positive tumors. Celgene is Agios' collaborative partner on AG-120, with rights to the drug in markets outside the United States if it's approved.
From the perspective of safety, everything looked good. No dose-limiting toxicities were observed and the majority of adverse events were mild to moderate in nature. It was the efficacy data concerning the 55 response-evaluable patients that failed to impress optimistic investors.
Three diseases were in focus here: chondrosarcoma, IHCC (a type of liver cancer), and glioma. With chondrosarcoma, seven of 11 patients exhibited stable disease; for IHCC, 11 of 20 patients were observed with stable disease while another demonstrated a partial response; and with glioma, half of the 20 patients had stable disease. Respectively, five, six, and four patients maintained durable responses of at least six months. To me, this data looks encouraging, but for a skeptic it's pretty disappointing that there weren't more partial responses, which seems to have been key to pushing shares lower in November.
Image source: National Cancer Institute.
Unfortunately, things didn't get much better this week. Agios presented new data from its ongoing phase 1/2 trial involving IDH2-mutant inhibitor AG-221 at the American Society of Hematology's annual meeting. AG-221 is being co-developed and co-promoted in the U.S. with Celgene.
The latest update included the addition of more than 50 patients, with 209 patients in total contributing to AG-221's safety and efficacy profile. In patients with refractory acute myeloid leukemia, the overall response rate was 37% and the complete remission rate was 18%. The average duration of response thus far (remember, the trial is ongoing) is 6.9 months.
Why would investors not be pleased? The prior update suggested an overall response rate of 40%, so we've dropped off a little. I don't personally believe this is anything to be too concerned about yet, as a response rate of 37% is still sufficient in my belief to potentially get AG-221 approved as a go-to standard of care for refractory AML patients.
Let's not also forget that Agios has the financial support and marketing expertise of Celgene. Should AG-120 or AG-221 make it to market, Agios will be able to lean on Celgene's marketing knowledge, and it should be in line for substantial development and regulatory milestones along the way.
All told, Agios still looks attractive following its recent drop, but investors should understand that its IDH-focused drugs are still very early in the development process. This means a lot of volatility is to be expected, and only investors with a very long-term time frame and a lot of risk tolerance should own companies like Agios.
The article Expectations for Perfection Haunt Agios Pharmaceuticals Inc. in November originally appeared on Fool.com.
Sean Williamshas no material interest in any companies mentioned in this article. You can follow him on CAPS under the screen nameTMFUltraLong, track every pick he makes under the screen nameTrackUltraLong, and check him out on Twitter, where he goes by the handle@TMFUltraLong.The Motley Fool owns shares of and recommends Celgene. Try any of our Foolish newsletter services free for 30 days. We Fools may not all hold the same opinions, but we all believe that considering a diverse range of insights makes us better investors. The Motley Fool has a disclosure policy.
Copyright 1995 - 2015 The Motley Fool, LLC. All rights reserved. The Motley Fool has a disclosure policy.