Expect Another Rough Quarter For IBM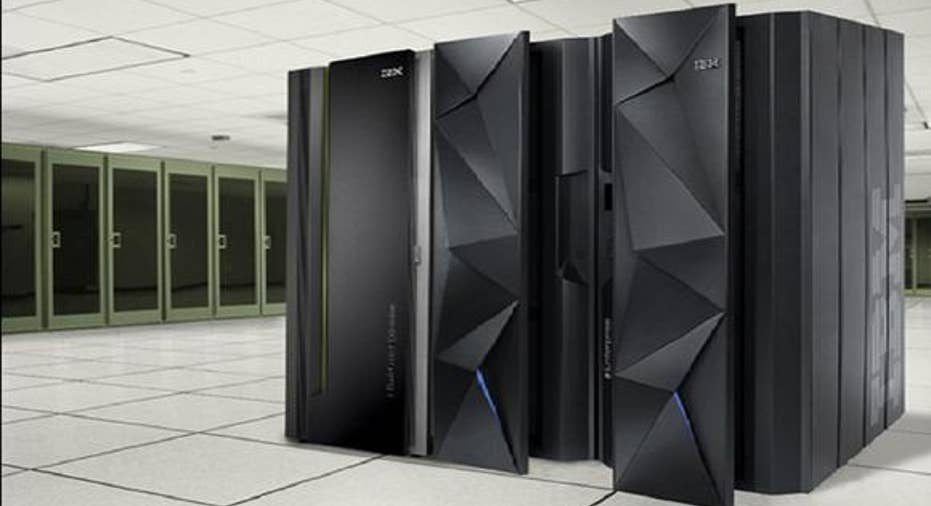 Image source: IBM.
The first quarter of 2016 is in the books for International Business Machines , and the company will report its results on Monday, April 18, following the market close. Last year was a rough one for Big Blue, with the combination of an ongoing transformation and currency fluctuations driving down revenue and profits. Earnings will be pressured again this year, with IBM expecting another steep drop, but many of the company's growth initiatives are showing meaningful progress.
What analysts are expectingThe average analyst estimate calls for a 6.9% year-over-year drop in revenue during the first quarter, the smallest decline in over a year. Throughout the second half of 2014 and all of 2015, a strengthening U.S. dollar reduced IBM's reported revenue significantly, leading to double-digit declines in some quarters. Adjusted for currency, the revenue drops were far less severe, typically 1%-2%.
IBM expects currency headwinds to persist throughout 2016, driven in part by the roll-off of cash flow hedging gains. Profits will be affected as well, with the company stating that pre-tax profit would be reduced by $1.3 billion in 2016, based on spot rates at the time of IBM's fourth-quarter earnings report.
Analysts are expecting a steep drop in earnings during the first quarter, calling for non-GAAP EPS of $2.08, down from $2.91 during the prior-year period. That's roughly in line with IBM's guidance for the first quarter, which called for about 15% of its expected full-year earnings. If IBM beats this estimate, it could be a sign that it's on pace to outperform its full-year guidance.
A few things to watchCurrency accounts for much of IBM's expected earnings decline in 2016, and with changes in exchange rates unpredictable, a range of outcomes are possible. IBM has stated that it expects "at least" $13.50 in non-GAAP earnings in 2016, suggesting that that number represents a worst-case scenario when it comes to currency. If the situation improves in 2016, IBM could very well beat this number. Investors should look for an update on the impact of currency during IBM's earnings conference call.
In the long run, these currency issues are nothing but noise. Adjusted for currency, IBM's results have been far less negative than the headline numbers suggest. Revenue is still falling, even on an adjusted basis, but the declines have been modest. That's particularly noteworthy given the massive shift in resources occurring within IBM.
IBM is investing heavily in growth areas, what the company calls strategic imperatives. This group of businesses grew by 26% in 2015, adjusted for currency, accounting for 35% of total revenue. The rest of IBM is shrinking as the company focuses on these high-growth, high-value areas. Strategic imperatives include cloud computing, business analytics, mobile, social, and security.
All of these areas are growing fast. During 2015, cloud revenue jumped 57% to $10.2 billion, with as-a-service cloud revenue reaching an annual run rate of $5.3 billion. Business analytics revenue rose 16% to $17.9 billion, while mobile revenue more than tripled, social revenue rose 21%, and security revenue jumped 12%.
Investors should expect continued growth during the first quarter, although given the size of these businesses, keeping up these double-digit growth rates will get more difficult as time goes on. IBM has made a variety of acquisitions so far this year, including Bluewolf Group, a cloud consulting firm, and Truven Health Analytics, a provider of healthcare data and analytics. Watson, IBM's cognitive computing system, is being used in various healthcare-related applications, and Truven provides a wealth of data that should make Watson even more useful to the healthcare industry.
It's important to remember that all of the investments that IBM is making are focused on the long-term. Watson, for example, requires training with enormous amounts of data in order to be used for any specific application. This process can take years, and while IBM expects Watson to be a multibillion-dollar business someday, progress has been slow.
The ultimate success of IBM's transformation is certainly not inevitable, and the company's first-quarter results are likely to continue the trend of slumping revenue and falling profits that has plagued IBM in recent years. The giant ship that is IBM is turning, slowly but surely, in the right direction. But the seas are choppy, and the journey is far from over.
The article Expect Another Rough Quarter For IBM originally appeared on Fool.com.
Timothy Green owns shares of International Business Machines. The Motley Fool has no position in any of the stocks mentioned. Try any of our Foolish newsletter services free for 30 days. We Fools may not all hold the same opinions, but we all believe that considering a diverse range of insights makes us better investors. The Motley Fool has a disclosure policy.
Copyright 1995 - 2016 The Motley Fool, LLC. All rights reserved. The Motley Fool has a disclosure policy.