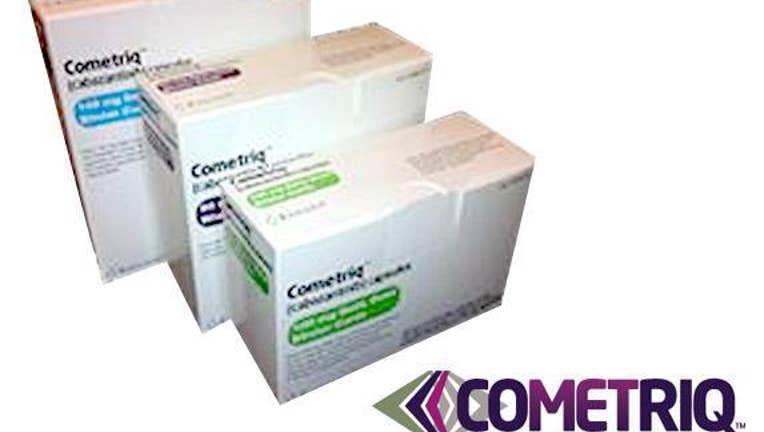 Shares of Exelixis , a predominantly clinical-stage biotechnology company focused on developing therapies to treat cancer, surged a whopping 292% in 2015 based on data from S&P Capital IQfollowing two positive news events surrounding its leading drugs, Cometriq and Cotellic.
Hitting the rewind button a bit, Exelixis was nothing short of a train wreck in 2014, losing more than 70% of its value after Cometriq, its cancer drug approved to treat metastatic medullary thyroid cancer, failed to provide a statistically significant improvement in median overall survival compared to the placebo in the COMET-1 study for metastatic castration-resistant prostate cancer patients. Some investors wrote Cometriq off for dead following this key failure, but their lack of faith came back to haunt them in 2015.
Image source: Exelixis.
In 2015 the results of the METEOR study involving Cometriq as a treatment for advanced renal cell carcinoma showed a progression-free survival (PFS) of 7.4 months for the Cometriq arm, compared to 3.8 months for the Afinitor arm based on the primary analysis conducted among the first 375 randomized patients. Overall, this represented a 42% reduction in the rate of disease progression or death for the Cometriq cohort compared to Afinitor. Recently released data from the entire 658-patient trial showed an improved 48% reduction in the rate of disease progression or death. Even in the increasingly crowded advanced RCC space, Exelixis looks to have a revenue generator on its hands if it's approved (which seems likely).
The second big advance came in November when the Food and Drug Administration approved Cotellic as a therapy to be used in combination with Roche's Zelboraf as a treatment for BRAF V600E or V600K mutation-positive metastatic melanoma. Clinical studies demonstrated a statistically significant 5.1 month improvement in PFS for those patients taking the combination of Cotellic and Zelboraf (PFS of 12.3 months as opposed to 7.2 months for patient taking only Zelboraf). There was also a noted survival advantage, with 65% of patients taking the combo therapy alive after 17 months compared to only around half of the Zelboraf arm.
Under the terms of their agreement, Exelixis will receive a sizable portion of sales in the early going of the Cotellic-Zelboraf combo launch. However, as sales of the drug increase, Exelixis' percentage of shared revenue will swing more favorably toward Roche.
You might be wondering if Exelixis can keep the good times rolling in 2016. My suggestion is yes, but I wouldn't count on another 291%. The expected approval of Cometriq for advanced RCC, the potential of finding a possible licensing partner for Cometriq, and its cash balance being less of a concern all make Exelixis a far more intriguing company than it was a year ago, however.
Looking ahead, shareholders like myself can look forward to the results of the CELESTIAL trial for liver cancer in 2017 (the primary endpoint of this study is overall survival, not PFS), and there's the expectation of a positive FDA ruling before the year is out on Cometriq for RCC with a rolling submission begun in October 2015. All told, it looks to be another exciting year for Exelixis' shareholders.
The article Exelixis, Inc. Nearly Quadrupled in 2015 -- Here's Why originally appeared on Fool.com.
Sean Williamsowns shares of Exelixis, but has no material interest in any other companies mentioned in this article. You can follow him on CAPS under the screen nameTMFUltraLong, track every pick he makes under the screen nameTrackUltraLong, and check him out on Twitter, where he goes by the handle@TMFUltraLong.The Motley Fool recommends Exelixis. Try any of our Foolish newsletter services free for 30 days. We Fools may not all hold the same opinions, but we all believe that considering a diverse range of insights makes us better investors. The Motley Fool has a disclosure policy.
Copyright 1995 - 2016 The Motley Fool, LLC. All rights reserved. The Motley Fool has a disclosure policy.