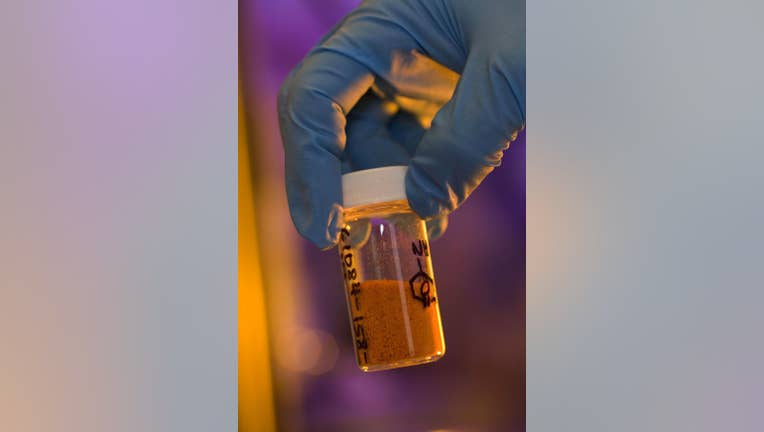 Image source: Roche.
In 2014, shares of Exelixis , a drug developer focused on creating cancer therapies, got throttled. At the time, the company seemed to be on the ropes after its COMET trials, which examined Cometriq (a treatment currently approved to treat metastatic medullary thyroid cancer) as a treatment for metastatic castration-resistant prostate cancer, flopped.
Missing out on a widely diagnosed indication was one problem. But the other issue for Exelixis was that it was quickly burning through its remaining cash on hand. With Cometriq only delivering minimal revenue from patients with aggressive thyroid cancer, drug development costs were leaving the company with steep losses. If those losses continued, there was no telling if Exelixis would survive to see the end of 2015 or 2016.
Two events that changed Exelixis' path But times have changed in a big way. Last year, Exelixis announced two key events that helped shape its future.
Image source: Exelixis.
First, in July Exelixis delivered the top-line results from its METEOR study of Cometriq as a treatment for second-line metastatic renal cell carcinoma (RCC). The results, as well as results released from subgroup analyses months later, showed a statistically significant improvement in progression-free survival for the Cometriq arm versus the placebo. Following its new drug application filing and expedited review process, Exelixis and its shareholders will find out if Cometriq's label will be expanded on or before its PDUFA action date of June 22, 2016.
The other catalyst was the mid-November Food and Drug Administration approval of Cotellic (an Exelixis-developed compound) in combination with Roche's Zelboraf as a treatment for BRAF V600E or V600K mutation metastatic melanoma. As sales of the combination increase, the revenue and profit share will swing more toward Roche, but the approval gives Exelixis another foot in the door in oncology.
With renewed prospects for revenue growth, this left only one aspect left to tackle: Exelixis' cash burn. On Monday, Exelixis put that worry to bed.
Exelixis finally snags a licensing partner Expecting only to hear Exelixis' management team discuss its fourth-quarter performance and 2016 fiscal guidance, Wall Street and shareholders were instead treated to a press release after the closing bell that described the company's new licensing partnership with Ipsen for Cometriq in areas outside the United States, Canada, and Japan.
Image source: Flickr user Nguyen Hung Vu.
Under the terms of the deal, Ipsen will receive the rights to current and future potential indications for Cometriq in all markets but those three. The companies also agreed to collaborate on current and future indications.
In return, Ipsen will pay $200 million up front to Exelixis. Additionally, Exelixis can earn regulatory milestone payouts that include $60 million for the approval of Cometriq in the EU for RCC, and $50 million upon filing and approval for advanced hepatocellular carcinoma, or HCC, in the EU. Exelixis also remains eligible to earn up to $545 million in commercial milestones, and up to a tiered 26% royalty in sales of the drug in territories covered by Ipsen.
Michael Morrissey of Exelixis explained the move:
With an extra $200 million in its coffers from this deal, and a probable $60 million milestone payment upcoming after Cometriq wins approval as anRCC treatment in the EU, Exelixis could soon have more than $510 million in cash, cash equivalents, and investments at its disposal. Exelixis ended fiscal 2015 with $253.3 million. Although it's still losing money, this added cash cushion will give Exelixis years to build up its two products and conduct additional research into new cancer therapies.
Promise and pitfallsAs an Exelixis shareholder, this news is exactly what I wanted to hear. Removing the near-term uncertainties that a cash crunch could have created allows investors to focus on the potential launch of Cometriq for second-line RCC (assuming approval by the FDA) and the uptake of Cotellic in combination with Zelboraf for metastatic melanoma.
Additionally, there's promise that Cometriq, Cotellic, or perhaps both, would work well in combination with cancer immunotherapies. Immunotherapies are a new class of cancer drug that work to expose cancer cells to the immune system so they can be more effectively found and destroyed. Roche is already conducting a study of its experimental immunotherapy drug atezolizumab in combination with Cotellic, and it wouldn't be surprising to see additional studies of this type undertaken.
Image source: Bristol-Myers Squibb.
Of course, even as an optimistic shareholder, I also see potential risks. Theapproval of Bristol-Myers Squibb's cancer immunotherapy drug Opdivo for second-line RCC has allowed it to gobble up substantial market share. Even if the FDA approves Cometriq, Opdivo is likely to remain the preferred second-line therapeutic. However, if Cometriq can garner a market share of just 10% as the next-in-line therapy behind Opdivo, it could generate substantial top-line sales and strongly curb cash outflow.
Of bigger concern is the CELESTIAL trial for advanced HCC, which is due to deliver top-line data in 2017. The METEOR study's primary endpoint was progression-free survival, and in every previous study with Cometriq that I can recall, it's hit the predefined PFS endpoint. However, COMET's goal involved hitting a statistically significant improvement in overall survival (OS). While Cometriq has a history of delivering a positive trend in OS, it doesn't always hit "statistical significance" when it comes to the amount of improvement. Thus, there's always the concern that CELESTIAL may not deliver the results investors are expecting. Also, keep in mind that different cancer types can react differently to the same medication, so at this point, my concerns are nothing more than musings based on findings in different cancer types.
For the time being I remain excited about Exelixis' future, and I believe this licensing deal should go a long way toward removing its near-term uncertainties. I'd suggest circling June 22 on your calendars, as the label expansion decision due by that date will the next likely major catalyst for Exelixis.
The article Exelixis Finally Snags a Licensing Partner for Cometriq originally appeared on Fool.com.
Sean Williamsowns shares of Exelixis, but has no material interest in any other companies mentioned in this article. You can follow him on CAPS under the screen nameTMFUltraLong, track every pick he makes under the screen name TrackUltraLong, and check him out on Twitter, where he goes by the handle@TMFUltraLong.The Motley Fool recommends Exelixis. Try any of our Foolish newsletter services free for 30 days. We Fools may not all hold the same opinions, but we all believe that considering a diverse range of insights makes us better investors. The Motley Fool has a disclosure policy.
Copyright 1995 - 2016 The Motley Fool, LLC. All rights reserved. The Motley Fool has a disclosure policy.