Exclusive: A Motley Fool Interview With Volaris CEO Enrique Beltranena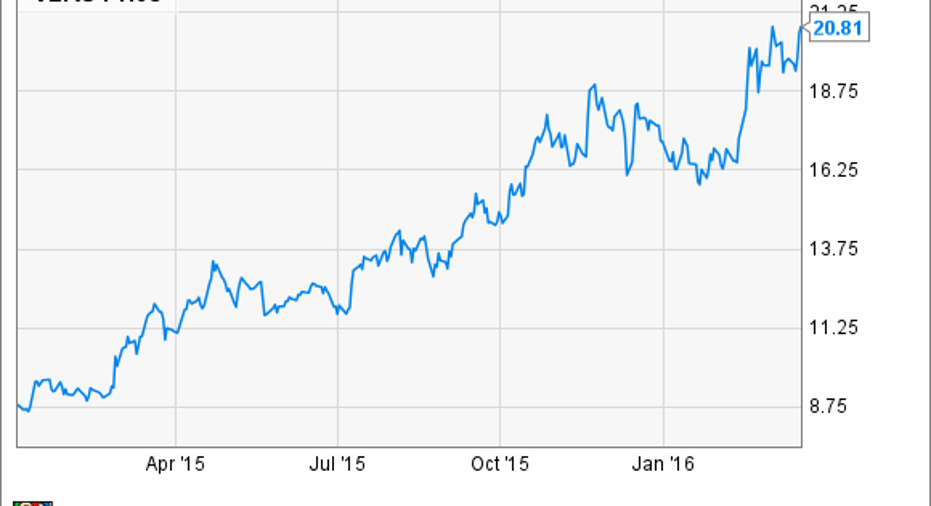 After a rocky first year as a public company, Mexican budget airline Volaris made a huge comeback in 2015. Its full-year operating margin surged from just 1.5% in 2014 to 13.8% last year, and revenue jumped nearly 30% in local currency.
Volaris' industry-leading cost structure is allowing it to stimulate huge growth in the Mexican air travel market with low fares, while improving its profit margin. As a result, Volaris stock has surged from less than $10 at the beginning of 2015 to more than $20 today.
Volaris Stock Performance. Data by YCharts.
Last week, I had a chance to sit down with Volaris CEO Enrique Beltranena to talk about the company's growth strategy, fleet plans, and efforts to keep costs down. An edited transcript of our conversation follows.
Adam Levine-Weinberg: What are your expectations for domestic compared to international capacity growth this year? And then also, longer-term, how do you expect your capacity growth to break down between the domestic market and international markets?
Enrique Beltranena:The guideline we have given in terms of available seat miles is growth somewhere between 17% and 19% for this year, and then 32% of that is going to be in international and the rest is going to be domestic.
Levine-Weinberg: So that sounds like that's roughly in line with the current breakdown between domestic and international...
Beltranena: Yeah, it's basically increasing at the same ratio on the two sides.
Levine-Weinberg: OK. And then do you think that would probably be your long-term trajectory, or do you think that longer-term international would become a larger proportion of your business?
Beltranena: I think this is going to be it.
Levine-Weinberg: So about 30-70?
Beltranena: Yeah. It may get to 35-65 at a certain stage.
Levine-Weinberg: During the course of 2015, you had a big increase in your aircraft utilization as the year went on. Do you think that you're now at the peak of what you can do?
Beltranena: That's not true. We did have very high seasonal utilization, but let me show you the graph. We've been using aircraft like that for years. The problem was, in 2014, because of the contraction of the market, we reduced utilization -- and that's probably why you're seeing it versus 2014 a little bit higher.
Levine-Weinberg: So do you think that from where you are today, that you have more room to increase utilization?
Beltranena: In the high season, yes. What we've been doing is basically adding capacity with night flights. And night flights, they are very much linked to our "visiting friends and relatives" traffic. So in reality, you add capacity when a) visiting friends and relatives are available to fly; and b) it allows us to get some flexibility which in the business market you don't get.
Levine-Weinberg: So one long-term trend that we've seen with your fleet plan is you've reduced the size of the A319 fleet and just recently you've started adding A321s in addition to your A320s. What do you expect to be the mix longer-term, if we look out five years or 10 years from now? Is there still a long-term role for the A319, or do you think you'll be just A320, A321?
Beltranena: No, what I said yesterday in the investors' meeting is I see the A319 going down to be somewhere around five to seven aircraft in the long term and we'll use it with two purposes. The first, which is really important for us, is Midway [Airport in Chicago], and Midway's runway has a limitation for A320s so we need A319s and the Midway market is so important for us that we want to keep some aircraft to operate Midway.
And then the second purpose of A319s is going to be to open markets. I mean, Aeromexico and Interjet are using the Sukhois and the Embraers [two jet types in the 100-seat range] for small markets. In reality, what they are doing -- and we are in appreciation of that -- is that they prepare us the markets. So we get there with the low fares and we make it grow to an A319 and then we make it grow to an A320, OK? It's highly appreciated what they are doing and it's helping our strategy very well.
Levine-Weinberg: You mentioned that Midway is a very important market for you. Do you have a big fare premium there compared to the flights that you operate at O'Hare?
Beltranena: It's pretty much the same. It's just the Mexican community lives around Midway.
Levine-Weinberg: OK, so it's just a convenience aspect.
So I wanted to move on toward the financing strategy. I was wondering if you've seen improvement in your lease terms in the past year or two, both as your own financial strength has improved and also as the leasing market has changed (supply and demand balance)?
Beltranena: Well, I may be wrong, because there's a mixture in the fleet. We are getting the [Airbus A320] neos, which are a little bit more expensive than the traditional aircraft that we have been purchasing, OK, but the lease terms have improved dramatically since we became a public company. We have relaxed in terms of rentals, we have relaxed in terms of maintenance reserves, etc
So in general, we have seen, since we became a public company -- I mean it's difficult to say with Volaris, because we're such a young company that we started, and then we suddenly became public and now we are here, so the evolution is really tough to track -- but we see much better conditions.
Levine-Weinberg: And going forward, do you have a philosophical preference between extending leases on your older aircraft compared to returning them, maybe paying lease return fees, and leasing new ones?
Beltranena: It depends. If it's a classic versus neo, no. I mean, we rather get a neo, because it provides us 15%-17% fuel [reduction]. But if it's a classic versus a classic, we clearly try to extend. Everything in our purchase order coming forward is neos.
Levine-Weinberg: So that would imply that you'll have more of the lease returns as you move to more neos in the fleet.
And then I was wondering: obviously, in the U.S. a lot of airlines prefer to buy rather than leasing planes because there's a significant accelerated depreciation tax benefit, and I was wondering how Mexican tax law differs (if at all) from the U.S. tax law, and whether there are incentives for you to consider purchasing aircraft in the future rather than using a 100% leased fleet.
Beltranena: The answer is no. No one has been able to make me a financial case -- a compelling financial case -- where I should buy rather than lease. So still, in the combination of tax breaks, and interest rates, and conditions, leasing has been better for Volaris than purchasing. Even with ECAs [export credit agencies]. We tried to do something with ECAs ... and even the conditions there were better in terms of leases than purchasing. The big issue here is the residual value. I mean, what is the residual value of a neo?
Levine-Weinberg: You don't really know.
Beltranena: No one knows. So that's the problem.
Levine-Weinberg: And so for you is it then really a risk reduction issue where because you don't know what in six years or 10 years a neo might be worth, you'd rather know what the lease return conditions are and then you can decide at that time what to do?
Beltranena: I always said, we will never purchase an aircraft unless it is a neo, but now the problem is the neo is so new that we can still not figure out what the residual value is going to be. So as a result of that, we still don't make the decision.
Levine-Weinberg: I also wanted to ask: Since you are going to be keeping some of your older planes for a while -- especially, it sounds like a few A319s -- how are you developing your maintenance capabilities in order to take care of a fleet as it gradually grows older?
Beltranena: We do have a third-party contract with Aeroman in El Salvador and we do everything in terms of heavy maintenance [with] Aeroman. In terms of line maintenance, which is what we do in Mexico, this year we acquired a hangar in Tijuana. So we have a 6,600 square meter facility now in Tijuana where we're doing line maintenance.
Plus, on the spare parts, there's two avenues. The first avenue is rotables and essentials, where we did a spare pool part contract with Lufthansa Technik, so we're working everything in terms of spare parts with Lufthansa. And in engines, we did a full contract for the life of the engines with International Aero Engines ... and with Pratt and Whitney coming forward.
Levine-Weinberg: I wanted to turn and talk a little bit about your growth strategy going forward. So, are there any prospects for growing your slot portfolio in Mexico City in the near term, or does your growth there for now have to come from upgauging to larger planes?
Beltranena: It's going to be all upgauging.
Levine-Weinberg: And how far do you think that could go? What percentage of your Mexico City operations do you think could support an A321, say three, four years from now?
Beltranena: About half of them.
Levine-Weinberg: How do you think that the new airport that's under construction would impact your growth potential after that would open?
Beltranena: That's six years from today and I don't want to speculate on that. Too far away.
Levine-Weinberg: OK.
Beltranena: I might not be here! I might be retired by then.
Levine-Weinberg: So the conventional wisdom has been in the past that Mexican carriers don't do well on routes from the U.S. to Mexican beach markets -- that American fliers want to fly on an American airline. With your industry-leading costs and your focus on the more price-sensitive traveler, do you see an opportunity longer-term to become a big player in that market?
Beltranena: We absolutely see it, but it's two years early. Our plan still has so much growth in terms of cities and expansion of city-pairs and we're very much focused on visiting friends and relatives and small-to-medium enterprises that we today think -- because in order to do the leisure thing, you also need someone to sell the packages. And that's something we don't have today.
We've been doing that for Mexico with a Mexican company, with a Mexican package-builder and negotiator with hotels. We strongly think that we can use that instrument to sell the packages in Mexico but then we need the engine to sell it in the U.S., and that's a piece we are missing today.
Levine-Weinberg: But it sounds like longer-term, you have an ambition to get into that -- it's just easier for now to focus on VFR.
Beltranena: When we planned for route expansion in the U.S. and we spoke about more or less another 100 routes that we could open in the following years, we are assuming under that that there's at least 35% of those routes that need a leisure [component].
Levine-Weinberg: So I was wondering what initiatives you have planned in terms of continuing to grow your ancillary revenue in 2016 and beyond there.
Beltranena: There's three major avenues that we will be using in terms of growing our ancillaries. The first one is product. We do have like 30 products more that we could launch and expand and grow our product base in the following years.
The second one is pricing. We're getting better and better in terms of dynamic pricing, in the several products and in the several niches or segments of passengers.
And then there's a third avenue, which is much more touch-points to sell throughout our customer journey. We have identified opportunities to sell products and services around this traveler's journey, which will allow us, for example, to have better presence on volaris.com and the mobile apps. It will allow us to sell more -- I mean we just launched an application that's selling at the airport: at the counters and at the gates. We strongly think we can really improve our onboard variety of products and start selling taxis and hotels and everything onboard, and then use that for a platform to sell in call centers. This whole thing we just launched. And then finally OTA [online travel agencies] and travel agencies, there's a good possibility for us to keep on expanding ancillaries there.
Levine-Weinberg: Assuming that the Mexican senate eventually ratifies the new air service treaty with the U.S., how might that affect your growth plans relative to what you've been doing recently on transborder routes?
Beltranena: Very few. Very few, because in reality the bilateral today is open for us, because the cities we are opening -- and we are such a point-to-point operator that we didn't have problems with congestion on the city-pairs that we're flying. I mean, we're probably the only one flying in 48 routes of the 148 routes that we are operating.
So it might change a little bit in allowing us to fly, for example, Mexico to New York or Mexico to Houston. And those two markets are very important markets that may be added if the bilateral is approved.
Levine-Weinberg: And then finally on the growth, I was wondering if there's a particular margin target that you manage to, to guide your decisions on whether to increase or decrease your growth rate.
Beltranena: Yeah. Today, two-thirds of our market is visiting friends and relatives. And it has changed mainly because of how the distributing channels are moving. When we started, we did have online was about 50% and online travel agencies was really small. Now online channels are moving to become 74% of our traffic and the traditional agencies are only 11% and call centers about 11% and airports is 4%. So, it's changing because of how we're distributing...
Levine-Weinberg: Turning to the cost side, do you see there being an ample supply of qualified pilots to support your growth plans over the next several years, and is there any significant chance of a big rise in pilot pay, as demand for pilots increases, as we've seen in the U.S.?
Beltranena: Volaris has been preparing its pilots since the creation of the company. So more than 40% of pilots that we have today were pilots that were prepared by Volaris, and we do have a cadet program, which is where we are sourcing our pilots.
Levine-Weinberg: How do you keep costs down when you operate a network with a lot of small spokes where you don't operate very many flights in each market, for some of your markets. So how do you manage that in order to keep costs down when you have a very spread-out route network?
Beltranena: Well, it's a combination of several things. We use more of the aircraft, so utilization is important; we have a newer fleet, so we have a better maintenance cost; and we do more density inside of the aircraft. And in the combination of those three things, we manage to have lower costs per available seat mile.
A lot of the markets that we are opening are low-frequency markets, but the ramp-up, it's pretty fast. On average, a domestic new market matures in six months. So the ramp-up is pretty fast. In international, the maturing of routes is somewhere around a year to 14 months. And that's when we ramp up the capacity. But when you compare how much we are growing in terms of new routes versus our actual capacity, the maximum percentage where we get in a year like this is 8% new capacity.
Levine-Weinberg: I was more wondering in terms of station costs, where maybe in a particular market you have two flights a day, do you have a lot of part-time airport staff, or is it outsourced?
Beltranena: Our entire airport capability in terms of human cost is on a per-hour basis.
Levine-Weinberg: And then my last question is, do you see any other major opportunities -- aside from upgauging -- to reduce unit costs over the next few years?
Beltranena: Well the new fleet, which makes 15%-17% lower fuel cost, and distribution. I think distribution is -- I mean, digital marketing and the digital transformation of our distribution channels is going to be a major driver of cost avoidance.
Levine-Weinberg: OK, that's all I have! Thank you very much for your time.
The article Exclusive: A Motley Fool Interview With Volaris CEO Enrique Beltranena originally appeared on Fool.com.
Adam Levine-Weinberg owns shares of Volaris and Embraer-Empresa Brasileira and is long July 2016 $25 calls on Embraer-Empresa Brasileira, long June 2016 $12.5 calls on Volaris, and short June 2016 $20 calls on Volaris. The Motley Fool recommends Embraer-Empresa Brasileira. Try any of our Foolish newsletter services free for 30 days. We Fools may not all hold the same opinions, but we all believe that considering a diverse range of insights makes us better investors. The Motley Fool has a disclosure policy.
Copyright 1995 - 2016 The Motley Fool, LLC. All rights reserved. The Motley Fool has a disclosure policy.