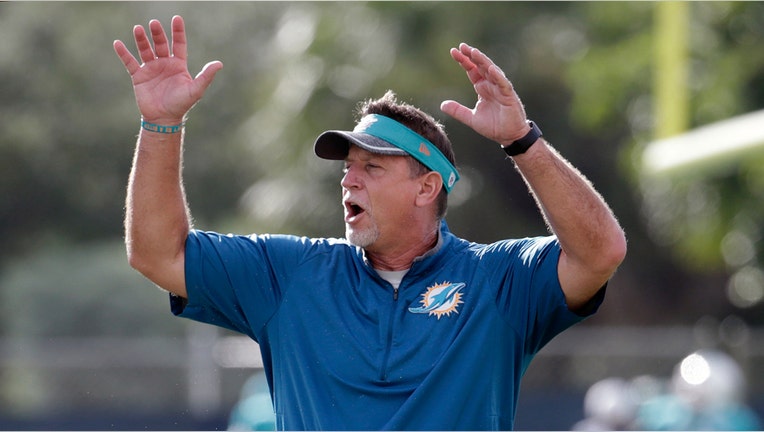 Disgraced former Miami Dolphins offensive line coach Chris Foerster owes hundreds of thousands of dollars in unpaid taxes, according to a report.
A joint tax filing last year by Foerster and his wife Michelle, who works as a pediatric nurse, revealed the couple hasn't paid more than $591,000 in back taxes, the South Florida Sun-Sentinel reported. The unpaid tab purportedly dates back to 2012.
Foerster, 55, was one of the NFL's highest-paid assistant coaches before his resignation this week, with an estimated annual salary of between $2.5 million and $3 million, ESPN reported. He is married and has children.
A longtime assistant coach in the NFL, Foerster resigned on Monday after footage emerged of him snorting a powdery white substance with a $20 bill. Kijuana Nige Sherrod, a Las Vegas-based model, posted the video on her Facebook page on Sunday night and wrote that she released the footage to protest the league's treatment of free agent quarterback Colin Kaepernick. The video has since been deleted.
"I am resigning from my position with the Miami Dolphins and accept full responsibility for my actions," Foerster said in a statement on Monday. "I want to apologize to the organization and my sole focus is on getting the help that I need with the support of my family and medical professionals."
Foerster joined the Dolphins ahead of the 2016 season and was in the midst of his second year as the team's offensive line coach.
"After speaking with Chris this morning, he accepted full responsibility and we accepted his resignation effective immediately. Although Chris is no longer with the organization, we will work with him to get the help he needs during this time," the team said in a statement.