Everything You Need to Know About the J. Jill IPO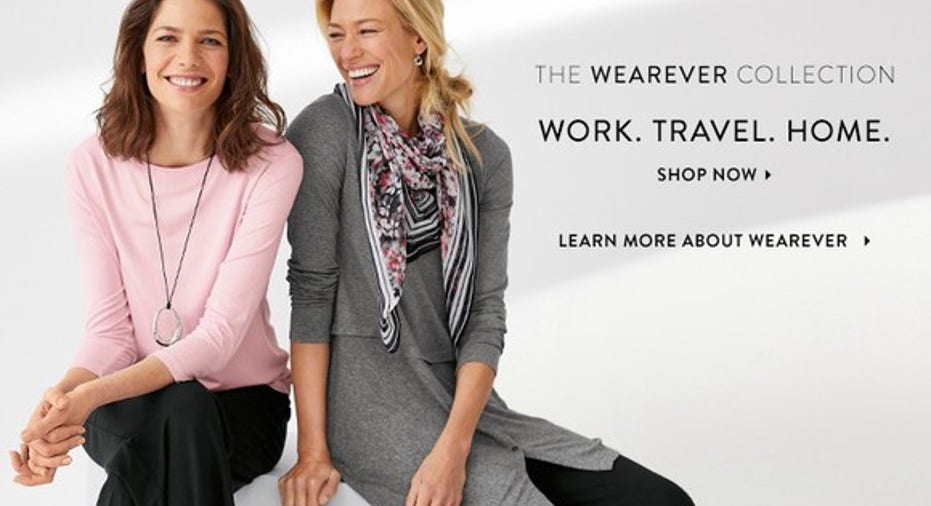 At a time when many mall retailers have been struggling to stay in business,women's fashion retailer J. Jill plans to go public. It is expected to price the 11.6 million shares being offered between $14 and $16. In that range, the initial public offering (IPO) would raise between $162 million to $186 million, but that money won't go to the company. Instead, the proceeds will go to an existing shareholder who is selling the shares, Internet Retailer reported.
On top of those shares, the underwriters of the offering have the option to buy "up to an additional1,750,000 shares from the selling stockholder ..." the company wrote in its prospectus filing with the Security Exchange Commission (SEC). Shares in J. Jill will trade on the New York Stock Exchange under the ticker symbol "JILL." It is expected that trading will begin on March 9.
J. Jill sells women's clothing, shoes, and more. Image source: J. Jill.
What is J. Jill?
J. Jill sells women's apparel, footwear, and accessories. The company describes its clothes on its website as "a relaxed approach to style. Never complicated, always easy. The perfect balance of comfort and fashion, designed for real life."
The company makes a strong effort to operate ethically. It has a published social responsibility policy where it lays out its ethical standards. J.Jill also has a charitable arm, the Compassion Fund, which aids community-based groups that "help disadvantaged and homeless women become self-sufficient." The retailer also operates under the California Transparency in Supply Chains Act, a series of rules designed to protect the integrity of the company's supply chain.
A look at the numbers
J. Jill has over 275 stores and a robust online operation, as well as a mailed catalog. Based outside of Boston in Quincy, Mass., with a distribution center in Tilton, N.H., the company has grown net income from a loss of $3.6 million in fiscal year 2012, to $14.3 million in pro forma fiscal year 2015, to $23.5 million for the 12 months ended Oct. 29, 2016.
The company claims a well-off, very loyal user base. It said in the prospectus that its average customer is 40 to 65 years old with a college degree and household income that exceeds $150,000 a year. On top of that, the retailer said that in 2015, 70% of its business came from customers who had shopped with it for more than five years.
In the last 12 months, as of Q3 2016, the company had a fairly even split of sales between its store base and its direct-sales channels (internet and catalog). J. Jill had $356 million in retail sales during that period and $261 million in direct-to-consumer sales. Since 2014 direct sales have been increasing as a percentage of the total.
J. Jill has also been steadily growing. In 2014, the company had $483 million in total sales. That rose to $562 million in 2015, and $617 million in 2016 (through the last 12 months as of Q3). In addition, comparable-store sales rose 5.4% in 2014, 12.4% in 2015, and 10.05% in 2016 (through the last 12 months as of Q3).
Will J. Jill succeed?
While it seems like an odd time for any mall retailer to go public, J. Jill has already dealt with some of the problems dragging down its rivals. The company has a very healthy direct sales business and a very strong relationship with its customers. That should help the retailer fight some of the negative headwinds facing the retail industry.
The company does have the risk of falling mall traffic causing it to lose some selling opportunities, but its connection with its customer base may just send those sales through its digital or catalog channels. In addition, the failure of other retailers could give J. Jill added leverage when it comes to negotiating leases for new or existing stores.
J. Jill may operate in malls, but it's not a typical mall retailer. The company has built a business based on customer loyalty, an appealing product mix, and serving customers both in stores and direct. That should keep it as one of retail's winners, even while other chains stumble.
10 stocks we like better thanWal-MartWhen investing geniuses David and TomGardner have a stock tip, it can pay to listen. After all, the newsletter theyhave run for over a decade, the Motley Fool Stock Advisor, has tripled the market.*
David and Tomjust revealed what they believe are theten best stocksfor investors to buy right now... and Wal-Mart wasn't one of them! That's right -- theythink these 10 stocks are even better buys.
Click hereto learn about these picks!
*StockAdvisor returns as of March 6, 2017The author(s) may have a position in any stocks mentioned.
Daniel Kline has no position in any stocks mentioned. The Motley Fool has no position in any of the stocks mentioned. The Motley Fool has a disclosure policy.