Everything You Need to Know About the Charter/Time Warner Cable Deal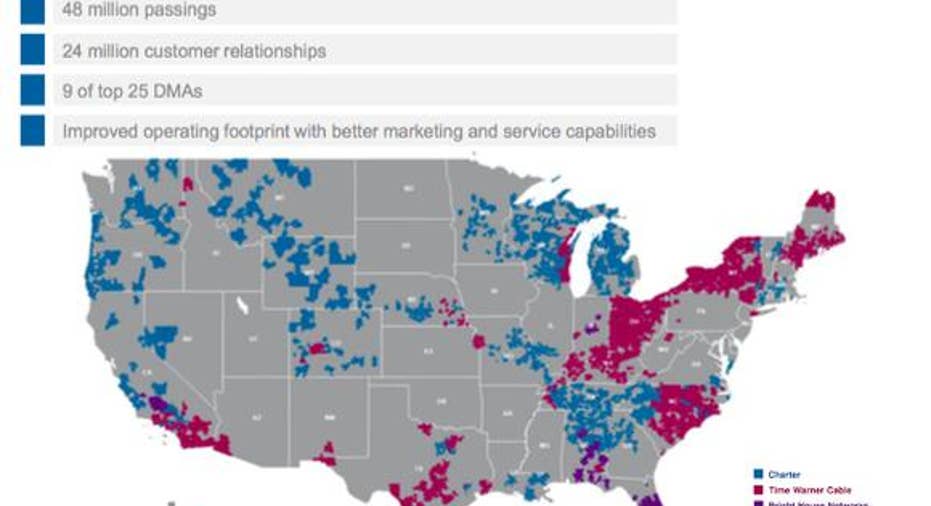 After denying a similar deal involving Comcast in 2015, the Federal Communications Commission (FCC) has granted conditional approval for Charter Communications to purchase Time Warner Cable and Bright House Networks.
The approval caps a multiyear saga for TWC, which now has the company becoming part of what will be the co-leader in the cable and broadband spaces along with Comcast. Charter, which will take the name New Charter once the deal closes, purchased Time Warner Cable for stock and cash, valuing the company at nearly $79 billion. It will be buying Bright House in a separate transaction valued at $10.4 billion.
In combining Charter's and Time Warner Cable's subscribers, New Charter will serve around 19 million broadband customers and just over 15 million cable subscribers. Privately held Bright House does not break down its customers by service, but its website claims it has 2.5 million paying customers across its various products.
Joining these assets will make New Charter a clear No. 2 to Comcast, which has more than 23 million broadband users and about 22.3 cable customers. The creation of a co-market leader was likely a key factor in the FCC granting approval.
This is what New Charter's customer base will look like after the deal closes. Image source: Charter.
What are the conditions?Working with the Justice Department (DOJ), the agency led by Chairman Tom Wheeler approved the deal with conditions designed to protect streaming video companies, and other conditions requiring it to offer cheaper broadband service to low-income families beyond what is required of the industry at large, according toThe New York Times.
Wheeler laid out the conditions in a statement:
New Charter will not be permitted to charge usage-based prices or impose data caps.
New Charter will be prohibited from charging interconnection fees, including to online video providers, which deliver large volumes of Internet traffic to broadband customers.
The new company will also be bound by a deal Charter agreed to with the DOJ that prevents it from enacting video programming terms that could harm online video distributor (OVDs) and protects OVDs from retaliation.
New Charter must add 2 million customer locations in under-served areas, with at least 1 million of those bringing choice to consumers who did not have it previously.
All of the conditions will last for seven years.
"The cumulative impact of these conditions will be to provide additional protection for new forms of video programming services offered over the Internet," said Wheeler, who went on to explain that the end of the approval process was not the end of the FCC's oversight. "Importantly, we will require an independent monitor to help ensure compliance with these and other proposed conditions. These strong measures will protect consumers, expand high-speed broadband availability, and increase competition."
What does this mean for consumers?The conditions imposed on the deal are basically the minimum that would be expected for a transaction of this magnitude. In fact, the FCC not including some sort of moratorium on price increases could be considered a bit of a victory for New Charter. The company, of course, was careful not to gloat in its statement to the Times.
The conditions will ensure the company's "current consumer-friendly and pro-broadband business practices," said Charter spokesman Justin Venech, adding that the new company "will be a leading competitor in the broadband and video markets."
That's about as bland a statement as a company can make, but the FCC would probably not appreciate it if Charter started dancing in the streets, or if the company said anything more boastful.
This was a clear win for Charter, which is probably at least a slight win for Time Warner Cable customers. The acquiring company has a better reputation for customer service, and it will probably remain on its best behavior for at least a few years. In addition, while the conditions placed on the deal were mild, forbidding data caps and usage-based pricing does stop New Charter from a practice Comcast is slowly rolling out.
It's possible this is a case where the government blocking Comcast's attempt to buy Time Warner Cable actually created the right outcome. Instead of one giant cable/broadband player, the U.S. now has two, which should be better for the public while actually enhancing the overall market.
The article Everything You Need to Know About the Charter/Time Warner Cable Deal originally appeared on Fool.com.
Daniel Kline has no position in any stocks mentioned. He wishes the name was more clever than New Charter. The Motley Fool has no position in any of the stocks mentioned. Try any of our Foolish newsletter services free for 30 days. We Fools may not all hold the same opinions, but we all believe that considering a diverse range of insights makes us better investors. The Motley Fool has a disclosure policy.
Copyright 1995 - 2016 The Motley Fool, LLC. All rights reserved. The Motley Fool has a disclosure policy.