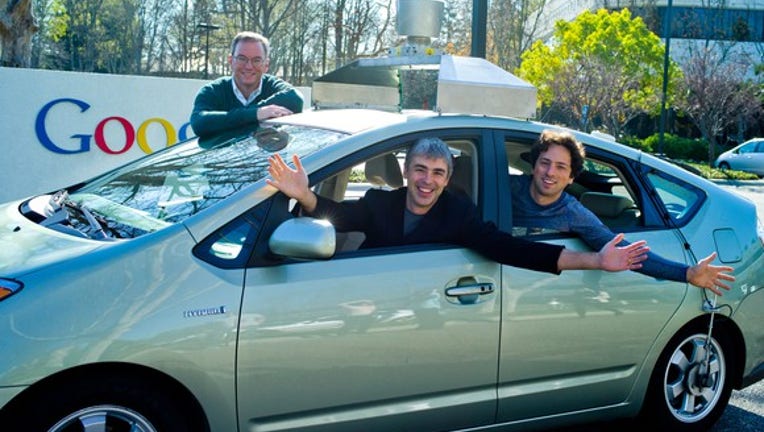 Google's Self-Driving Car Project has probably done more than anything else to bring the idea of driverless cars into the public conversation -- and to the attention of future-minded investors.
Now known as Waymo, and structured as a subsidiary of Google parent Alphabet (NASDAQ: GOOG) (NASDAQ: GOOGL), the Project's test vehicles and prototypes are what many people think of when they think of a "self-driving car."
But what do we know about Waymo and its driverless-car technology? Here's a summary for investors looking into this space.
The Google self-driving effort is now a company called Waymo. its test fleet will soon have several hundred vehicles operating on U.S. roads. Image source: Waymo LLC.
Who runs Waymo?
Waymo is organized as a subsidiary of Alphabet, and its CEO is John Krafcik. Krafcik, who joined Waymo in December, is an engineer and executive with an extensive background in the auto industry. His resume includes long stints at Ford Motor Company (NYSE: F) and Hyundai, where he rose to become CEO of the Korean automaker's U.S. operation. He left Hyundai to become president of TrueCar in 2014, a role he held until last year.
It's thought that Alphabet hired Krafcik to run Waymo in part because of Krafcik's history, contacts, and credibility with the traditional automakers -- or put another way, his ability to explore and negotiate partnerships with them.
Veteran auto-industry executive John Krafcik is the CEO of Waymo. Image source: Waymo LLC.
What is Waymo's technical goal?
Right now, Waymo is aiming to reach "Level 4," a system that is fully self-driving with no human intervention needed, as long as certain conditions are met. That's different from a "Level 5" system, which can do anything a human driver can do. (Level 5 is almost certainly Waymo's long-term goal. Click to learn more about the different levels of self-driving technology.)
Like other Level 4 systems under development, Waymo's system relies on (among other things) highly detailed maps that help the car's "brain" know exactly where it is at all times. At least when it's first introduced, Waymo's system will probably only work in areas that have been well-mapped.
Is Waymo planning to build its own cars?
Krafcik has said that Waymo won't manufacture its own vehicles. That suggests the company might work with one or more of the established automakers on a joint project.
It's already working with at least one major automaker, albeit only on a limited basis for now. Waymo's current test fleet consists of specially modified Chrysler Pacifica Hybrid minivans. Waymo engineers worked closely with counterparts at Fiat Chrysler Automobiles (NYSE: FCAU) to develop the test vehicles. FCA delivered the first 100 Pacficias to Waymo in December and said in April that it will build another 500 for delivery to Waymo later this year.
Waymo has also had discussions with Honda (NYSE: HMC) about a similar arrangement to create test vehicles, but as of now, no agreement has been announced.
The original Google "panda cars" were just for testing, but the cars' shape captured the public's imagination. Image source: Waymo LLC.
Will Waymo build any hardware at all?
In a presentation in January, Krafcik disclosed that Waymo has developed its own self-driving sensor hardware, including a low-cost LIDAR (laser detection and ranging) unit as well as custom-built cameras and radar units.
Waymo has said that its customized sensors give it better data to improve its software, and as its software improves, it helps to optimize the hardware.
What about those adorable Google "panda" cars?
The quirky Google "panda" cars have become the public's idea of what a self-driving car will look like. But the truth is, the Google cars were designed strictly for testing on Google's campus and other areas that are separate from public roads.
The reality is that the first self-driving vehicles to be offered for sale will probably look a lot like ordinary cars (or minivans).
Image source: Waymo LLC.
How will Waymo turn its technology into a business?
Here's what Waymo said about its plans in a Medium post discussing its hardware:
Pretty vague, right? The truth is, Waymo itself might not yet have a clear go-to-market plan. It appears to be exploring several different possibilities. One route might be for Waymo to provide its hardware and software to automakers; it's known to have had discussions with several, including FCA, Honda, and Ford.
But there are alternatives. Waymo recently announced a partnership with ride-hailing company Lyft. It's not clear where that's going, but another possibility is that Waymo could provide kits for Lyft to retrofit self-driving systems to vehicles bought elsewhere.
Waymo's deal with Lyft has an interesting complication: General Motors (NYSE: GM), which is thought to have fairly advanced self-driving technology of its own, owns 9% of Lyft and has a seat on its board. GM hasn't commented on the Waymo-Lyft deal except to say that it has no problem with it -- but it raises the very interesting possibility of a Waymo-Lyft-GM deal at some point in the future.
What will come of all of this? It seems likely Waymo will find a way to profit handsomely from its technology, but it may take a few years for clear paths to emerge.
In this photo from 2011, Alphabet chairman Eric Schmidt and company co-founders Larry Page and Sergey Brin are shown in one of the earliest Google self-driving test vehicles, a modified Toyota Prius. Image source: Alphabet.
How do we invest in Waymo?
Right now, the only way to invest in Waymo is by investing in Alphabet. There are lots of good arguments for owning Alphabet stock, but (at least right now) Waymo is only a small one; it's hardly a pure play.
Some analysts have recently floated the idea of a Waymo IPO. If and when that happens, I expect there will be a lot of interest.
10 stocks we like better than AlphabetWhen investing geniuses David and Tom Gardner have a stock tip, it can pay to listen. After all, the newsletter they have run for over a decade, Motley Fool Stock Advisor, has tripled the market.*
David and Tom just revealed what they believe are the 10 best stocks for investors to buy right now...and Alphabet (A shares) wasn't one of them! That's right -- they think these 10 stocks are even better buys.
Click here to learn about these picks!
*Stock Advisor returns as of May 1, 2017.
Suzanne Frey, an executive at Alphabet, is a member of The Motley Fool's board of directors. John Rosevear owns shares of Ford and General Motors. The Motley Fool owns shares of and recommends Alphabet (A and C shares) and Ford. The Motley Fool has a disclosure policy.