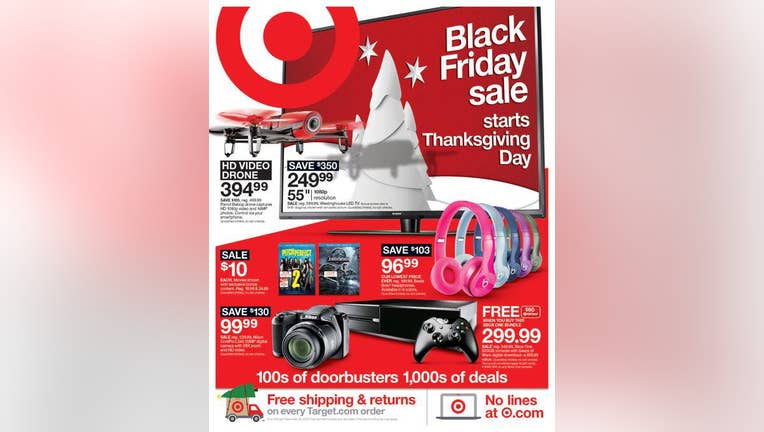 Let's face it: "Black Friday" has become a misnomer now that the shopping holiday extends into Thanksgiving Day.
Retailers still use the term, however, to define what has become an American event. Whether it's late afternoon/early evening after people have polished off the last of the turkey or early the next morning, stores will open, and crowds will come.
With consumers lured by the promise of doorbuster deals which offer huge savings or called by the suggestion of a bargain, the new, broadly defined Black Friday remains a happening. To win over shoppers, stores will try all sorts of things -- from time-based deals to in-store promotions. Nearly every major retailer will celebrate the traditional start of the holiday shopping season by pulling out all the stops.
Here's a look at what many of the major chains will be doing, when they will open, and at least some of what customers can expect.
Target : The rebounding retail chain will open on Thanksgiving at 6 p.m. with what it's calling a "Black Friday pre-sale." The chain will stay open until 11 p.m. or midnight depending on the location and reopen earlier than usual in many markets on Friday.
Target's Black Friday ad. Image source: Target
Though its in-store deals will offer the usual selection of TVs, toys, and electronics, the company is actually making a big push online this year. Starting "early Thanksgiving morning, guests can shop all of Target's Black Friday deals at Target.com," the company wrote in a press release. In addition in-store or online customers who spend $75 or more on Friday, Nov. 27, will receive a 20% discount to use toward a future purchase on any day between Dec. 4 and Dec. 13.
(To learn more about details Target's plan for the big day -- along withWal-Mart , and Best Buy -- read my preview here.)
Wal-Mart: Wal-Mart built its holiday strategy around making things easier for its customers, with the biggest piece of that being that all its Black Friday deals will also be available on its website beginning at 12:01 a.m. PT on Thanksgiving morning. The chain's stores will open at 6 p.m. on Thanksgiving with some staying open straight through the weekend.
The company is also promising, as it did last year, to have deep stocks of the best deals and most popular items. In some cases it even guarantees customers that they will get an item if they are in the store at a certain time (providing rain checks when stock runs out).
"Walmart will never be the retailer that broadcasts a great price on Black Friday and then ends up only having a few in stock," Chief Merchandising OfficerSteve Bratspies said in a press release."We bought deep on televisions, toys and more to ensure hundreds of customers in a store -- not tens of customers -- get the gift they want."
Best Buy: The electronics retailer will join Target and Wal-Mart in opening on Thanksgiving but will start an hour earlier at 5 p.m. Its strategy for 2015 has been to extend the holiday season and it has been offering Black Friday-style deals throughout November.
Best Buy will offer a different selection of doorbuster deals Thursday and when it reopens Friday at 8 a.m. in addition to a selection of discounts offered throughout the weekend.The company will also have some special doorbuster-style deals on its website and will offer free shipping with no minimum order requirement.
Amazon: The online retailer is always open and has been offering new limited-time Lightning Deals throughout November. It won't be ignoring Black Friday, though. In addition to releasing 10 Deals of the Day starting at midnight on Thanksgiving and up to 10 more on Black Friday, it will have new Lightning Deals as often as every five minutes on Black Friday, according to a press release.The company's Prime members get access to many of these deals 30 minutes before non-members.
For more details on Amazon's Black Friday plans, read my full article here.
Macy's : Most, but not all, stores will open at 6 p.m. on Thanksgiving with doorbuster deals starting then. Black Friday deals will be offered all Thursday on Macys.com, the company announced. Macy's limited-time specials, which include deals on clothes and items for the home, including cookware, electronics, and linens run from the special Thursday open through 1 p.m. Friday, Nov .As supplies allow, the retailer will also offer deals on Saturday from 8 a.m. to 1 p.m.
Sears : Sears actually kicked off its holiday efforts with Black Friday preview sales for its "Shop Your Way" members four days before the big day. For the rest of its customers, the retailer will be opening on Thanksgiving at 6 p.m. Sears stores will offer their first round of doorbuster deals from 6 p.m. to 2 a.m and reopen on Black Friday at 5 a.m. with a second round of doorbusters, the company said in a press release. The chain plans to offer more than 1,000 limited-availability doorbuster deals across categories including appliances, apparel, tools, jewelry, consumer electronics, footwear, fitness equipment, and more.
Toys R Us: The toy chain will open its doors at 5 p.m. on Thanksgiving offering in-store only sales until midnight. It also has some online-only specials which run from 9 p.m. on Thanksgiving through 11:59 p.m. Saturday. And, to confuse things further, the retailer has another set of deals being offered both online and in-store from 7 a.m. Friday through the end of the day Saturday.
Starbucks : While it's not a retailer like the other chains on this list, Starbucks will be opening many of its locations for extended hours to help fuel people's Black Friday shopping. In addition the chain will be offered deals in stores from Thanksgiving, when only select locations will be open, through Monday, Dec. 1. These include selling its Verismo home-brewing system for $59, half its regular price.
Microsoft : While it's easy to forget that Microsoft is a retailer, the company will be celebrating Black Friday in its stores and on its website. Because most of its stores are located in malls, hours will vary and can be checked here. Online, the company will kick things off at 6 p.m. ET on Thanksgiving. The company will offer deals on Xbox, PCs, and laptops, as well as games, accessories, and phones.
Apple :As of the Sunday before Thanksgiving, the iDevice maker has not made its Black Friday sales public. That's likely because the best place to buy Apple products on the shopping holiday is not its own retail stores.
"In previous years, Apple authorized resellers have undercut Apple on Black Friday by as much as 13%, and this year will be no different," wrote DealNews.com.
That does not mean there won't be deals offered in Apple's own stores, which like Microsoft's will be open largely in line with the malls where most of them are located. For the last few years Apple has sold its popular product lines at full price, but offered gift cards of varying values with them. Sill, in general, the best Apple savings will be found elsewhere.
You don't have to shopOne of the important things for shoppers to remember is that Black Friday does not have the best deals on every item. In some cases waiting will actually save you money whether it be on Cyber Monday (the Monday after Thanksgiving where online deals are plentiful) or late in the season when retailers look to get rid of unsold inventory.
There are huge savings to be had on Black Friday, but it's also important to not buy just for the sake of buying and to remember to check that you're actually getting a good price. Black Friday is a major event with big sales, but it's also a day (well, a day and a half) where budgets can be blown in the name of savings.
The article Everything Shoppers Need to Know for Black Friday originally appeared on Fool.com.
Daniel Kline has no position in any stocks mentioned. He will be in relatively rural New Hampshire on Black Friday. The Motley Fool owns shares of and recommends Starbucks. Try any of our Foolish newsletter services free for 30 days. We Fools may not all hold the same opinions, but we all believe that considering a diverse range of insights makes us better investors. The Motley Fool has a disclosure policy.
Copyright 1995 - 2015 The Motley Fool, LLC. All rights reserved. The Motley Fool has a disclosure policy.