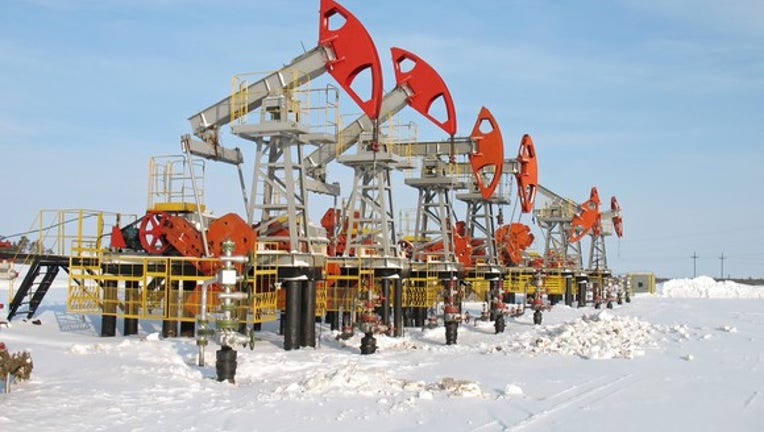 While severe winter weather in North Dakota's Bakken shale continued to affect volumes at ONEOK Partners (NYSE: OKS), the midstream MLP more than overcame those issues to post higher results than last year's first quarter. That performance helped fuel relatively stable results at its general partner,ONEOK (NYSE: OKE). Meanwhile, ONEOK remains on pace to close its acquisition of ONEOK Partners during the second quarter, which will position the combined entity for healthy growth in the coming years.
ONEOK Partners results: The raw numbers
Data source: ONEOK Partners. Chart byauthor. NOTE: In millions of dollars.
What happened with ONEOK this quarter?
The company's strategic growth initiatives are paying off.
Adjusted EBITDA from ONEOK Partners' natural gas liquids (NGL) segment rose 3% versus the year-ago period, to $278.2 million. Higher volumes fueled that increase, as NGLs fractionated improved 4% while NGLs transported on gathering lines were up 2%, thanks to new processing plant connections in the Permian Basin, Mid-Continent, and Rocky Mountain region.
Adjusted EBITDA in the natural gas pipeline segment jumped 12% versus last year because of higher fee-based earnings from transportation services as well as an increase in demand charges for contracted capacity. The company also benefited from the start-up of the Roadrunner Gas Transmission Pipeline and the WesTex intrastate pipeline expansion in the Permian Basin.
Natural gas gathering and processing segment adjusted EBITDA was up 4% to $104 million, thanks to higher fee-based revenue from restructured contracts. Those new rates pushed the average fee earned in the quarter up 22% from last year's first quarter. That said, severe winter weather did cause a 4% decrease in volumes versus last year.
Overall, ONEOK Partners' adjusted EBITDA rose 4.4% to $464.2 million, while distributable cash flow rose 2.2% to $355.4 million. Because of that performance, and the fact the company kept the distribution flat, its coverage ratio increased from 1.06 to 1.1.
Those rising earnings boosted ONEOK's adjusted EBITDA up 4.1% to $459.6 million. However, cash flow available for dividends slid 3% to $164.2 million because of flat distributions from its MLP and higher expenses, which caused its coverage ratio to shrink from 1.31 to 1.27.
Image source: Getty Images.
What management had to say
CEO Terry Spencer commented on the results:
One of ONEOK's focuses over the past few years has been to increase the stability of its revenue streams by converting more of its contracts to fee-based and building additional assets underpinned by fee generating contracts. As a result, the company has increased the percentage of fee-based earnings from 66% in 2014 up to an expected 90% this year. While the company does still have some volume risk associated with some of those contracts, both because of the weather and the impact lower commodity prices have on drilling activities, that headwind should start abating thanks to improving market conditions. In fact, the company expects volume increases in the second half of this year because of the recent connections to three new processing plants and a projected improvement in drilling activity. Further, with several new petrochemical plants slated to come online next year, NGL volumes should grow at an even faster clip in 2018.
Looking forward
As a result of the combined company's solid first quarter showing, ONEOK remains confident that it can meet its full-year guidance. Those projections include Adjusted EBITDA in the range of $1.87 billion to $2.13 billion and distributable cash flow between $1.245 billion to $1.505 billion, assuming the company completes its acquisition of the rest of ONEOK Partners. The closing of that transaction will also enable ONEOK to boost its dividend 21% for 2017 while putting it on pace to increase the payout 9% to 11% annually through 2021 even as it maintains a conservative dividend coverage ratio of at least 1.2.
10 stocks we like better than ONEOKWhen investing geniuses David and Tom Gardner have a stock tip, it can pay to listen. After all, the newsletter they have run for over a decade, Motley Fool Stock Advisor, has tripled the market.*
David and Tom just revealed what they believe are the 10 best stocks for investors to buy right now... and ONEOK wasn't one of them! That's right -- they think these 10 stocks are even better buys.
Click here to learn about these picks!
*Stock Advisor returns as of May 1, 2017
Matt DiLallo has no position in any stocks mentioned. The Motley Fool owns shares of and recommends ONEOK. The Motley Fool recommends ONEOK Partners. The Motley Fool has a disclosure policy.