Even This Natural Gas Producer Is Expecting a Major Production Decline in 2016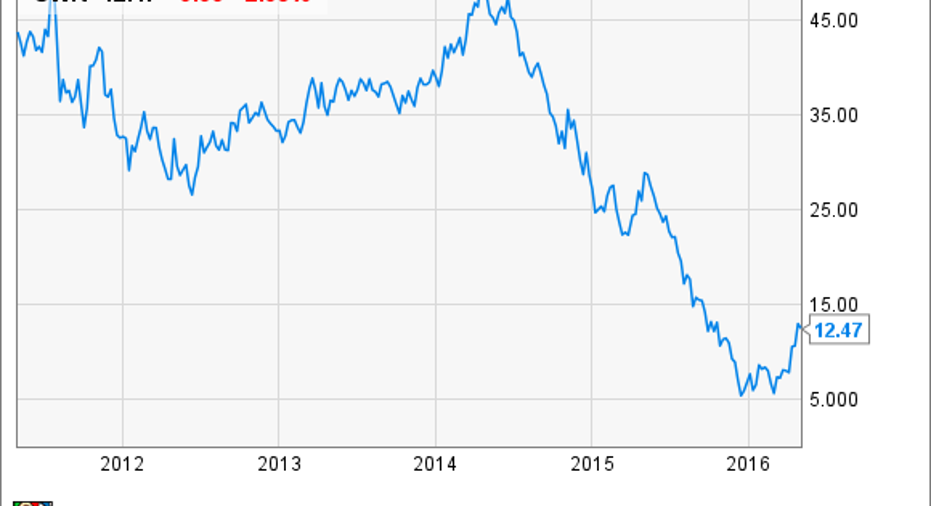 Southwestern Energy (NYSE: SWN) shareholders have become accustomed to two things. One is depressingly low natural gas prices. The other is that this company growing production at a very impressive pace year after year, despite those low natural gas prices.
This will be the year that at least one of those two things changes. The fact that one of them is changing may be a sure sign that the other will as well. Here's why.
It shouldn't have lasted this longSouthwestern Energy basically is a picture of the shale gas revolution. Just like shale gas, which started modestly a decade ago, Southwestern went from small to really big in an incredibly short period of time. In 2007, which isn't all that long ago, Southwestern produced 113 Bcfe of natural gas. In 2015, the company produced 976 Bcfe, an increase of 863%.
Source: Southwestern corporate presentation.
Over that period, Southwestern had significant production growth each and every year.
Can you imagine going from being a minor operator to the third largest natural gas producer in the country in less than a decade? The management of such growth must have been a complicated undertaking. Operationally, this company has done some incredible things. Unfortunately for Southwestern shareholders, all of that production growth hasn't translated into similar share price increases. In fact, things look pretty darn depressing in the following chart.
The kryptonite to all of this production growth has of course been the price of the commodity itself. Southwestern Energy wasn't the only company that discovered shale gas, and the U.S. natural gas supply has overwhelmed demand.
In 2015, Southwestern recorded EBITDA of $1.44 billion. EBITDA (earnings before interest, taxes, depreciation, and amortization) pretty much amounts to cash flow from operations without any consideration given to working capital fluctuations. Remember that it took 976 billions of cubic feet equivalent (bcfe) of production in 2015 to generate that $1.44 billion.
In 2008, Southwestern produced 195 billion bcfe of natural gas, which is 20% of what it produced in 2015. Despite that output, EBITDA in 2008 was $1.36 billion, or 95% of 2015's EBITDA. Southwestern basically had the same EBITDA in 2015 as it did in 2008, despite having quintupled production.
Source: Southwestern corporate presentation.
It is finally time to pay the piper?At some point, you had to figure that natural gas prices would get so low that all of this production growth would be curtailed. In 2016 we're going to hit that point, with natural gas under $2 per thousand cubic feet (mcf). In 2012 Southwestern was faced with natural gas prices with a "two-handle" but the company kept right on growing. This time it is different. The price decline this time isn't a steep dive, it has been a slow grind lower. Natural gas prices have been below $3 since the start of 2015 so we are nearly 18 months into this.
On top of that the credit markets have tightened significantly in 2016. Lenders now believe that there is real risk involved when lending to oil and gas shale producers and no longer have the appetite to keep lending.
Henry Hub Natural Gas Spot Price data by YCharts
There is no clearer example than at Southwestern, where production growth isn't just going to cease, but production is going to slam into reverse. The following slide shows Southwestern's EBITDA guidance for 2016.
Source: Southwestern Corporate Presentation
Southwestern expects that it will generate between $400 million and $500 million of EBITDA in 2016. That's only one-third of what the company did in 2015, which was an already depressing result.
As you might imagine, with cash flow levels plummeting and capital markets now very cold, oil and gas producers' 2016 spending levels will be coming down -- a lot. In 2015, Southwestern had capital expenditures of $1.8 billion. In 2016, the company expects that number to drop to only $400 million.
The impact of this spending reduction on production is going to be significant. According to Southwestern's Q4 2015 earnings call back in February, Southwestern expects its production will be down 25% year on year by the end of December.
What should investors do?Southwestern isn't going to be the only natural gas producer with massive spending reductions in 2016. There's also a significant amount of natural gas produced by the shale oil drillers that are also cutting back.
But there's plenty of reason to think natural gas prices will be higher a year from now. Investors should look to start getting some exposure to natural gas. Southwestern itself is one way to do this. Yes the company has a significant amount of long term debt, but it has no near term maturities that it is going to be unable to meet. Southwestern also has plenty of liquidity to keep operations chugging along. And of course Southwestern's assets are among the best in the industry.
As part of a diversified basket of natural gas producers, Southwestern would be a useful portfolio addition for investors to profit from natural gas rebounding.
The article Even This Natural Gas Producer Is Expecting a Major Production Decline in 2016 originally appeared on Fool.com.
TMFWolfpack has no position in any stocks mentioned. The Motley Fool has no position in any of the stocks mentioned. Try any of our Foolish newsletter services free for 30 days. We Fools may not all hold the same opinions, but we all believe that considering a diverse range of insights makes us better investors. The Motley Fool has a disclosure policy.
Copyright 1995 - 2016 The Motley Fool, LLC. All rights reserved. The Motley Fool has a disclosure policy.