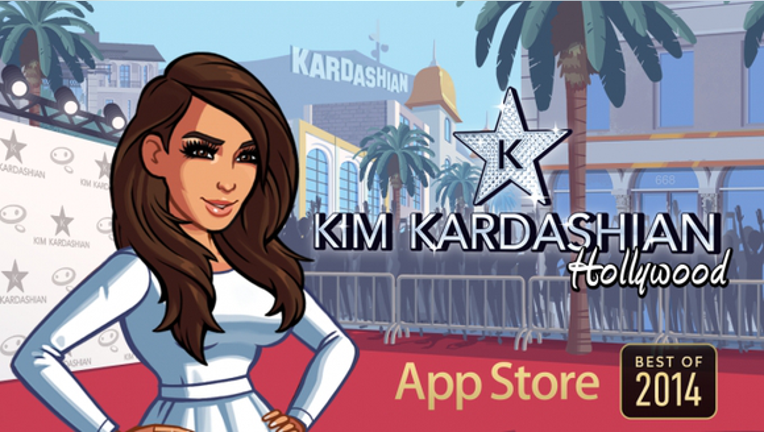 Image source: Glu Mobile.
Katy Perry may be more talented than Kim Kardashian, but that just doesn't appear to be the case in the eyes of mobile gamers and Glu Mobile shareholders.
Shares of the casual-gaming app developer shed 15% of its value last week after the eagerly anticipated debut of Katy Perry Pop failed to deliver the titular "pop" in app-downloading activity following its mid-December debut. The pop-star simulator offers an interactive experience where players get coached by Perry's in-game character on the path to music stardom. It's a model that worked effectively last year for Glu Mobile withKim Kardashian: Hollywood, but the buzz just isn't there this time around.
The game's iOS popularity for U.S. iPhone users peaked at 101 on Dec. 19, according to industry tracker App Annie. It had fallen all the way to 282 by Saturday night. It's holding up better in many international markets, but being 16 in Brunei or 50 in Brazil -- its two highest-ranking countries per App Annie -- isn't going to cut it.
It's a far cry from Kim Kardashian: Hollywood which was the second most downloaded iOS app by its second day on the market. It remained among the top five iPhone apps through its first few weeks on the market, briefly topping the stateside charts that summer. Those were good times to be a Glu Mobile shareholder, especially as the stock postedfour consecutive weeksof double-digit percentage gains.
Katy Perry Popis free to download, but like many of Glu Mobile's experiences the gameplay is enhanced through in-game purchases. The game is monetized through both the in-app purchases of virtual items and online advertising. However, it needs to be a big hit to move the needle for Glu Mobile, and the early signs aren't very encouraging.
Investors were pumped when Glu Mobile announced an exclusive five-year mobile gaming partnership with Katy Perry back in February. It came just as her Super Bowl halftime show affirmed her status as pop music royalty. Why couldn't Glu Mobile just tweak an interactive adventure similar to the Kardashian-themed celebrity simulator, cashing in all over again? Deals with Britney Spears, Nicki Minaj, and others have followed, but now that Katy Perry Pop is proving to be merely a modest success it will be hard to get excited with future celebrity editions.
It's not as if Perry's asleep at the wheel. She's been promoting the app on her Twitter feed for the past two weeks. If reaching out to her nearly 80 million followers isn't enough to make the game crack even the top 100 in App Store charts, it's hard to fathom what will. Glu Mobile's rookie success with Kim Kardashian: Hollywood last year may have been the peak for these celebrity simulators, and now investors will have to wait for the next star to strut if Glu Mobile is to regain its form as a market winner.
The article Even Katy Perry Can't Save Glu Mobile Now originally appeared on Fool.com.
Rick Munarriz has no position in any stocks mentioned. The Motley Fool has no position in any of the stocks mentioned. Try any of our Foolish newsletter services free for 30 days. We Fools may not all hold the same opinions, but we all believe that considering a diverse range of insights makes us better investors. The Motley Fool has a disclosure policy.
Copyright 1995 - 2015 The Motley Fool, LLC. All rights reserved. The Motley Fool has a disclosure policy.