Even at All-Time Highs, Apple Shares Could Still Have Room to Run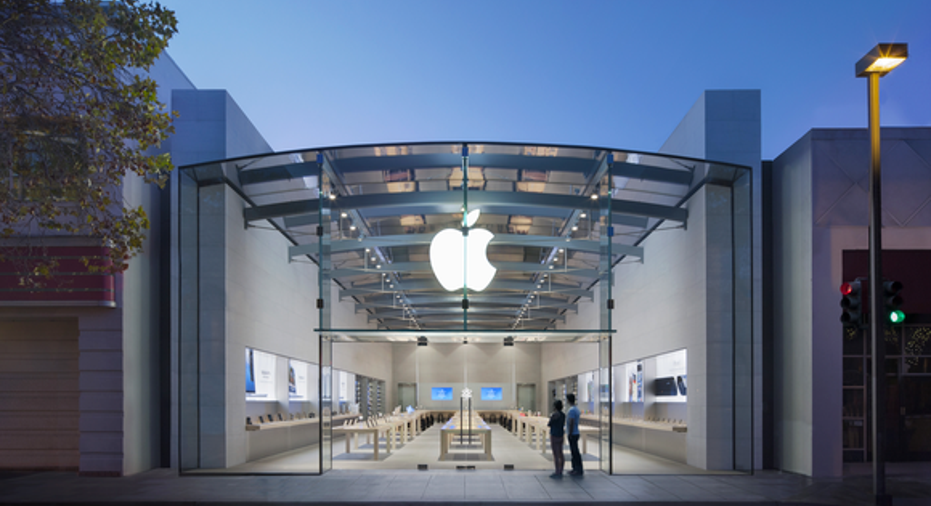 With Apple (NASDAQ: AAPL) shares currently trading at all-time highs, a question that has been indubitably nagging every Apple shareholder (myself included) is: How much further can shares run? While Apple remains cheap by traditional valuation metrics, it's relatively more expensive; shares have jumped 20% in the past three months alone, even as they still trade at a meaningful discount to the S&P 500.
It's tough to imagine a $735 billion company growing even further, but Bernstein analyst Toni Sacconaghi thinks it's quite possible (via Tech Trader Daily).
Word on the Street
Bernstein reiterated its outperform rating earlier this week, while boosting its price target from $140 to $160. For those keeping score at home, $160 would translate into a market cap of nearly $840 billion. There are a few main themes that underpin Sacconaghi's bullishness.
Apple Store in Palo Alto. Image source: Apple.
First of all is the increasing likelihood of some sort of repatriation holiday under the Trump administration. If such an event were to occur, Apple could bring back a mountain of money at favorable tax rates to 1. fund capital returns, 2. pay down debt that has been funding most of said capital returns to date, and 3. throw a massive party.
If Apple were to go all out with share repurchases and buy back 10% of all outstanding shares, shares could potentially even be worth as much as $170, in Sacconaghi's view. The cost to buy back 10% of shares would be an incredible $74 billion, which is about a third of the $230 billion that Apple currently holds overseas. There are a few different forms that a repatriation holiday could take, so the devil will be in the details. As accretive as Apple's share repurchase program has been thus far, buying back 10% of shares outstanding would be massively accretive.
The Mac maker has ambitious plans to double its services business by 2020, and as services become an increasingly important part of the business, some multiple expansion is warranted given the higher profitability and scalability of services. There are several routes that Apple can take to get there, but it's clear that this is a top strategic priority for the company.
Recent concerns around gross margin also appear to be fading away, according to Sacconaghi. And of course, who can forget the upcoming 10th-generation iPhone that has the potential to spur a huge upgrade cycle. Considering the current rumors around a $1,000 OLED iPhone, Apple could enjoy quite a bit of revenue upside based on the pricing alone, even before factoring in unit growth. Hopefully, the iPhone maker delivers on both fronts, which could trigger a wave of upward earnings revisions.
Even though Apple continues to push into uncharted territory, there are numerous reasons why the rally could still have legs.
10 stocks we like better than AppleWhen investing geniuses David and Tom Gardner have a stock tip, it can pay to listen. After all, the newsletter they have run for over a decade, Motley Fool Stock Advisor, has tripled the market.*
David and Tom just revealed what they believe are the 10 best stocks for investors to buy right now... and Apple wasn't one of them! That's right -- they think these 10 stocks are even better buys.
Click here to learn about these picks!
*Stock Advisor returns as of February 6, 2017
Evan Niu, CFA owns shares of Apple. The Motley Fool owns shares of and recommends Apple. The Motley Fool has the following options: long January 2018 $90 calls on Apple and short January 2018 $95 calls on Apple. The Motley Fool has a disclosure policy.