European stocks higher as Brent crude breaches $80 a barrel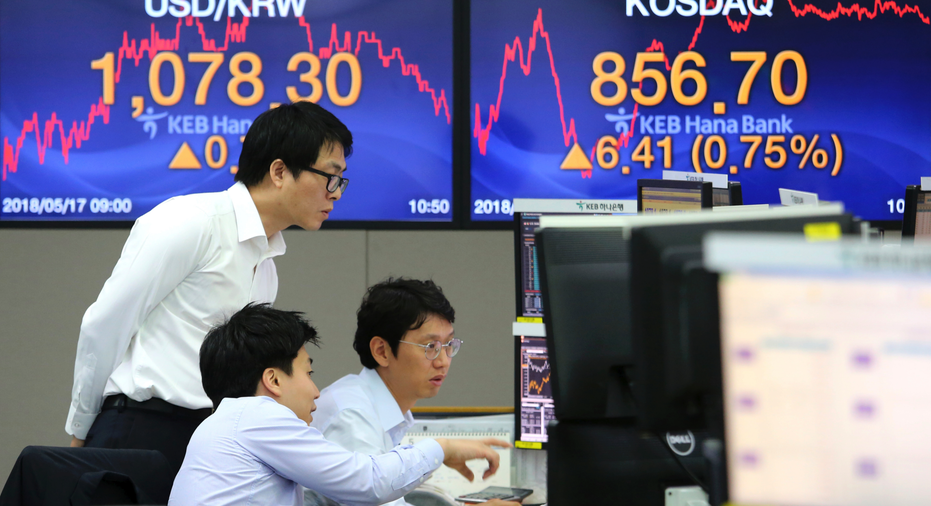 European stocks brushed aside earlier losses in Asia to rise solidly Thursday with oil companies in demand as the international measure of oil struck its highest level in three-and-a-half years after French oil giant Total threatened to pull out of Iran.
KEEPING SCORE: In Europe, Britain's FTSE 100 was up 0.3 percent to 7,754 while France's CAC 40 rose 0.5 percent to 5,592. Germany's DAX advanced 0.3 percent to 13,037. Futures augured a sluggish start on Wall Street. S&P futures dipped 0.1 percent while Dow futures remained flat.
OIL: Benchmark U.S. crude oil rose 70 cents to $72.20 per barrel in electronic trading on the New York Mercantile Exchange. Brent crude, used to price international oil, rose 77 cents to $80.05 per barrel in London, its highest level since November 2014.
TOTAL: French oil and gas producer Total said it would not be able to continue a multi-billion dollar project in Iran unless it is granted a waiver by U.S. authorities. The group said in a statement that it "cannot afford to be exposed to any secondary sanction" including the loss of financing by American banks. Total wants U.S. and French authorities to examine the possibility of a specific project waiver. Last week, U.S. President Donald Trump said it will pull out of the landmark 2015 nuclear deal between Iran and Western powers and that the U.S. was reinstalling sanctions against Iran.
OIL STOCKS: Across Europe, oil companies were in demand amid higher oil prices. BP's share price was up 0.8 percent, while Total's rallied 0.6 percent.
ANALYST TAKE: Connor Campbell, financial analyst at Spreadex, said U.S. stocks have struggled to claw back Tuesday's trade war-inspired losses "with little on the horizon in the rest of the week, beyond an unforeseen update on the state of play between the US and China, to spark a recovery."
ASIA'S DAY: Japan's Nikkei 225 index finished 0.5 percent higher at 22,838.37 but the rest of the region was mostly in the red. Hong Kong's Hang Seng fell 0.5 percent at 30,942.15 and the Kospi in South Korea closed 0.5 percent lower at 2,448.45. Australia's S&P ASX 200 dipped 0.2 percent to 6,094.30 and the Shanghai Composite index fell 0.5 percent to 3,154.28. Shares were mixed in Southeast Asia.
CURRENCIES: The euro fell 0.2 percent to $1.1785 while the dollar rose 0.3 percent to 110.67 yen.