European Stocks Fall After PMIs Miss Forecast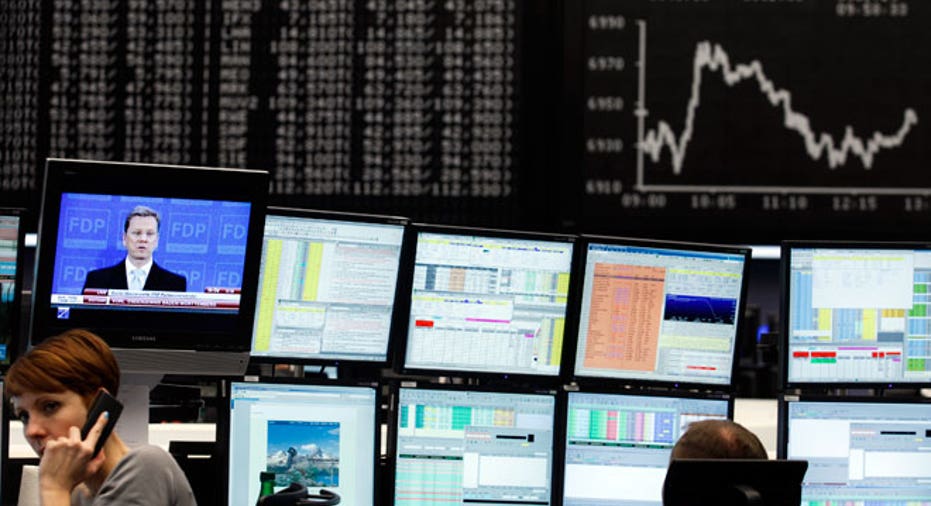 European stock markets declined on Wednesday after the final reading of the euro-zone services PMI confirmed growth in the sector, but fell short of expectations.
The Stoxx Europe 600 index fell 0.3% to 342.50, after posting a 0.5% loss on Tuesday.
Shares of Volkswagen AG dropped 1.7% to 192.35 euros ($261.83), after the car maker said it had placed more than 10 million new shares at EUR191 a share, raising EUR2 billion.
Shares of Vodafone Group PLC (VOD) lost 1.6% in London after the U.K. telecoms regulator Ofcom revealed proposals to cut what mobile operators can charge consumers to make calls
On a more upbeat note, shares of Credit Suisse Group AG (CS) climbed 1.8% after Goldman Sachs lifted the bank to buy from neutral and added it to its conviction buy list.
Goldman Sachs also lifted Deutsche Bank AG (DB) to neutral from sell, sending the shares 0.2% higher.
More broadly, investors digested the latest purchasing managers' indexes from the euro zone. The final services PMI for the area came in at 53.2, down from the flash estimate of 53.5, but higher than the 53.1 recorded in April. A reading above 50 signals growth.
The composite euro-zone PMI also missed expectations and fell to 53.5 in May, from 54 in April. The flash reading had forecast a 53.9 print.
The data further sketched out the divergence between the euro zone's two largest economies, as Germany continued to report strong output growth, while France slipped back into contraction in May.
Growth data from Eurostat also confirmed that picture. The EU's statistics office said the German economy grew by 0.8% in the first quarter, while the French economy stagnated. For the euro zone, Eurostat said the gross domestic product expanded by 0.2% in the first three months of the year, confirming a previous estimate.
All eyes on the ECB
The data came a day ahead of the highly anticipated European Central Bank meeting, where most economists expect some kind of monetary easing. Consensus is for a cut in interest rates, taking the deposit rate into negative territory for the first time in euro-zone history. Read: How to invest if the ECB cuts rates below 0%
Analysts also predict that the central bank will introduce a package of liquidity measures to boost bank lending, spur growth and fight off low inflation.
Preliminary inflation data for May released on Tuesday highlighted the need for a new round of ECB easing measures, as growth in euro-zone consumer prices unexpectedly fell to a more-than four-year low.
There has also been speculation as to whether the ECB will launch a full-scale quantitative easing program at the meeting on Thursday, but most analysts think it'll be premature.
"But it is getting awfully close and we expect the ECB to make clear that QE will be deployed next in case of any further deterioration in inflation expectations," analysts at Barclays said in a note.
Among country-specific indexes on Wednesday, Germany's DAX 30 index gave up 0.4% to 9,879.27, while France's CAC 40 index lost 0.6% to 4,477.35.
The U.K.'s FTSE 100 index dropped 0.3% to 6,814.83. The London benchmark moved a leg lower in midmorning trade after better-than-expected services PMI added to speculation the Bank of England could lifts its interest rate from a record low as soon as this year. The pound (GBPUSD) pared losses after the data and traded at $1.6736, compared with an intraday low of $1.6699 ahead of the report.