European Stocks Edge Higher Ahead of U.S. Jobs Report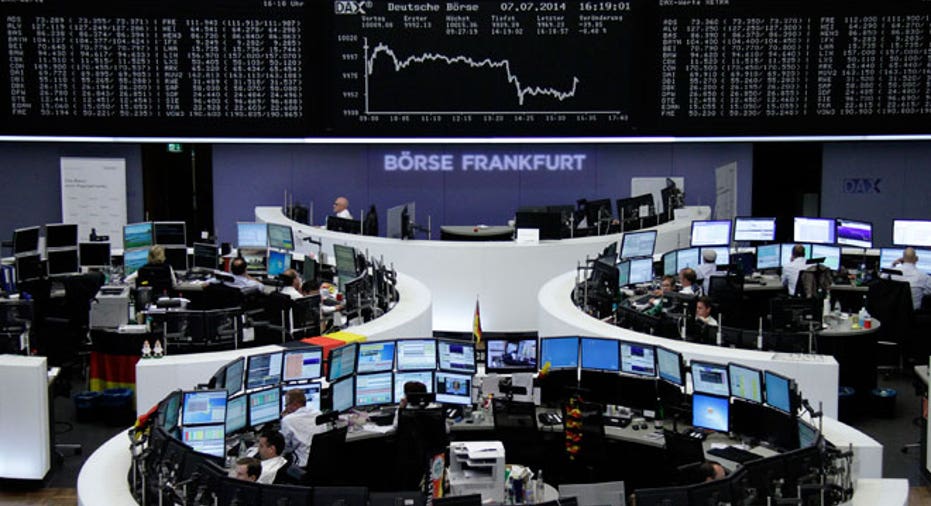 European stocks and U.S. futures inched higher Friday amid hopes for a fresh sign of strength in the world's largest economy after a rocky week for investors.
The Stoxx Europe 600 rose 0.5% in morning trading as some of Thursday's biggest decliners recovered. Futures pointed to a 0.1% opening gain for the S&P 500, even as shares of Amazon.com Inc. fell sharply in premarket trading after the retail giant's revenues came in below analysts' expectations.
Investors were largely focused on the monthly U.S. jobs report due later Friday, the first under President Donald Trump.
Stocks have wobbled in recent sessions after reaching fresh highs as investors have digested a slew of policy comments from the new administration, though many expect shares to hold onto recent gains if the economy can maintain its upward momentum.
"The economic and earnings data for the most part has been awful good, not only in the United States but around the globe," said Jim Paulsen, chief investment strategist at Wells Capital Management.
For stock markets, "I think there is volatility being created by the management methodology of our new president. but there's a lot of fundamental power under this [rally], I don't think it's that much about Trump," he said.
Data earlier this week showed private-sector hiring expanded at a faster-than-expected clip in January, while a separate release Thursday showed the number of Americans applying for unemployment benefits fell last week, in line with a healthy labor market.
Economists surveyed by The Wall Street Journal expect nonfarm payrolls to grow by 174,000 with the unemployment rate unchanged at 4.7%.
In Europe, bank shares added 0.8% early Friday, tracking a modest pickup in long-dated government bond yields.
President Donald Trump plans to sign an executive action to scale back the 2010 Dodd-Frank financial-overhaul law later Friday. The KBW Nasdaq Bank index has rallied roughly 21% since the U.S. election, partly on the belief Mr. Trump will lighten banks' regulatory load, while the Euro Stoxx Banks index has added roughly 14% over the same period.
Europe's basic resources fell, however, echoing declines in Australian miners. Iron-ore, steel and other futures fell in China as trading resumed after the Lunar New Year market holiday. Shares of Rio Tinto PLC, Anglo American PLC and Glencore PLC were each off roughly 3%.
Australian stocks closed roughly 0.4% lower earlier Friday.
The Shanghai Composite Index fell 0.6% as stock trading resumed in China following the Lunar New Year Holiday. Data also showed a slowdown in Chinese manufacturing growth last month, weighing on shares.
Hong Kong's Hang Seng dipped 0.2% while Japan's Nikkei Stock Average ended flat.
Japanese government bonds were volatile meanwhile, with the 10-year yield hitting a 1-year high before Japan's central bank boosted its government-bond purchases by more than $6 billion. 10-year Japanese bonds last yielded 0.095%, while 10-year U.S. Treasury yields rose to 2.482% from 2.470%. Yields move inversely to prices.
German yields rose to 0.439% from 0.424% even after the European Central Bank's chief economist emphasized the need for continued policy support Thursday.
"The current environment still falls short of a sustained adjustment in the path of" inflation," the ECB's Peter Praet said.
Data Friday showed the final composite PMI for the eurozone in January was revised up slightly, leaving it unchanged from December at a five-and-a-half year high.
In currencies, the WSJ Dollar Index inched up 0.2% ahead of the jobs report, with the dollar up 0.2% against the euro and yen. A stronger-than-expected report would likely raise expectations for higher interest rates in the U.S., boosting the dollar.
The British pound reversed early gains to trade down 0.2% following disappointing services sector data, after falling more than 1% on Thursday.
Robb M. Stewart, Paul Hannon and Tom Fairless contributed to this article
Write to Riva Gold at riva.gold@wsj.com